Alabama Judges Impose Death Though Juries Vote for Life in Prison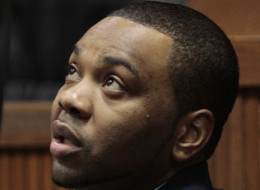 Courtney Lockhart, a 26-year-old Iraq War veteran, convicted of the murder of an 18-year-old college student in 2008.
Last November, jurors in Lee County, Ala., found Courtney Lockhart, a 26-year-old Iraq War veteran, guilty of the 2008 murder of Lauren Burk, an 18-year-old college student.
During sentencing, all 12 members of the jury recommended that Lockhart serve life in prison without the possibility of parole for her crime. Prosecutors had sought the death penalty, but the defense argued for lenience, presenting evidence that Lockhart had suffered psychological damage during a bloody 16-month combat tour in Iraq.
The jurors' unanimous decision to spare the Lockhart's life was not the final word, however. On March 3, 2011, Judge Jacob Walker, who presided over the trial, nullified the jury's recommendation of life without parole and sentenced Lockhart to death by lethal injection.
In a lengthy decision, the judge wrote that Lockhart deserved death because of evidence of other crimes not presented by prosecutors during his trial. Had the jury heard these "additional facts," he wrote, "their sentencing recommendation would likely have differed."
In virtually all 35 states that allow the death penalty, juries are the supreme arbiter of whether capital defendants live or die. But not in Alabama. Since 1976, when the U.S. Supreme Court reinstated the death penalty after a four-year ban, Alabama judges have held the power to overturn the sentencing recommendations of juries in capital cases.
Since then, state judges have overturned 107 jury decisions in capital cases, and in 92 percent of those cases, jury recommendations of life imprisonment were rejected in favor of death sentences, according to a new report by the Equal Justice Initiative, a non-profit law firm based in Montgomery, Ala.
The group's report is strongly critical of the practice, calling it arbitrary and lacking meaningful standards or oversight.
"No capital sentencing procedure in the United States has come under more criticism as unreliable, unpredictable and arbitrary than the unique Alabama practice of permitting elected trial judges to override jury verdicts of life and impose death sentences," it states.
Alabama has the highest per capita death sentencing rate in the country; last year, the state, with a population of 4.5 million, sentenced more offenders to death than Texas, with a population of nearly 25 million. And more than one in five prisoners now on death row in Alabama are there because of judicial override of jury decisions, the report found.
Two other states, Delaware and Florida, allow judges to overturn jury sentencing recommendations in capital cases, but judges in those states must give "great weight" to jury decisions and demonstrate clearly how jurors erred in their verdicts. Delaware has no prisoners on death row because of judicial override, and Florida has not reversed a jury recommendation of life in prison since 1999.
In Alabama, by contrast, jury decisions are just one of many equally weighted factors judges are allowed to consider in making their final sentencing decisions for capital defendants. Judges must explain their legal reasoning if they reverse a jury recommendation, but their are no specific standards they are required to meet in their decisions.
In one 2010 case, a Jefferson County judge justified his reversal of a recommended life sentence for a man convicted of shooting his girlfriend to death in part by citing the size of the handgun used during the crime.
The decision to override a life sentence in a controversial murder case can also take on political overtones, critics charge. State judges in Alabama are elected — not appointed as in most states — and many have touted their "tough-on-crime" records in campaigns to extend their stay on the bench.
Alabama lawmakers have tried on several occassions to strip judges of their power to alter jury decisions, but with no success. A 1995 Supreme Court decision also upheld the authority of judges to render verdicts in capital cases.
"Year in and year out, legislation is introduced to strip Alabama's elected judges of this frightening power," the Birmingham News wrote in an unsigned editorial in 2010. "But year in and year out, state lawmakers fail to act."
The enduring popularity of reversing more lenient sentencing decisions by jurors is not difficult to understand, however.
In 2009, for instance, a Lee County jury recommended by a vote of 8-4 to give a life sentence to a man convicted of capital murder in the shooting death of a young father during a botched robbery. When the life sentence was overturned by the judge in favor of death, the victim's family — and an outraged community — were appeased.
"The judge did what the jury should have done," the father of the murdered man's widow told The Montgomery Advertiser.
In the case of Courtney Lockhart, the Iraq War veteran, the judge's imposition of a death sentence against the recommendation of the jury was also greeted with relief by the victim's family.
Nick Abbett, the prosecutor in the case, called the judge's decision to overturn the sentencing recommendation the right one.
"The judge heard a tremendous amount of evidence that the jury didn't hear," he said.
Bryan Stevenson, director of the Equal Justice Initiative, disagreed, calling the judge's decision in the Lockhart case "shocking."
The jurors in the case had voted unanimously for a life sentence without parole, he said, based in part on evidence that Lockhart had performed courageously during combat in Iraq.
"To get 12 death-qualified jurors in east Alabama to come back and say life means that they saw some significant mitigating factors there," he said. "The judge just ignored that."
http://www.huffingtonpost.com/2011/07/12/alabama-jury-override_n_896561.html