Black Men Often Face Delays in Prostate Cancer Care: Study
Finding is more evidence of gap in quality of care for the disease, researcher says
WEDNESDAY, April 3 (HealthDay News) — Black men wait about a week longer than whites between receiving a prostate cancer diagnosis and starting treatment, a new study finds.
Researchers analyzed Medicare data from about 2,500 black men and 21,400 white men who were diagnosed with early prostate cancer between 2004 and 2007. Overall, black patients waited an average of seven days longer to begin treatment than whites, they found.
The gap was even longer, nine days, for black patients with aggressive prostate cancer, according to the University of North Carolina (UNC) study published online March 28 in the journal Cancer.
"These are all patients with some form of insurance, [namely] Medicare, so it is not a lack of insurance that delays the care," study leader Dr. Ronald Chen, an assistant professor at UNC's Lineberger Comprehensive Cancer Center, said in a university news release.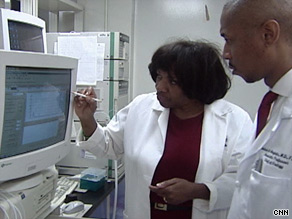 "Other studies have shown that African American men are less likely to get screened, they get diagnosed with more advanced cancers, and they are less likely to get aggressive treatment when they are diagnosed," Chen said. "Now we have shown that African American patients also wait longer for treatment. I think all of these disparities together add up to contribute to worse long-term survival outcomes for African American patients."
The study data did not reveal how the delay in starting treatment affected black patients' survival, but Chen noted that timely delivery of care is an important indicator of the quality of that care.
He said further research is needed to determine why treatment is delayed in black prostate cancer patients.
"What our study does is that it identifies an area of need, an area of disparity. More studies are needed to figure out why and to find ways to address disparities in care," said Chen.
Previous studies have shown that black men are 2.4 times more likely than white men to die of prostate cancer. This difference in survival rates is the highest of any type of cancer, the news release noted. Prostate cancer is the most common cause of cancer among American men with more than 240,000 cases per year, and the second-leading cause of cancer death among American men, causing 28,000 deaths a year.
http://health.usnews.com/health-news/news/articles/2013/04/03/black-men-often-face-delays-in-prostate-cancer-care-study