The Bloody Occupation of Northern Alabama during the Civil War
February 28, 2013, 1:16 pm
By TAYLOR M. POLITES
On Jan. 16, 1863, Dr. Thomas Fearn died of pneumonia at his home in the northern Alabama city of Huntsville. Fearn had studied medicine in London, Paris and Philadelphia, and was the first doctor to treat malaria patients with quinine. He was also a businessman and slaveholder. He had served at the February 1861 Constitutional Convention and in the first Confederate Congress in Montgomery, Ala.
Fearn's illness was reportedly of long duration, having begun when he was imprisoned for supporting guerrilla activity after the Third Division of the Union's Army of the Ohio had swept into the area the previous spring.
The Union invasion had proceeded much more smoothly than anyone, including the commanding general, Ormsby Mitchel, had expected. Without firing a shot, he had taken everything north of the Tennessee River from Florence in the west to Bridgeport in the east, including the important east-to-west Memphis and Charleston Railroad.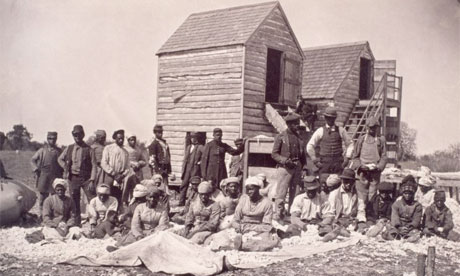 But an easy invasion gave way to a difficult, often bloody occupation. The arriving Union forces had expected to find a strongly pro-Union population in northern Alabama; instead, Mitchel found a region deeply divided among Unionist and Confederate, slave and free, black and white.
The hill counties south of the Tennessee River were notoriously Unionist, populated with yeoman farmers with no interest in struggles to preserve slavery. In the counties along the Tennessee River, however, yeoman farmers mixed with large slaveholders in the river bottoms and fertile plains that were ideal for cotton planting. Unionists and secessionists in northern Alabama were neighbors, business partners and kin. Geography and custom tied the region economically to Tennessee to the north.
Rather than siding with the fire-breathers of the Black Belt, farther to the south, northern Alabamians had initially tried to walk a tightrope, hoping to coordinate action with other seceding states rather than recklessly secede alone. The famed fire-breather William Lowndes Yancey threateningly referred to these cooperationist northern Alabamians as "enemies of the State."
The arrival of Mitchel's army in Huntsville in the early morning hours of April 11, 1862, drew differing reactions from local residents. Former Secretary of War Leroy Pope Walker, who had ordered the firing on Fort Sumter, fled his home. But a lawyer who lived nearby, George Lane, nailed his American flag to a pole over his house, where it remained until the occupation ended five months later.
The Confederate matron Mary Chadick arrived at General Mitchel's headquarters by 7 on the morning of the invasion at the head of a group of women. They demanded that captured Confederate wounded be released to their care. Mitchel complied. Nevertheless, the next day she recorded in her diary: "Truly our town is full of the enemy. There is a sentinel at every corner. Everybody keeps the front door locked, and I make it a point to answer the bell myself, not permitting children or servants to open it. They have been searching the houses today for arms … Servants are giving information of all the arms and soldiers who have been concealed."
While Chadick and Fearn were staunchly Confederate, the former Alabama senator and Huntsville native Jeremiah Clemens, a cousin of Mark Twain and a novelist in his own right, exemplified the shifting loyalties of many in the region. Clemens had a history of political waffling: during his senatorial career, he opposed the Compromise of 1850 before he was for it. Representing Alabama's Madison County at the state secession convention, he opposed secession before flipping again, explaining that with a majority already in favor of secession, he would patriotically throw in his lot with the state. In recognition of his stature, he was made a major general. When Mitchel and the Union Army arrived, however, he abandoned the Confederacy and became, once again, a full-throated Unionist.
Clemens offered to travel to Washington with the former presidential candidate John Bell of Tennessee to assist in peace negotiations. The offer was politely declined. He worked to organize a burgeoning Unionist movement in North Alabama for much of the war. His friend and fellow Unionist George Lane was named a federal judge for Alabama by President Lincoln and worked closely with General Mitchel. (Lane's "tattooed and faded flag" of the United States came down when the Union army left, and Lane moved his family to Louisville, Ky.)
Many shared the feelings of Clemens and Lane. Close to 3,000 white men from northern Alabama served with the Union Army during the Civil War. Bands of Union men fought their way out of the hill counties to sign up. Soldiers conscripted into the Confederate Army from northern Alabama also deserted in large numbers, estimated as high as 10,000 from a total force of about 90,000.
The enslaved people of northern Alabama had a clear interest in helping the Union hold the 400-mile front. They often provided information, including evidence against Dr. Fearn. The enslaved kept watch on the rivers and crossed mountains to provide information about Confederate movements. Mitchel insisted that the informers be protected rather than returned to their erstwhile owners, writing, "The negroes are our only friends, and in two instances I owe my own safety to their faithfulness." Secretary of War Edwin M. Stanton agreed.
It is probably no surprise that Mary Chadick's servants ran away, leaving her and her seven children to keep house on their own. Long before the Emancipation Proclamation, enslaved African-Americans from the area flocked to the Union Army. Many went to Nashville to work on fortifications, including the massive Fort Negley. When recruitment of black troops began, the able-bodied volunteered to fight. Recruiters scoured the region. Some 3,000 African-American men from Alabama became Union soldiers. They guarded bridges and entrenchments, built fortifications and saw active duty. When the army of the Confederate general John Bell Hood was on the march to Nashville in late 1864, the 14th United States Colored Infantry repelled them at Decatur, Ala., on the Tennessee River, forcing them to search for a crossing downriver.
But this was only half the story – pro-Confederate sentiment abounded, and bushwhacker attacks grew, and were met with escalating reprisals. Mitchel found it difficult enough to maintain order in his widely spread command, and the guerrilla attacks exacerbated a volatile situation. He begged for more troops, particularly cavalry. He wired to Washington that "armed citizens fire into the trains, cut the telegraph wires, attack the guards of bridges, cut off and destroy my couriers, while guerrilla bands of cavalry attack whenever there is the slightest chance of success." No reinforcements were forthcoming.
Through 1862, guerrilla fighters in Paint Rock, Ala. under Lemuel Mead continually harassed Union troops from the Third Ohio under Col. John Beatty. The forces suffered nine casualties from a sniper attack, and Beatty threatened to burn a house and hang a man for each of his soldiers killed. He then set the town ablaze and took three civilian prisoners. He reported that Mitchel was pleased with his action.
About the same time, Confederate soldiers attacked units of the Union's Eighth Brigade at Athens, west of Huntsville. The surprise attack generated a disorderly Union retreat by train that was made more chaotic by a sabotaged railroad bridge, presumably the work of locals. Athens was shortly retaken, and Col. Basil Turchin, either explicitly or by carelessness, allowed his troops to loot and pillage the town, with at least one rape reported. The event became known notoriously throughout the South as the Sack of Athens. Turchin was court-martialed and convicted, but ultimately promoted.
Confederate cavalry was constantly probing for weakness in the Union lines. Generals Nathan Bedford Forrest, Phillip Roddey and Huntsville-born John Hunt Morgan operated across the region. In August 1862, the bushwhacker Frank Gurley attacked an escort guarding the sick Gen. Robert L. McCook. The escort abandoned McCook in his ambulance, where he was shot and killed. The Union soldiers were incensed, and set fire to farmhouses in the vicinity.
Clemens depicted northern Alabama in his 1865 novel Tobias Wilson: "Neighbor was arrayed against neighbor, and to the evils of open violence were added private assassinations and midnight burnings. No man knew whom to trust, and gloomy suspicions even of his friends settled upon every man's heart."
After the first occupation ended in late August 1862 when the Union retreated, it was Union raiders' turn to crisscross northern Alabama. During the most famous raid, Col. Abel Streight and his troopers crossed the hill country of Alabama in spring 1863, aiming for the critical foundries of Rome, Ga. Over two weeks, he and Forrest danced around each other. Streight was undone by the 15-year-old Alabamian Emma Sansom. She led Forrest to a river ford, allowing him to cut off and capture Streight before he reached Georgia.
By 1864, dueling armies and a divided populace had devastated northern Alabama. The provost marshal's office in Scottsboro was crowded with Southerners eager to take the oath of loyalty, enabling them to get food relief, transact business and travel. One Madison County woman defended her decision to take the oath in a letter to her sister: "The people of South Ala., as any other place, where they have laws to protect them, and plenty to eat, and wear … are not competent to judge of what is right and propper."
Slowly, the war's end brought a semblance of peace. Mary Chadick's daughter Susan Elizabeth married Union Capt. Samuel W. Fordyce. Jere Clemens returned from exile in Philadelphia, but died before he could play a meaningful role in reconciliation. The war was over, but the devastation remained. The tumultuous process of reconstruction began in a region still divided.Follow Disunion at twitter.com/NYTcivilwar or joi
http://opinionator.blogs.nytimes.com/2013/02/28/the-bloody-occupation-of-northern-alabama/