Choir To Voice The Words Of Birmingham's 'Unsung'
By ALLEN G. BREED 09/13/13 04:38 PM ET EDT 
Seeking inspiration for a musical commission to mark the 50th anniversary of the 16th Street Baptist Church bombing, composer Yotam Haber turned to the Birmingham Civil Rights Institute's Oral History Project. Combing through the files in the Alabama city, he came across a 1998 interview with Henrietta Tripp.
He was struck by the former hairdresser's description of hearing the Rev. Martin Luther King Jr. speak at the church in the spring of 1963, several months before the horrible blast.
"That was hallelujah time," she told the interviewer. "And he was talking about Birmingham being one of the hardest cities to crack. It was the hardest city to crack."
When a chorus of 100 voices performs Haber's piece later this month, Tripp's words will soar along with those of King and others – famous and unsung – who fought to defeat Jim Crow.
"My little words? My little part is so minute in comparison to these great people," the 77-year-old retired clerk, who became one of the first African-Americans hired by the city police department, said recently. How, she wonders, are "my words going to fit in?"
Perfectly, says Haber.
Rather than focus in a literal way on the Sept. 15, 1963, Ku Klux Klan bombing that killed four black girls during Sunday services, the Dutch-born composer sought to evoke Birmingham's role in the larger struggle.
"I'm not telling Birmingham her own story," says Haber, whose work the Alabama Symphony will premiere on Sept. 21. "She knows it far better than I will ever be able to tell it."
The composition is titled "A More Convenient Season," a phrase borrowed from King's famous "Letter From a Birmingham Jail."
Arrested in April 1963 on a charge of parading without a permit, King drafted the open letter to fellow clergy who had condemned his activities as "unwise and untimely." King declared that, more dangerous than a Klansman was the white moderate who "paternalistically believes he can set the timetable for another man's freedom; who … constantly advises the Negro to wait for a `more convenient season.'"
Haber's piece – which he says "falls somewhere between an oratorio and an opera" – is divided into three movements. Before the choir gets to King's letter, the audience will hear the words and, through archival recordings, voices of ordinary foot soldiers whose names are likely unknown to them.
Names like Pamela Walbert Montanaro.
___
"One of the things they taught you/ You can't eat in the same place/ You can't go to the same place," says the libretto, quoting Montanaro, who was 15 in 1960, when the civil rights movement reached "Bombingham."
Among her mother's closest friends were Deenie Drew, at whose home King stayed while in town, and Willa Adams, who worked to integrate the schools and get rid of racist textbooks. But Pamela Walbert, as a white teenager, never interacted with African-Americans her own age.
She had been reading about sit-ins in other Southern cities, and when she learned that the Rev. Fred Shuttlesworth had helped organize a local campaign, she wrote him a letter, expressing admiration.
It wasn't long before she received a phone call. It was a "Negro girl," and she was inviting Walbert to gather with sit-in participants at Shuttlesworth's Bethel Baptist Church.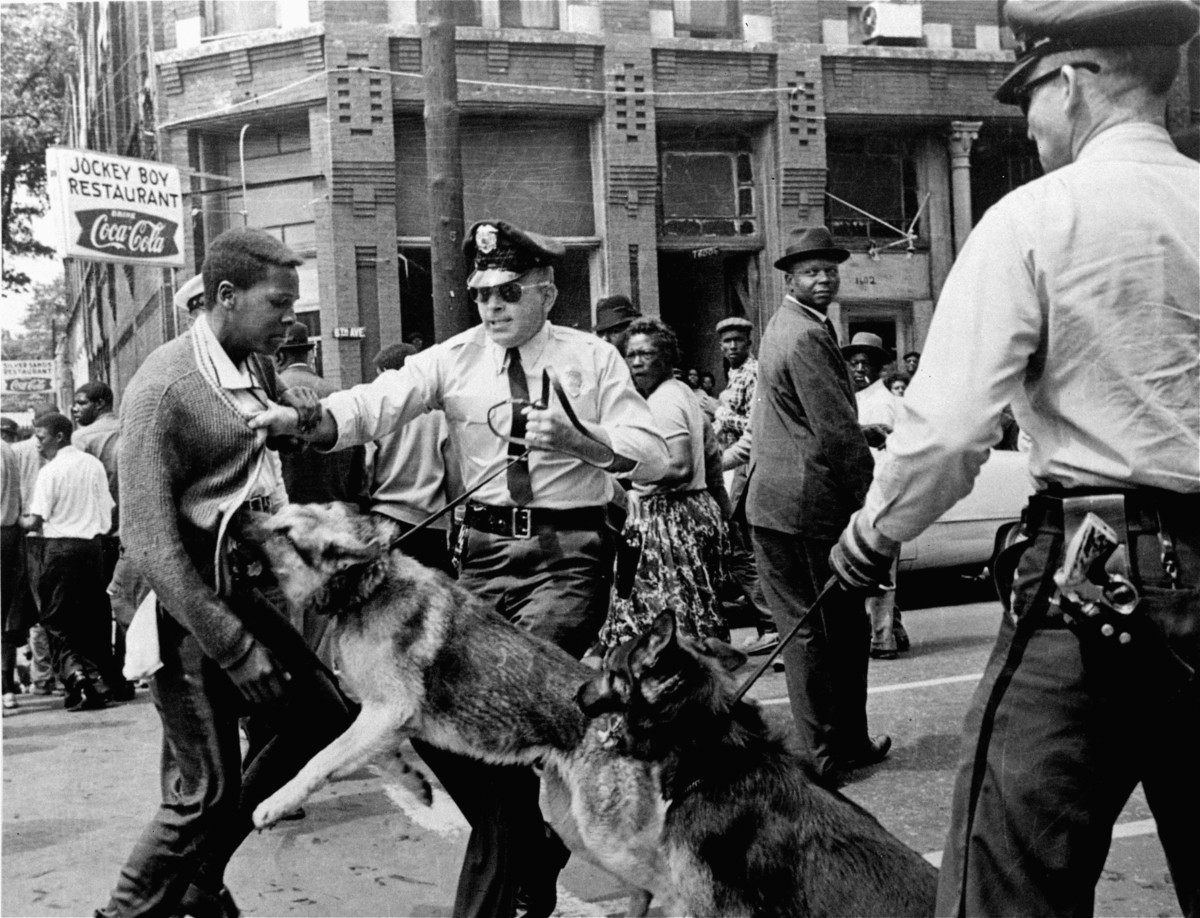 In this May 3, 1963 file photo,a 17-year-old civil rights demonstrator, defying an anti-parade ordinance of Birmingham, Ala., is attacked by a police dog. Bill Hudson, an Associated Press photographer whose searing images of the civil rights era documented police brutality and galvanized the public, died Thursday, June 24, 2010 in Jacksonville, Fla. He was 77.
Walbert and three friends sat in a circle of chairs. It was warm, and there weren't enough drinks to go around. Someone opened a can of soda, and Walbert watched as it passed from black hand to white, each person taking a sip – taboo in a rigidly segregated society where there were separate drinking fountains for white and "colored."
When the can reached her, she drank without pause. It was a religious experience.
"I felt flooded with the holy spirit," she said during a recent telephone interview from her home in Berkeley, Calif. "And I thought, `This is what holy communion is supposed to feel like.'"
Later, when an Episcopal clergyman explained "why he couldn't get involved in the movement," the Walbert family left the church.
"And so our family was essentially born again in the civil rights movement," says Montanaro, whose parents subsequently became close with the parents of bombing victim Denise McNair.
Montanaro moved away in 1964, married and raised a family. But her experiences growing up in Birmingham launched her on a lifelong search for social justice.
Now 69, she calls the 1960s an inspiring time. "It's like the agony and the ecstasy. I mean, you were seeing the best that people can be and the worst that people can be – in very quick succession."
___
"How high is height?/ How far is distance?/ How many stars in the sky?"
These "rather innocuous sounding questions" that Haber quotes in his second movement were typical of those posed to black residents who tried to register to vote during Jim Crow.
Henrietta Tripp remembers them well.
"It worked your patience," she said, recalling how she prayed "to keep from saying the wrong thing. Because you were never addressed like a person."
Tripp was walking to a service at her church, Zion Hill Missionary Baptist, when the 16th Street Baptist bombing occurred.
"Why so much so hatred?" she thought to herself. "Why so much anger?"
She wanted to lash out. But her father was a minister, and he, like King, preached against retaliation. And so she put that out of her mind.
"I just used to cry myself to sleep, and why? When you are so helpless, there's nothing you can do. I mean, who could you hit?"
She got a day job at a beauty shop and studied typing by night. In August 1965, she landed a job as clerk-typist with the police department that only two years earlier, under Theophilus Eugene "Bull" Connor, had turned fire hoses and dogs on black protesters. A state trooper and two plainclothes men stand guard at a road block at the 16th Street Baptist Church in Birmingham, Ala. on Sept. 16, 1963. The area was sealed off to all, but officers and the FBI are investigating the bombing which killed four African American children. The blast went off inside the basement door at far right. (AP Photo)
The captain who hired Tripp was "a wonderful person," but her white female co-workers were far from welcoming. When someone from the Birmingham News interviewed Tripp about breaking the color barrier, that just made things worse.
"They harassed me about that. `You must think you're a celebrity,'" she recalls.
She later worked for the Jefferson County Board of Education. Following her retirement, Tripp, who is ordained, started a youth drug ministry "the Lord gave me."
When she learned that her testimony would appear alongside that of Shuttlesworth and King, she could not "find the words in my vocabulary to say" what an honor it was.
"God," she says, "He works in mysterious ways."
___
"I have heard the word wait/ It rings in the ear with piercing familiarity/ This wait has almost always meant never/ We must come to see that justice too long delayed is justice denied."
These words from King's jail letter anchor Haber's final movement. They resonate with Birmingham residents like the Rev. Isreal Grant.
The day he turned 18, Grant went to register to vote and confronted the white registrar's question:
"You just couldn't wait, could you? You just couldn't wait?"
Grant stiffened and replied: "No sir, I just couldn't wait to vote. … People have lost their lives for this."
His father, Oscar Lee Grant, a porter for a furniture store, begged his youngest child to stay away from the demonstrations. But trouble would find him anyway.
When he was 15, Grant – a basketball player who was tall for his age – boarded an overcrowded bus and, finding no place at the back, sat down beside an elderly white woman. He was arrested and jailed overnight, without even being given a chance to call his parents.
"My father found me the next morning," Grant recalls. "They had been checking all the funeral homes and all the police stations. My father cried like a baby."
Because of his good grades and lack of a record, the judge agreed to dismiss the charges.
Grant went on to work for Alabama Power, rising to field service representative. He retired last September after 44 years.
And he says he has never missed an election.
"My father quoted to me that there would never be a black president," the 63-year-old says in a tone of amazement. "If he were alive today, it would be too much for him."
___
"We shall overcome."
The piece's final movement begins with a recording Haber found in the collections of the Smithsonian Institution of folk singer Pete Seeger leading a chorus of the civil rights anthem.
Haber took a 25-second snippet of that and stretched it out digitally, so that just the word "we" takes almost a minute to play out.
"You hear every frailty and strength of the voice," says Haber, 36, who grew up in Israel, Nigeria, and Milwaukee. "To me, it's like waves in the ocean – like each word that the choir sings is like an almost infinite ocean of sound."
The entire work runs about 75 minutes, with no intermission. The words "bomb" and "16th Street Baptist" do not appear in the libretto.
"For this piece to resonate out with others, there needs to be a larger message here," says Haber, whose family's losses during the Nazi Holocaust informed this work. "And the message is that we cannot sit idly by when we see injustice. We need to act."
Thomas Blount, a symphony patron who approached Haber about a commission after hearing a work he'd composed about the Jews of Rome, says this is "not a didactic piece."
"Most of the action takes place in the person's head," says Blount, who was moved to tears when Haber gave him a preview. "I think everybody will get it."
Many of those whose voices will echo through the concert hall have passed – including King, Shuttlesworth and Colonel Stone Johnson, who once carried a bucket containing 16 sticks of dynamite away from Shuttlesworth's church before it could explode.
Tickets will be waiting at the University of Alabama at Birmingham's Alys Stephens Performing Arts Center for Tripp, Grant, Montanaro and the others who are still alive.
"Isn't that something?" says Grant, humbled that his story was included.
Montanaro plans to attend the performance with her 92-year-old mother, who still lives in Birmingham. She hopes she will be able to sit through it "without completely dissolving into tears.
Although she cites continuing setbacks to true equality, she says what she witnessed as a youth in Alabama prevents her becoming a complete cynic.
"Because I SAW people do it," she says. "I saw people rise up against something that looked like it could never change – and changed it in a very short period of time through the power of love."
http://www.huffingtonpost.com/2013/09/13/choir-voice-birminghams-unsung_n_3922138.html