Confederate flags fly again at South Dakota VA hospital
 Kevin Woster Journal staff     4-24-2013
Two Confederate flags taken down last week after complaints that they were racist have been restored to their place in a historical display at the VA Medical Center in Hot Springs.
The African-American veterans who lodged the complaint had just left Hot Springs when they learned Tuesday that Veterans Administration officials had decided to again display the flags because they represented an important part of U.S. history and conveyed respect for veterans' service.
"Wow! You got to be kidding me. They're back up already?" Desert Storm veteran Craig DeMouchette said while waiting for his bus to Denver in the Rapid City depot. "They waited until I was gone and put them back up? I can't believe it."
DeMouchette said the timing of events could not have been a coincidence.
A few days after he and fellow veteran Kameron Mitchell of Lincoln, Neb., had raised the flag issue, they were told by VA officials they could leave their PTSD-treatment program at the Medical Center more than two weeks early, with full credit.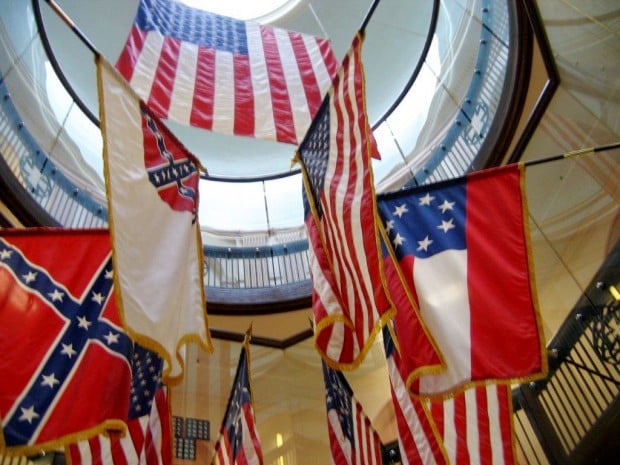 The Veterans Administration in Hot Springs has decided, despite complaints from veterans, to rehang the two Confederate flags at the facility.
Both veterans contend that the early out was intended to get rid of them and defuse the flag controversy. And not long after they left, VA Black Hills Health System officials announced Tuesday they would return the flags to the display in the Medical Center rotunda.
They didn't waste any time, either.
DeMouchette said the flags were not back up by around 2 p.m. when he left on a shuttle for Rapid City on the first leg of his trip home to Denver. And hour and half later, a VA official confirmed to the Journal that the flags were back up.
Steve DiStasio, director of the VA Black Hills Health System, said in a statement released Tuesday afternoon that the flags were being returned to the historic "Freedom Shrine" in the rotunda "as "a reflection of those who gave the ultimate sacrifice for America."
The flags were taken down by VA officials last Wednesday, a day after DeMouchette and Mitchell complained. DiStasio said then he would take some time and meet with veterans in Hot Springs before deciding his next move.
DiStasio said Tuesday he met with DeMouchette and others before deciding the flags should go back up.
"The original purpose of the VA's Hot Springs facility was for the care of Civil War veterans," he said. "Out of respect for all of our nation's veterans, from every battle in history, we will maintain the historic Freedom Shrine in its entirety."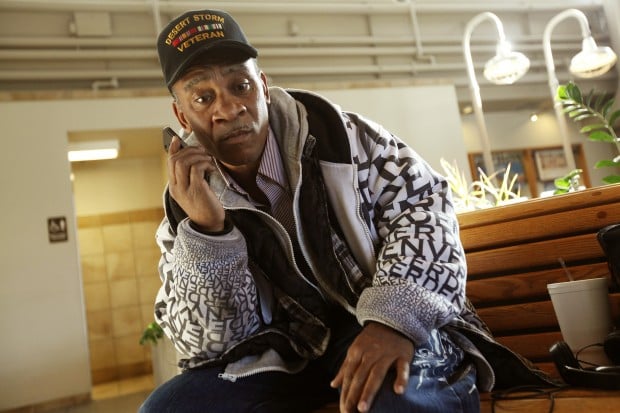 Craig DeMouchette of Denver learns that officials at the VA clinic in Hot Springs put up two Confederate flags after he fought to have them removed. The Confederate flags have historical significance, DeMouchettte said, but because of the racism associated with them, the flags belongs in a museum, not in a federal facility actively treating veterans. 
Not if DeMouchette has anything to say about it.
And he plans to say plenty. The 49-year-old veteran has already contacted a member of the Colorado congressional delegation and plans to start organizing to get the flags removed – again.
"I understand they have historical value. That's fine," he said. "But these flags belong in a museum, not an active government building that treats veterans, some of them African-American."
DeMouchette said there were mixed views on the Confederate flags among veterans in Hot Springs for PTSD treatment. Some spoke in their defense, but others, including white veterans, were troubled by the flags, he said.
Only Union veterans of the Civil War were treated in Hot Springs. But the Confederate flags are part of an eight-flag hanging display that was purchased and installed by the Rapid City Exchange Club and had been in the rotunda since 1995.
Mitchell said he hadn't noticed the Confederate flags during most of his PTSD treatment program, which was scheduled to last about eight weeks. There is one large Confederate flag and a smaller Confederate flag on a larger white flag in the historical display, which also includes other flags.
"I was just walking around and another patient brought it to my attention. So I went to the rotunda and there it was," said Mitchell, who served in Iraq in 2004 and 2005. "When I saw the flag, I instantly thought this was a public display of racism."
Even though the flags were removed last week, Mitchell didn't believe it would be permanent.
"I do consider it a temporary victory," he said Monday. "I think they'll put it back up after I leave."
Mitchell said he was given an option to finish his PTSD treatment earlier than the scheduled May 2 conclusion and get transportation back to Lincoln. He was preparing for that departure on Monday, believing that after his complaint about the flags, VA officials would be happy to see him go.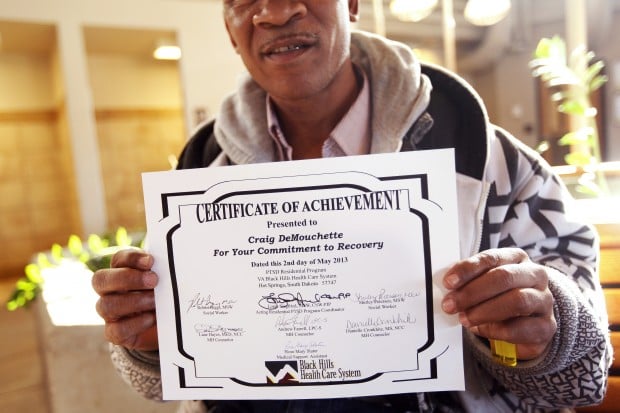 Craig DeMouchette displays his certificate of completion for a PTSD treatment course at the VA clinic in Hot Springs. The certificate is dated May 2, 2013, but he was discharged nine days earlier. He raised concerns that two Confederate flags in the rotunda are offensive and should be taken down. Less than a few hours after he was discharged, officials returned the flags to their original positions.
DeMouchette said he also was offered a chance to finish the program early and had a certificate showing a completion date of May 2. He said VA officials told him he was welcome to come back for graduation ceremonies.
Both he and Mitchell believe they got the early certificate because VA officials wanted them off the Hot Springs campus. DeMouchette said some VA staffers told him he was becoming too aggressive in arguments and was intimidating others who were there for treatment. He denied that.
VA officials declined to respond to the assertions that Mitchell and DeMouchette were released early because of the flag issue. Jill Broecher, a public affairs officer for the VA Black Hills Health System, said VA officials couldn't discuss individual veterans or their treatment.
"Our first priority is always to maintain the privacy of our veterans," she said.
http://rapidcityjournal.com/news/confederate-flags-fly-again-at-hot-springs-va/article_cea77c0f-bb89-59a3-bcac-a6151d10c774.html