Former Klansman David Duke endorses for Black Panther Party member Charles Barron for congress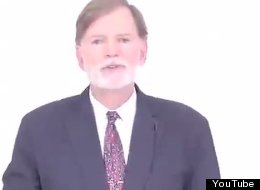 JUNE 21, 2012 11:06 AM
BY CELESTE KATZ
City Councilman Charles Barron, locked in a race with state Assemblyman Hakeem Jeffries for the Democratic nomination to succeed outgoing Rep. Ed Towns, says a new video of former Ku Klux Klan leader David Duke endorsing his candidacy is irrelevant "foolishness" he doesn't want to discuss.
"We're staying focused — and we demand respect for our campaign," Barron told The Daily Politics. "I don't think that's a campaign issue. I don't think it's intelligent."
In the clip, Duke says "the possible election of [Barron], a dedicated anti-Zionist to the U.S. Congress, has thrown the Zionist-influenced media and the Zio-political establishment in a tizzy." While Duke says he doesn't agree with Barron on everything, "I certainly agree with Barron that Israel is the worst rogue terrorist state on Earth."
Duke goes on to say Jeffries is "a complete Zionist sellout of both the black people and all the people of America" and also trashes him as a "bought-and-paid-for Zionist Uncle Tom."
We have reached out to a Jeffries rep for comment.
Update: Jeffries campaign spox Lupe Todd responds, "Hate and extreme rhetoric have no place in our society. We denounce David Duke's remarks in [their] entirety and urge the other candidate in this race to do the same."
The former KKK leader says he has issues with both candidates, but Barron "stands against" the power of the "Zio-media" and therefore is the best choice.
Barron has unquestionably made statements in the past that some consider inflammatory — to the point where various elected officials banded together to assail his candidacy — but he has scored a number of possibly very helpful endorsements, including that of Towns himself and of DC 37.
The councilman — who also ran for governor on a minority-oriented Freedom Party ticket in 2010 — said he'd pass on talking about Duke to focus on issues like "regulating Wall Street, and how we're going to deal with a more equitable distribution of wealth, and the taxation process… This is a life and death struggle here."
As for the campaign, in which he has been out fundraised by Jeffries and trails him in traditional endorsements, Barron said, "Our troops are on the ground, and what we have heard from people in the district has been very [inspiring]…
"We have built the momentum," he said. "We think the whole establishment is scared and afraid [of] what we might represent as an unbiased, unbossed voice [in Congress]."
http://www.nydailynews.com/blogs/dailypolitics/2012/06/charles-barron-david-duke-video-endorsement-of-my-congressional-campaign-is-fo