Gary celebrates Indiana's first black female mayor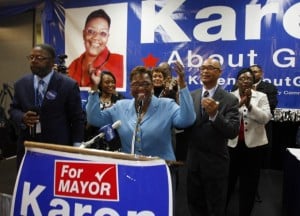 Karen Freeman-Wilson celebrates making history in the Gary mayoral race Tuesday night at the Genesis Convention Center. Her victory makes her the state's first female black mayor.
GARY | Karen Freeman-Wilson was elected the first black female mayor in Indiana on Tuesday night.
"It's great to make history," the Gary attorney said just before the celebration began at the Genesis Convention Center in Gary for hundreds of her supporters.
Now follows the challenge, in her own words, of making this blighted steel town on Lake Michigan's southern shore a clean, safe and working city where people want to live and businesses want to locate.
Freeman-Wilson said she already is talking to business developers, will name a transition team next week and will name her police and fire chiefs and cabinet of advisers next month prior to being sworn into office.
Freeman-Wilson, the favorite since her victory over a field of 10 other Democratic Party hopefuls in the spring primary, jumped to a commanding lead over Republican Charles R. Smith Jr., Eddie Tarver, a minor party candidate, and Lavetta Sparks-Wade, an independent candidate, from the moment polls closed Tuesday night and absentee ballots and early in-person votes were counted.
Freeman-Wilson, a Gary native, received a law degree in 1985 from Harvard University. Ebony magazine named her one of the country's 50 leaders of the future for the black community a year after then-Gov. Evan Bayh named her director of the Indiana Civil Rights Commission, the first of many of her public responsibilities involving social and racial equality.
She became Gary city judge in 1994 and Indiana attorney general in 2000. She ran unsuccessfully for Gary mayor in 2003 and 2007.
She now must confront a city government hobbled by high tax rates, declining tax revenues and the need to provide services to a population in which a significant number of people are below the poverty line and unemployed.
She said she will use her network of national, state and regional leaders to bring opportunity to Gary.
Her platform, titled Blueprint for Rebuilding Gary, states her administration will use the "broken windows" approach to law enforcement by tackling a multitude of crimes from traffic violations to homicides while reducing the supply and demand for alcohol and illicit drugs that drive much of the lawlessness.
She said Gary needs to repair its sewers, streets and sidewalks, and needs a state-of-the-art public safety building and modern police and fire vehicles. She also wants to review pay and benefits to ensure they compensate for the risk first responders face.
http://www.nwitimes.com/news/local/lake/gary/gary-celebrates-indiana-s-first-black-female-mayor/article_3bdac7fc-d169-5e70-a2d4-65a7c0b3e36d.html