George Allen Irks NBC Reporter With Sports Inquiry
Former and would-be future Virginia Sen. George Allen, who quarterbacked the University of Virginia for a pair of losing seasons in the 1970s and comes from a proud football family, likes to talk about the "gridiron" and the "pigskin" and "moving the chains," and whatnot.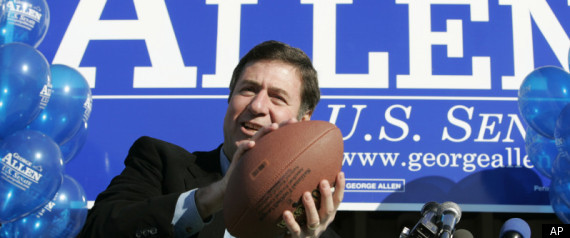 Of course, he also has a history of trouble relating to minorities.
So what's to make of this Twitter exchange between Allen and NBC 4 reporter Craig Melvin that the Washington Post's Tom Jackman highlights today?
.bbpBox55452184426450944 { background: url("http://a3.twimg.com/a/1301071706/images/themes/theme1/bg.png") repeat scroll 0% 0% rgb(192, 222, 237); padding: 20px; }p.bbpTweet { background: none repeat scroll 0% 0% rgb(255, 255, 255); padding: 10px 12px; margin: 0pt; min-height: 48px; color: rgb(0, 0, 0); font-size: 18px ! important; line-height: 22px; -moz-border-radius: 5px 5px 5px 5px; }p.bbpTweet span.metadata { display: block; width: 100%; clear: both; margin-top: 8px; padding-top: 12px; height: 40px; border-top: 1px solid rgb(230, 230, 230); }p.bbpTweet span.metadata span.author { line-height: 19px; }p.bbpTweet span.metadata span.author img { float: left; margin: 0pt 7px 0pt 0px; width: 38px; height: 38px; }p.bbpTweet a:hover { text-decoration: underline; }p.bbpTweet span.timestamp { font-size: 12px; display: block; }
For the 2nd time in 5 months, fmr. gov. and sen candidate George Allen asks me,"what position did you play?" I did not a play a sport.less than a minute ago via web
Favorite
Retweet
Reply
Craig Melvin
craigmelvin
.bbpBox55800016605954048 { background: url("http://a0.twimg.com/profile_background_images/101501849/twitter_bg.jpg") repeat scroll 0% 0% rgb(255, 255, 255); padding: 20px; }p.bbpTweet { background: none repeat scroll 0% 0% rgb(255, 255, 255); padding: 10px 12px; margin: 0pt; min-height: 48px; color: rgb(0, 0, 0); font-size: 18px ! important; line-height: 22px; -moz-border-radius: 5px 5px 5px 5px; }p.bbpTweet span.metadata { display: block; width: 100%; clear: both; margin-top: 8px; padding-top: 12px; height: 40px; border-top: 1px solid rgb(230, 230, 230); }p.bbpTweet span.metadata span.author { line-height: 19px; }p.bbpTweet span.metadata span.author img { float: left; margin: 0pt 7px 0pt 0px; width: 38px; height: 38px; }p.bbpTweet a:hover { text-decoration: underline; }p.bbpTweet span.timestamp { font-size: 12px; display: block; }
.@craigmelvin sorry if I offended, ask people a lot if they played sports Grew up in football family found sports banter good way to connectless than a minute ago via web
Favorite
Retweet
Reply
George Allen
georgeallenva
Ehhh, maybe I'm just in a good mood, but I'm inclined to chalk this up to an honest miscommunication. George Allen literally does constantly talk about football and relate politics to football metaphors, and carry a football with him at all times. Just look at this word cloud on Allen's own website, and you'll see that Allen is basically all about "VIRGINIA FREEDOM FOOTBALL SUSAN ALLEN LIBERTY CONSERVATIVE." (Also: "nanotechnology." Who knew?)

Besides, I think we can all agree that asking Melvin — even redundantly — "What position did you play?" is a lot better than "Did I ever stuff the head of a deer in your mailbox?"
http://www.huffingtonpost.com/2011/04/07/george-allen-irks-nbc-rep_n_846137.html