MLB creating committee to study decline in African-American players
By Mike Axisa | Baseball Writer
April 10, 2013 10:39 am ET
Major League Baseball is creating a committee to study why fewer African-Americans are playing baseball, reports Tyler Kepner of The New York Times. The first meeting will be held on Wednesday in Milwaukee.
"I don't want to miss any opportunity here," [commissioner Bud Selig] said in a telephone interview from his office in Milwaukee. "We want to find out if we're not doing well, why not, and what we need to do better. We'll meet as many times as we need to to come to meaningful decisions."

(snip)

"I really think our history is so brilliant when it comes to African-Americans," Selig said. "You think about the late 1940s, the 1950s — wow. And you look at that and you say to yourself, 'Why did it not continue, and what could we do to make sure it does continue?' "
According to Kepner, only 8.5 percent of players on this year's opening-day 25-man rosters were African-American. The reigning world champion Giants are one of several clubs with zero black players. Recent research by Mark Armour from the Society of American Baseball Research says the highest percentage of African-American players in baseball was 19 percent in 1986.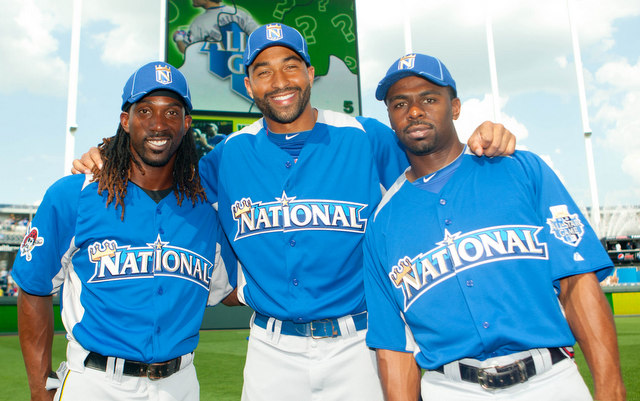 Andrew McCutchen (left), Matt Kemp (center) and Michael Bourn (right) are three of baseball's biggest stars.(Getty)
Tigers GM Dave Dombrowski will be chairman of the committee. Former Mets manager Jerry Manuel, Stanford athletic director Bernard Muir and senior director of the MLB scouting bureau Frank Marcos will also serve on the committee, in addition to several other front office employees from around the league.
I think at least part of the reason the number of African-Americans in baseball has declined has to do with the lack of baseball scholarships colleges can offer. NCAA Division I schools are allowed only 11.7 baseball scholarships, and many fund fewer. Other sports like football (85 scholarships in the FBS) and basketball (13 in Division I) can offer more, which may be luring young athletes — of all races, not just African-Americans — away from the diamond.
There is no shortage of star African-American players in MLB today. Andrew McCutchenwon a fan vote to be on the cover of the MLB 13: The Show video game while others likeMatt Kemp, CC Sabathia, Prince Fielder, Michael Bourn and Jimmy Rollins are household names. Perhaps better marketing of these guys (and others) will help influence young African-Americans to play baseball.
http://www.cbssports.com/mlb/blog/eye-on-baseball/22045063/mlb-creating-committee-to-study-decline-in-african-american-players