Mom Shanla Sutherland Arrested When 3-Year-Old Fires Shotgun Into Car's Roof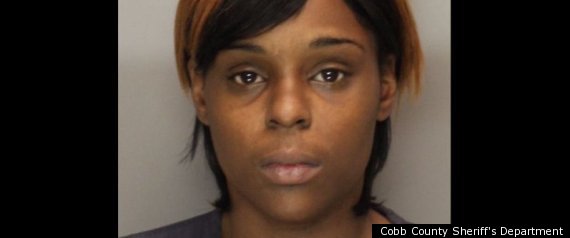 Shania Sutherland was allegedly negotiating a drug deal when her toddler fired a shotgun through the roof of a car.
A mother was arrested shortly after her 3-year-old busted up her drug deal by firing a 12-gauge shotgun into the roof of her companion's car in Marietta, Ga.
Shania Sutherland allegedly brought the toddler and a 5-year-old while she negotiated a deal for prescription pills in a parking lot on Sept. 6 when the tot picked up the Mossberg and blasted a hole in the roof of a Chrysler Town & Country minivan, The Atlanta Journal-Constitution.
The shotgun allegedly belonged to Leah Porter, 28, who drove the van to a pharmacy where they planned to conduct the swap with Brandon Schott Donahue, 30, according to The Marietta Daily Journal.
A passerby who heard the gunshot called the cops. Police found Sutherland inside the drug store, but she'd moved her children into Donahue's car, The Journal-Constitution said.
It was tough for police to get truthful information out of Sutherland and Donahue, according to reprots. Donahue was charged with obstruction while Sutherland was booked for allegedly giving a phony name and date of birth. She also faces charges for sending text messages to arrange a drug deal, The Daily Journal reported. Cops picked up Porter a few blocks away and arrested her for alleged reckless conduct.
The apparent bad parenting led state welfare officials to launch an investigation into Sutherland's fitness as a parent, according to WSB-TV.
http://www.aol.com/2011/09/21/shanla-sutherland-arrested_n_973600.html#s363888&title=Alicia_Ducharme