Recent grad suit claims Minnesota high school's homecoming event is racist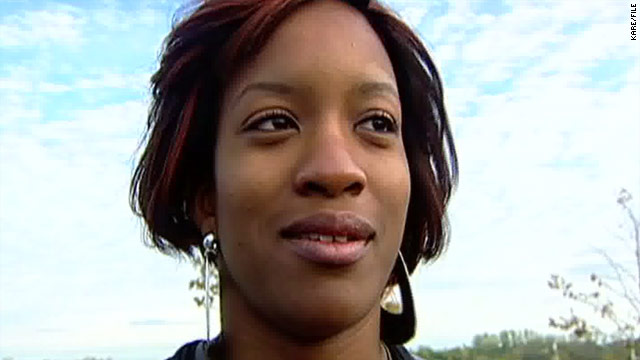 Quera Pruitt told CNN affiliate KARE in 2009 that other students were dressed offensively, which "hurt my feelings."
Minneapolis (CNN) — A recent graduate is suing a high school she attended, claiming it allowed a "racist" and "bigoted" school spirit event to occur.
According to a federal lawsuit filed July 29, Quera Pruitt, an African-American student, suffered "extreme emotional distress" because of a homecoming event titled "Wednesday Wigger Day," one of several days that week at Red Wing High School during which students were allowed to dress up in various themes.
"Wigger" is as a slang term for "a white person who emulates the mannerisms, language and fashions associated with African-American culture," according to a Wikipedia entry, the definition cited in the lawsuit. It is said to be a slur that combines the words "white" or "wannabe" with the word "nigger."
"The students … wore clothes that, from their perspective, mimicked Black culture," the lawsuit reads. "These costumes included oversized sports jerseys, low-slung pants, baseball hats cocked to the side, and 'doo rags' on their heads. Some of the students displayed gang signs."
" 'Wigger Day' is the same thing as 'Nigger Day,' " Pruitt's attorney Joshua Williams told CNN. "It's blackface for the 21st century."
The lawsuit says the event happened in 2008 and 2009, and Williams believes it may have also occurred in 2007, before Pruitt moved to the school district. He added that after the 2009 "Wigger Day," Pruitt fell into a "deep depression" and was forced to withdraw from student council, track and cheerleading. She graduated in 2010.
In 2009, Pruitt told CNN affiliate KARE that the incident hurt her feelings and that "no one asked" how she might have felt. According to KARE, school officials did ask the students to change their clothes, but no punishment followed.
The lawsuit maintains the school violated the Minnesota Human Rights Act, as well as Title VI, which prohibits racial discrimination in a school that receives federal funds.
District Superintendent Karsten Anderson issued the following statement to CNN: "Independent School District #256, Red Wing, Minnesota has been and continues to be committed to providing an education to its students that is free from discrimination and harassment based upon race or otherwise. The district denies the allegations that it has created a racially hostile environment and looks forward to meeting these allegations in court. Since this concerns pending litigation, the district has no further comment at this time."
Williams is asking for at least $75,000 in punitive damages.
Red Wing is in southeast Minnesota, about 60 miles from Minneapolis.