10-Year-Old Girl Attacks Florida Teacher For Confiscating Candy , faces felony charges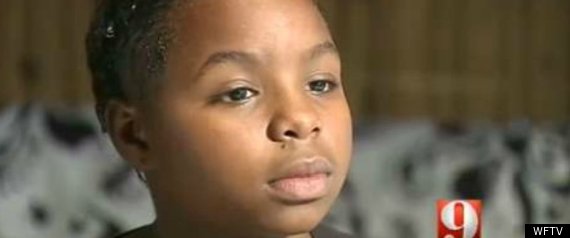 After teacher Kelly Sanchez confiscated Halloween candy from a 10-year-old 5th grader at Zellwood Elementary school, the student allegedly attacked and threatened to kill her, NBC Miami reports.
The girl was arrested last Tuesday and charged with felony battery.
When a reporter from WFTV asked the child's mother, Sebrina Bryant, if she thinks her daughter should have been arrested, she responded passionately.
"No. No. No," she told the station. "I was shocked, devastated."
When the station's reporter asked the girl to describe the attack, the girl only admitted to a small temper tantrum.
"I pushed stuff, pushed papers on the desk and stuff," the girl told the station.
The Sheriff's report, however, states something different. From The Smoking Gun:
"Ms. Sanchez stated that the defendant went behind her desk and took the bag of candy without permission. The defendant then started throwing pieces of candy at the other students in the classroom. Ms. Sanchez took the bag of candy back and put it up on a shelf, telling the defendant the candy would be given to her mother at the end of the day. The defendant then started throwing items from Ms. Sanchez' desk. At this time Ms. Sanchez called for assistance to remove the defendant from the class. While waiting for the requested assistance, Ms. Sanchez stated that she had put her arms up to block the defendant from going back behind her desk. The defendant then struck Sanchez in the stomach and side. She also stated that she would kill Ms. Sanchez and her family."
The State Attorney's Office has 21 days to determine whether or not to go through with the trial or recommend a diversion program.
http://www.huffingtonpost.com/2011/11/14/ten-year-old-girl-attacks_n_1093201.html