13 yr. old charged as an adult after 'stabbing 2-year-old half-sister to death and throwing her body off balcony of their family home'

Posted: Nov 19, 2012 3:51 PM CST
Updated: Nov 21, 2012 2:12 PM CST

DEKALB COUNTY, GA (CBS ATLANTA) –
The DeKalb County 13-year-old girl who has been charged as an adult in the death of her 2-year-old sister made her first court appearance on Tuesday.
Police said Tyasia Jackson stabbed Sasha Lamaya Ray multiple times, killing the toddler.
Shelton Latroy Ray told CBS Atlanta News that he is the biological father of Sasha, who was found dead Monday afternoon outside their townhome on North Waldrop Trail in Decatur.
According to investigators, Tyasia was babysitting Sasha and her four other young siblings while both parents were at work.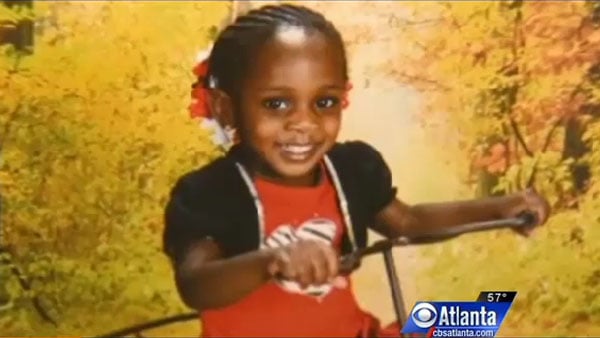 Sasha Lamaya Ray

According to Ray, Tyasia called him Monday about 11 p.m. from jail and confessed to the murder.
"She told me out of her own mouth that she did it," Ray said.
Ray said Tyasia was caught with a boy inside the townhome while he and her mother were away from the house.
"My wife's co-worker lives across the street. She was watching them. She seen my older daughter let a boy in the house. She called my wife at work. My wife told her to go get the boy out of the house," Ray said.
"I told the boy to come out the house," said that neighbor, Veronica Hillman. "If it was a boy in my house I would want someone to tell me."
Hillman said she found the boy hiding inside a closet. Ray said after the boy and Hillman left, Tyasia told her three siblings to go upstairs while Sasha stayed downstairs with her.
"She made all the other kids go upstairs and then she stabbed [Sasha] by the back door. Put her outside came back in the house, cleaned up the blood, changed clothes then came outside and started looking for her with everybody else," Ray said.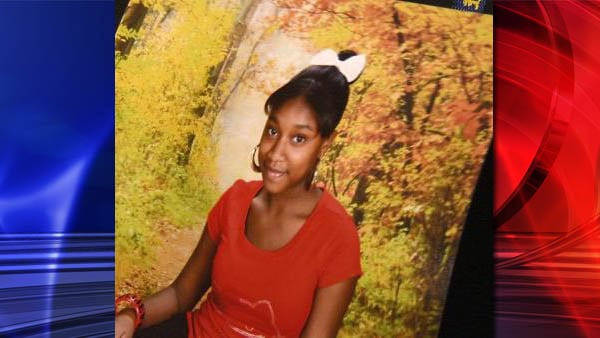 Tyasia Jackson

When her parents returned home, Ray said they asked Tyasia where Sasha was and began looking for her.
Hillman said she was the first person to find baby Sasha.
"I told the mom, 'I found the baby,' but I didn't go into detail," Hillman said. "It wasn't for me to go into detail, I let the husband do that."
Ray and Tyasia's mother then found Sasha's body in the backyard with serious injuries.
"I thought a dog or something had gotten to her because of the bruises, the scars and the bleeding. Murder was far from my mind at that time. I didn't think anyone had did something to her," Ray said.
Ray said he picked his daughter up and attempted to take her the hospital. But before they reached the end of their subdivision, Sasha died.
Investigators said Sasha was stabbed several times in her chest area.
Neighbors were shocked to hear that a 2-year-old was killed.
"It is really upsetting. When I heard it I wanted to cry, because it is someone so innocent," Jose Aguilar said. "They can't even defend themselves or talk. It is just sad."
Other neighbors said Tyasia was very pleasant and well-mannered. One neighbor said she would walk some of her younger siblings to the bus stop every morning.
Ray, his wife and other family members attended Jackson's court hearing on Tuesday. Before the judge came inside the courtroom, Ray told his daughter he loved her.
Ray said he and his wife have to bury one child and find the strength to support another.
"It's tough to swallow right now. I can't believe it," he said. "At the same time, she still needs our help. We are her parents."
The funeral for Sasha will be held on Tuesday, Nov. 27 at the Raleigh Rucker Funeral Home in Decatur.
Stay with CBSAtlanta.com for updates on this story.

http://www.kctv5.com/story/20140225/father-13-year-old-confesses-to-killing-2-year-old-sister