Africa Village showcase forced to close amid acrimony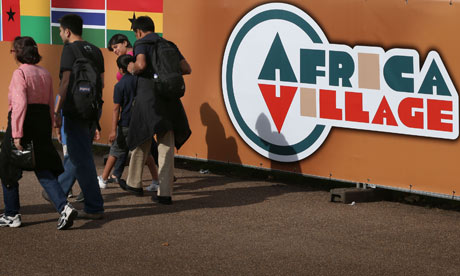 Before closing, the Africa Village was attracting thousands of visitors a day with free food and music from over 20 nations. Photograph: Peter Macdiarmid/Getty Images
It was supposed to be the world's window on Africa during London 2012, the first time that the continent's national Olympic committees (NOCs) had joined to set up a hospitality house to showcase their culture and attract tourists, locals and even the occasional athlete.
Since Wednesday morning, however, Africa Village in Kensington Gardens, a collection of around 20 stands each representing a country, has been shut to visitors and plunged into acrimony.
The village's French organisers and British suppliers are understood to have been locked in a stand-off over the non-payment of bills believed to be worth hundreds of thousands of pounds.
Last night, the Association of National Olympic Committees of Africa (ANOCA) condemned the fiasco, warning it reserved the right to seek damages.
"The closure, which is consequent on a dispute between a French enterprise and some English companies, has impacted our continent most adversely, especially as our only desire, when we initiated this project, was to exhibit Africa's rich cultural diversity," it said, adding: "We wish to make it clear that ANOCA reserves the right to seek redress for damages caused to our public image."
Among the companies who claimed they had not been paid what they were owed was tent supplier the Mar-Key group. "Significant promised funds have not been forthcoming and the company has no option but to use legal force as required to ensure the correct outcome for the company and its employees," said chairman David Tabb.
But Pixcom, a French events management company responsible for the organisation of the village, has dismissed these claims as "unacceptable wrangling" over what it said were relatively minor sums. In a statement, chairman Alain Barbier warned there would be "consequences" for those he considered had forced the site's closure. "It is clear that this premature closure means real damage which will require appropriate consequences for those who bear the heavy responsibility for the closure of the site," he said.
The decision to shut the village sparked fury among countries such asEthiopia, Rwanda and Botswana, which were taking part in the popular pavilion by the Royal Albert Hall. ANOCA said it had attracted more than 80,000 people with its free African food and music. All participating countries were to be given a day to themselves to celebrate their culture. Ayele Gelaneh, the director of marketing at the Ethiopian ministry of culture and tourism, said a troupe of dancers from Addis Ababa had been flown in and kitted out at significant expense for the country's day on Saturday. "It's a lot of time. It's a lot of money. [Had we known] we would have engaged ourselves in something different," Gelaneh said.For the staff of the Moroccan tent, the closure has been a particular blow. They had prepared food, invited VIPs and organised music for their national day on Wednesday, only to be told in the morning that the village would have to turn visitors away. "Of course [we are angry]. We are disappointed. It's appalling," said artisan Lahcen Bi Ghourbane. "If it doesn't reopen we will do something, because it's shameful to do this to a continent."
Omar el Mouss, another staff member, claimed the team were victims of the organisers' alleged mismanagement. Shortly after the village was due to open at 9.30am on Thursday, tourists arrived to discover it had shut. "It would've been nice to see it," said Andrew Walker from Fife, who had brought his two sons, aged 11 and eight, to look around. A London 2012 volunteer, who did not want to be named, said she had come back to buy some bookends she had spotted earlier in the week. "They were for my friend's 50th birthday."
http://www.guardian.co.uk/sport/2012/aug/09/london-2012-africa-village-close