African man and child Targeted In Brutal, Racist Attack In Sweden "Afrophobia" crime
Posted: 09/13/2013 6:47 pm EDT
After a man and his 18-month-old son were brutally attacked in what has been called a racially driven assault in Malmö, Sweden, anti-racism activists are taking to both the Internet and the streets to call for justice.
According to The Local, 32-year-old Yusupha Sallah and his son Yunus were out walking on a Malmö bridge Sunday, when a group of four people reportedly approached the duo. One of them is said to have "kicked a toy" out of the toddler's hand.
When Sallah stepped in to protect his son, the young boy was allegedly thrown to the ground while his dad was assaulted. According to local newspaper Sydsvenskan,several men rushed to the scene to participate in the beating.
Sallah, a Gambian native who has been living in Sweden for the last eight months, says he was called a "black bastard" and that his attackers threatened to kill him and his child.
"They beat and kicked his father on the body and the head. When he fell they tried to throw him off the bridge," Thomas Bull, head of Malmö Police Department's hate crime unit, told Sydsvenskan, per The Local.
Fortunately, Sallah managed to hang on to the railing and survived the attack. Bull says the incident is being investigated as a hate crime.
The horrific assault against Sallah and his son has prompted discussions and protests this week about racism in Sweden, specifically prejudice targeted at those of African descent.
According to Swedish journalist Adam Hedengren, so-called "Afrophobia" has been a worsening problem in the Scandinavian country throughout the last few years.
"In the past four years, we've seen that hate crimes have actually gone down in the country… [but] reports coming into the police regarding Afrophobia have increased," Hedengren, co-founder of YourMiddleEast.com, told HuffPost Live this week, calling the shift a "worrying development."
This weekend, several anti-racism protests are being planned in cities across Sweden. The rallies, which are scheduled to take place Saturday in Stockholm,Malmö and Gothenburg, are part of the "Stop Afrophobia" campaign, which was launched on Facebook following Sunday's attack.
Anti-racism activist Momodou Malcolm Jallow, one of the protest organizers, told HuffPost Live that he feels that people in Sweden often sweep racism under the rug as it goes against the country's positive international image. He hopes, however, that the "Stop Afrophobia" campaign will not only empower victims of racism but will catch the attention of Swedish policymakers and the international community.
"We as Afro-Swedes, we want to talk about this because it's about our reality… and we're going to keep talking about it," he said.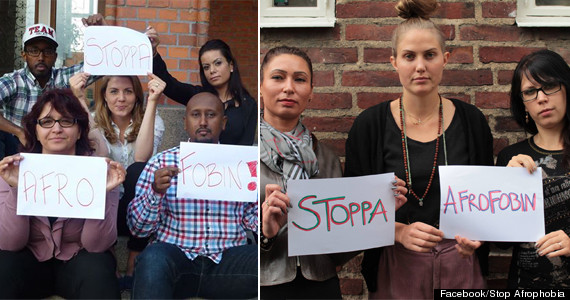 More than 3,000 people have already shown their support for the anti-racism campaign online with many sharing photographs of themselves bearing "Stop Afrophobia" signs.


More than a thousand people are expected to attend the protests this weekend.
Last year, Lena Adelsohn Liljeroth, Sweden's Minister Of Culture, caused quite a stir when she was photographed cutting into what many called a racist cake. The cake, which depicted a naked black woman, was part of an art installation purportedly meant to highlight the issue of female circumcision. Click through this slideshow to see photos of the event: