African Migrants in Morocco Tell of Abuse
By AIDA ALAMI
Published: November 28, 2012
RABAT, Morocco — A long car ride north of the center of Morocco's capital, Rabat, behind a market and through a maze of narrow alleys in a densely populated northern suburb, Takadoum, is a crumbling building. Here, illegal sub-Saharan migrants share tea and swap stories of assault, rape and daily encounters with hostility.
At a gathering in October on the roofless terrace of the building, a couple of dozen illegal migrants sat on a mattress or on little stools beneath a blue plastic sheet to protect them from the rain, and shared harrowing accounts of their lives in Morocco.
The Moroccans think  "they can do whatever they want to us," said one migrant from Niger who asked not to be named out of fear for his safety. "The police rip off our identity cards and arrest us and people hold their noses when they see us."
There are an estimated 12,000 to 15,000 illegal sub-Saharan migrants in Morocco, according to an organization called the Anti-Racist Group to Defend Foreigners and Migrants, or Gadem, from its French name.
In Morocco, a country of 33 million where 56 percent of adults are illiterate, according to the United Nations, and perhaps 30 percent of youths are unemployed, the presence of what seems to be a large influx of people from elsewhere is causing tension.
With huge unresolved economic problems, "there is a tendency to shift the blame for problems to migrants — particularly crime and unemployment," Hein de Haas, co-director of the International Migration Institute at the University of Oxford and an authority on migration in Morocco, said in a telephone interview this week.
A cover of the magazine Maroc Hebdo this month showed a close-up of the face of a young dark-skinned man above a stark headline, "The Black Peril." The cover article accused sub-Saharan Africans of criminal activities in Morocco.
Most, but not all, sub-Saharans in Morocco are illegal migrants passing through the country on their way to Europe. Often they try to cross the Mediterranean in small boats, and every month several drown.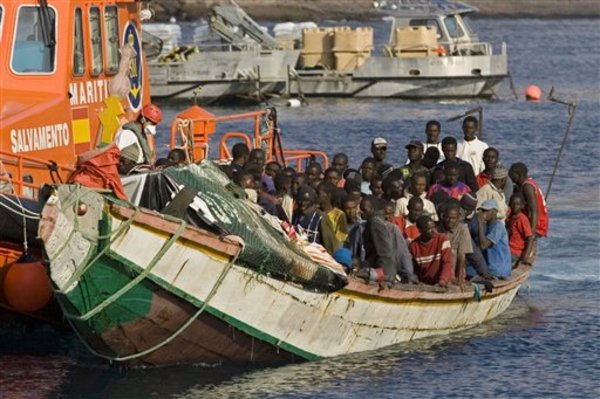 Others try to cross via a forest into the Spanish enclave of Melilla, in northern Morocco. It is a journey fraught with the risk of brutal treatment at the hands of the Moroccan police, according to migrants themselves and to human rights organizations.
"There are high levels of impunity within the Moroccan authorities," said Viviana Waisman, executive director and co-founder of Women's Link Worldwide, an organization that works for gender equality. "Europe is turning a blind eye to that because they want Morocco to be a gatekeeper."
Despite repeated attempts to reach government officials this week, none was available to comment on the government's policy toward illegal migrants, or allegations of abuse.
Immigrants are not only subject to violence and human rights abuses, Ms. Waisman and others said, but they and their defenders have also been singled out in a wave of arrests.
Laye Camara, the founder of the Council of Sub-Saharan Migrants in Morocco and a Guinean citizen, was arrested on Oct. 20. The police, who said they had found three bottles of wine and two cartons of cigarettes in his apartment, charged him with selling alcohol without a license and smuggling cigarettes, according to the Moroccan Association of Human Rights.
Eric Tabo, 20, walks around on crutches in his T-shirt and jeans. He shares one room in Takadoum with five other people. Mr. Tabo, a native of Cameroon, tried to make his way to Europe to find work to support his siblings after his parents died. Today, his sources of income are panhandling and charity.
"When I arrived in Morocco, my life changed — it became a nightmare," he said in an interview last month. "I never thought that one day my life would be like this."
His face puckered with pain as he told how he was attacked by Moroccan soldiers while hiding in a forest in northern Morocco, waiting to cross the border to Melilla. They broke his leg, he said.
Friends carried him to a hospital, where he said he was refused admission. Several months later, his wound still had not healed: He needs an operation on his leg but cannot afford one.
His disability prevented him from leaving Morocco. Instead, he settled in Rabat, where he was recently attacked by a gang, leaving him with multiple knife wounds on his hand, arm and chest. The attackers stole his cellphone and $100 that he had saved from begging on the streets.
"Nobody tried to help me, I was left for dead on the sidewalk," he said. "African migrants get attacked because bandits know that we can't go to the police — they will treat us even worse."
Morocco expels an estimated 14,000 immigrants every year, according to Gadem, the antiracism group.
"Arrests of migrants, refugees and asylum seekers are based on racial profiling," said Camille Denis, a coordinator at Gadem. "The time they spend in custody is not respected, and collective expulsions, prohibited by international and national law, are a common practice."
Beside the illegal migrants, Morocco has also become home to thousands of legal immigrants from places like Senegal and Mali, said Mr. de Haas, the migration expert at Oxford. "Morocco has to deal with the reality that there are more migrants who are not just transiting but who are settling in the country," he said.
Pierre Delagrange, president of the Collective of Sub-Saharan Communities in Morocco, a group formed to fight abuse of migrants, said that on the long journey from their homes, they were systematically robbed by the smugglers who took them across borders and threatened to abandon them unless they paid more money.
In Morocco, unable to go further, they often end up in a life of begging and prostitution or, worse, become the victims of human traffickers.
It has become much harder over the past few years to cross to Europe. The Moroccan authorities frequently make mass arrests. And once detained, migrants say, instead of being sent back to their countries of origin, they are taken into custody in Oujda, a town near the Algerian border, where they are put in overcrowded cells and often humiliated or abused.
In July, Médecins Sans Frontières, the aid group, reported that it was treating many sub-Saharan migrants in Morocco for injuries resulting from violence.
"Many of the people we have treated tell us that their injuries are a result of having been beaten by security forces during attempts to cross into Spain," the group's head of mission, David Cantero, said in a statement.
During the gathering at the building in Takadoum, many migrants said they had been forced to dance to reggae music in front of officers who mocked them. Some said they had been sexually abused with objects and asked to perform oral sex.
'Morocco must respect its international obligations: respect for fundamental human rights," said Ms. Denis, the coordinator at Gadem. "It must also stop the arrest and collective deportation of refugees and asylum seekers."
Several people at the meeting told of being tortured in custody before being released in the middle of night with two choices: run toward the Algerian border and risk being shot or to try to find their way back to a Moroccan town.
Some migrants also said that while in detention their clothes were taken from them. They told of having to walk into towns naked, after their release, counting on the kindness of strangers to give them clothes and food.
"We all dream of going back to our countries," said one woman from Niger who described being sexually abused by the Moroccan police. "I would take the hell back home rather than stay here."
http://www.nytimes.com/2012/11/29/world/middleeast/african-migrants-in-morocco-tell-of-abuse.html?pagewanted=all&gwh=C36863AB3A7BDFB616F32034BA8EAC45