Black Clergy Aims To Register One Million Voters On Easter Sunday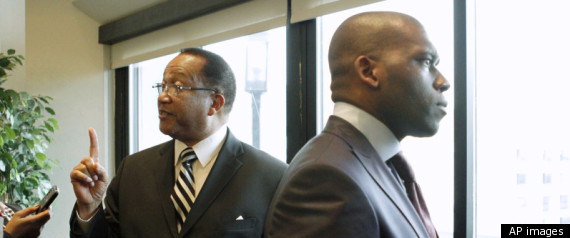 The Rev. Jamal Bryant, right, with Dr. Benjamin Chavis, Jr.
The battle over voter I.D. laws — which critics say disenfranchise the poor, elderly and citizens of color — has been fought in state houses, court rooms and op-ed columns. And now that fight is headed for the pews.
Leaders of several prominent black churches have stated an ambitious goal: to register one million new voters on Easter Sunday. The immediate aim of the initiative, called the "Empowerment Movement," is to push back on what these leaders see as an encroachment on hard-won voting rights. But the movement's organizers are also hoping to reorient the black church toward issues of inequality and social justice.
Jamal Bryant, the Baltimore pastor who is the chief organizer of the the registration drive, said that the church's shift from the kind of social engagement that marked the church in the 1960s was in part a function of black economic and political progress. "I think of it just as a reflection of a people who have felt like we've arrived," Bryant said.
Bryant said that the idea for the voter intiative took shape in a meeting with clergy members in the city. "We called together all the denominations in Baltimore for a summit," Bryant said. They discussed what they could do around mass incarceration, high unemployment and the aforementioned voter I.D. laws, which are now on the books in 30 states.
Bryant said that there were 500,000 black churches in the United States — the group estimates that there are five million unregistered black voters in the pews — and their goal was to get as many of them as possible to agree to sign up at least 20 members. Bryant said the initiative had won commitments from the heads of several major denominations, and would be teaming with Rock the Vote, which focuses on registering young people, and Color Of Change, the online activist group, to tally the total. "Within 24 to 48 hours [after Easter Sunday], we'll be able to see the numbers," Bryant said.
What happens if they fall short of the one-million vote mark? "Let's say we get 700,000," Bryant said. "The first-day approach would be a 21st century approach to [the Southern Christian Leadership Committee]: we'd send people out [to help make up the difference] on the ground."
Bryant said it has been at least two decades since the black church was so mobilized. "The last time we saw it wholesale was when Rev. Jackson ran in '88," he said, referring to Jesse Jackson's unsuccessful White House campaign. "This initiative is going to formalize that and push us to the next level."
This summer, the Empowerment Movement is planning to convene a think tank to craft a list of demands to send to both the Democratic and Republican nomination conventions.
"This whole movement reminds me of a neo-[SCLC]," said Stephen Green, a student organizer working on the initiative, referring to the civil rights organization run by Martin Luther King, Jr. "The church, as a larger movement, has been focused on who has the largest church and having the fastest car. But now we have to put the church back into the community."
"Our vote is going to be very critical in this election," Bryant added. "Because we don't have super PACs, we have the people."
http://www.huffingtonpost.com/2012/03/11/black-vote-clergy-voter-registration_n_1337563.html?ref=black-voices