The first black people ever photographed in Britain
Sean O'Hagan
theguardian.com, Monday 15 September 2014 11.48 EDT
From the African Choir posing like Vogue models to an Abyssinian prince adopted by an explorer, a new exhibition spotlights the first black people ever photographed in Britain
The African Choir were a group of young South African singers that toured Britain between 1891 and 1893. They were formed to raise funds for a Christian school in their home country and performed for Queen Victoria at Osborne House, a royal residence on the Isle of Wight. At some point during their stay, they visited the studio of the London Stereoscopic Company to have group and individual portraits made on plate-glass negatives. That long-lost series of photographs, unseen for 120 years, is the dramatic centrepiece of an illuminating new exhibition called Black Chronicles II.
"The portraits were last shown in the London Illustrated News in 1891," says Renée Mussai, who has co-curated the show at London's Rivington Place alongside Mark Sealy MBE, director of Autograph ABP, a foundation that focuses on black cultural identity often through the use of overlooked archives. "The Hulton Archive, where they came from, did not even know they existed until we uncovered them while excavating their archive as part of my PhD project."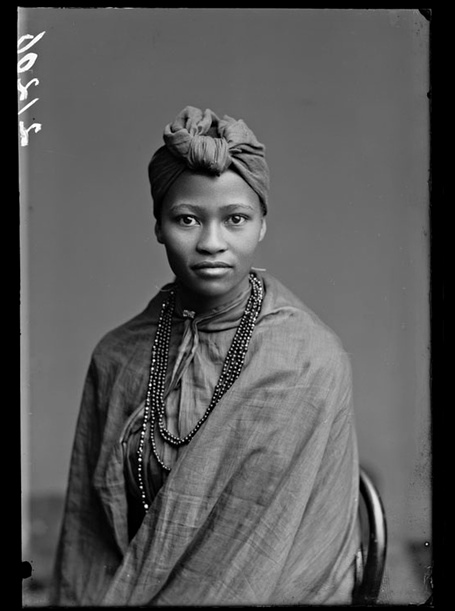 Discovered … Member of the African Choir, London Stereoscopic Company, 1891. Photograph: Courtesy of © Hulton Archive/Getty Images

The London Stereoscopic Company specialised in carte de visites – small photographs printed on cards that were often traded by collectors or used by performers for publicity purposes – and, as their name suggests, they were all in stereo which, when seen through a special viewer, gave the illusion of a three-dimensional photograph.
The enlarged portraits of the African Choir, which line one wall of the exhibition, were made by Mike Spry, a specialist in printing from glass plates who was coaxed out of retirement to undertake the meticulous process in his garden shed. They are arresting both for the style and assurance of the sitters – some of the women look like they could be modelling for Vogue – and for the way they challenge the received narrative of the history of black people in Britain.
"Black Chronicles II is part of a wider ongoing project called The Missing Chapter," says Mussai, "which uses the history of photography to illuminate the missing chapters in British history and culture, especially black history and culture. There is a widespread misconception that black experience in Britain begins with the arrival of the Empire Windrush and the first Jamaican immigrants in 1948, but, as this exhibition shows, there is an incredible archive of images of black people in Britain that goes right back to the invention of photography in the 1830s."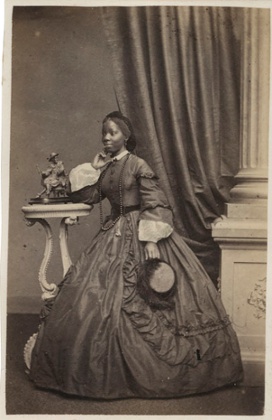 Sara Forbes Bonetta. Brighton, 1862. Photograph: Courtesy of Paul Frecker collection/The Library of Nineteenth-Century Photography
Near the African choir shots, there is an equally striking portrait of Major Musa Bhai, a Ceylon-born Muslim who was converted to Christianity in colonial India. He accompanied the family of William Booth, founder of the Salvation Army, to England in 1888 as a high-profile advocate for the organisation. As Mussai notes, there "are several intertwining narratives – colonial, cultural and personal – embedded in these images, but what is often startling is how confident and self-contained many of the sitters are as they occupy the frame."
More haunting is the portrait of Dejazmatch Alamayou Tewodros, an Ethiopian prince who was orphaned at the age of seven, when his father died rather than surrender to the British troops that had surrounded his castle in what was then Abyssinia. Alamayou was brought to England by Sir Robert Napier and adopted by the intriguingly named explorer Captain Tristram Speedy. Alamayou died in England of pleurisy in 1879.
"There is a certain melancholy to many of these images, particularly the portraits of children, that speaks of exile and estrangement," says Mussai. "That is certainly the case with Alamayou and Ndugu M'Hali, who was known as Kalula in his role as companion-servant to the explorer Henry Morton Stanley. The history of colonialism, in all its contradictions, is present in these portraits."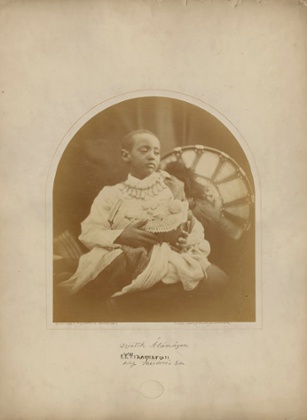 Prince Alamayou. Isle of Wight,1868. Photograph: Julia Margaret Cameron /Courtesy of Jenny Allsworth collection
In Black Chronicles II, the resurrected photo albums and carte de visites, plus a slideshow of black British soldiers and portraits culled from the archives of the National Portrait Gallery, the Hulton Archive and the National Army Museum all add up to an impressionistic history of black British experience – but, more tantalisingly, tell the extraordinary individual stories that underpinned that collective cultural experience. "And this is just the first showcase of our research project," says Mussai.
Fittingly, the exhibition is dedicated to the memory of Stuart Hall, the influential left-wing cultural theorist who died this year, and whose writings underpin The Missing Chapter project. "They are here because you were there," he wrote of the black British people whose experience he illuminated. "There is an umbilical connection. There is no understanding Englishness without understanding its imperial and colonial dimensions." The excavated images in Black Chronicles II provide a crucial and, until now, overlooked way of further understanding that complex connection.
 http://www.theguardian.com/artanddesign/gallery/2014/sep/15/hidden-histories-the-first-black-people-photographed-in-britain-in-pictures

Peter Jackson, 2 December 1889. Born in 1860 in St Croix, then the Danish West Indies, Jackson was a boxing champion who spent long periods of time touring Europe. In England, he staged the famous fight against Jem Smith at the Pelican Club in 1889. In 1888 he claimed the title of Australian heavyweight champion.
Photograph: Hulton Archive/Getty Images


Major Musa Bhai, 3 November 1890. Musa Bhai travelled to England in 1888 as part of the Booth family, who founded the Salvation Army.
Photograph: Hulton Archive/Getty Images


Eleanor Xiniwe of the African Choir, 1891.
Photograph: Hulton Archive/Getty Images


A member of the African Choir, who all had portraits taken at the London Stereoscopic Company in 1891.
Photograph: Hulton Archive/Getty Images


One of the stereoscopic photographs of the African Choir, 1891.
Photograph: Courtesy of © Hulton Archive/Getty Images


ohanna Jonkers of the African Choir, 1891.
Photograph: Courtesy of © Hulton Archive/Getty Images


Albert Jonas and John Xiniwe of the African Choir, 1891.
Photograph: Hulton Archive/Getty Images


Advert for the Lion Troupe of Ashante Warriors, the Wonders of the World, c1890.
Photograph: Courtesy of Michael Graham Stewart collection.


This man was brought to Britain with a Zulu troupe during the Anglo-Zulu War of 1879 and was part of explorer Guillermo Antonio Farini's exhibition of 'Friendly Zulus' in London, 1879.
Photograph: Courtesy of Michael Graham Stewart collection.

http://www.theguardian.com/artanddesign/gallery/2014/sep/15/hidden-histories-the-first-black-people-photographed-in-britain-in-pictures