California couple, Bernard and Shirley Kinsey, offering black history art collection
By: Leslie Katz | 04/03/13 5:52 PM
SF Examiner Arts Editor
Packed with photographs, a diverse selection of paintings and other contemporary fine art, as well as historic papers, a mind-blowing exhibit showcasing hundreds of years of black Americans' rich cultural contributions to the United States is at the Museum of the African Diaspora in The City.
A copy of the Emancipation Proclamation from 1862 is just one among dozens of fascinating, heartrending and thought-provoking objects, documents and artworks on view through May 19 in "The Kinsey Collection: Shared Treasures of Bernard and Shirley Kinsey — Where Art and History Intersect."
The Kinseys, a dynamic Southern California-based philanthropic couple who have been collecting art and artifacts for more than three decades, are attempting to answer a question — "How did black folks get into their predicament?" — and bring to light the accomplishments of black Americans they didn't learn about in history class.
COURTESY PHOTO
Jonathan Green's 1988 painting "Field Hands" is among dozens of amazing art works and artifacts on view in "The Kinsey Collection: Shared Treasures of Bernard Kinsey."


"We're trying to fill holes in our hearts — the hole is what we don't know about ourselves," they say, adding that items in their personal collection don't tell the "struggle" story.
"We're interested in the people who overcame," Bernard Kinsey said at the exhibition's opening.
One of the oldest items, the first book written by a black American, dating from 1632, is in the show, as is a 1773 book called "Poems on Various Subjects, Religious and Moral" by Phillis Wheatley, the first black American woman whose writing was published.
Examples of the reality of slavery also are on view, including a proclamation from 1798 declaring "any person may kill or destroy" a slave, various 19th-century ship logs, schedules and ledgers made by estate or plantation owners enumerating and describing  slaves, and a copy of the Dred Scott Decision, a U.S. Supreme Court case that ruled against a slave who sued to try to gain his freedom.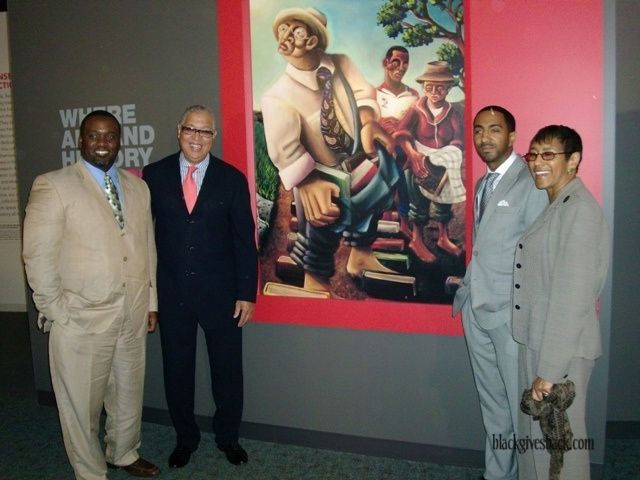 More recently, the exhibit includes letters by Martin Luther King Jr., Zora Neale Hurston, Malcolm X (to Alex Haley) and an abstract of the Brown v. Board of Education ruling signed by Supreme Court judges.
Rounding out the show are works of fine art by virtually every major black artist and some lesser-known artists, too. Bernard Kinsey focuses on dead artists, Shirley Kinsey on living; both have eclectic taste and purchase only what "makes their hearts go pitty-pat."
A bronze sculpture of a slave by May Howard Jackson from 1900 bookends with a 1986 sculpture, "Old Masai Woman" by Ed Dwight, and evocative paintings range from Hughie Lee-Smith's untitled 1951 painting of a girl jumping rope against a dark sky, and Jonathan Green's colorful 1988 "Field Hands."
[email protected]
Kinsey Collection: Shared Treasures of Bernard and Shirley Kinsey – Where Art and History Intersect
Where: Museum of African Diaspora, 685 Mission St., S.F.
When: 11 a.m. to 6 p.m. Wednesdays-Saturdays, noon to five p.m. Sundays; closes May 19
Tickets: $5 to $10
Contact: (41) 358-7200, www.moadsf.org
Read more at the San Francisco Examiner: http://www.sfexaminer.com/entertainment/fine-arts/2013/04/kinseys-shed-new-light-african-american-culture#ixzz2PW1HeBHD