More calls for books about non-white children in the United Kingdom
Alison Flood    

Even in the 21st century, if you're young and not white it's unlikely you feature in much teen fiction, but times are changing


Where are the UK's stories about teenagers of colour? That is what the British author Tanya Byrne wants to know. Meanwhile the Clinton Global Initiative America launches First Book, aimed at addressing what it calls the "real and pernicious" lack of diversity in US children's literature.
Byrne, who is half-Guyanese, said that growing up, it was impossible to find children's books featuring non-white characters. "I'm so used to reading a book and the people not looking like me, it's just something you live with – you are made to feel you are so different you would never appear," she says. "Go into the teen section of your local bookshop and you're more likely to find a book about a zombie than one about a black girl. About anyone who isn't white, actually."
Statistics from America back her up: a study by the Cooperative Children's Book Center of 3,600 books published in the US in 2012 found that only 3.3% were about African-Americans, 2.1% were about Asian-Pacific Americans, 1.5% were about Latinos and 0.6% were about American Indians.
Byrne's first novel Heart-Shaped Bruise was shortlisted for a CWA Dagger in 2012; her second, the young adult thriller Follow Me Down, was published this May, and follows the story of Adamma Okomma, a wealthy Nigerian teenager who is forced to leave New York for an English boarding school.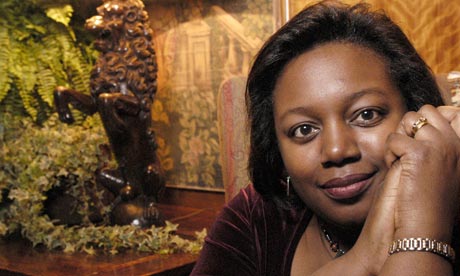 Malorie Blackman, the first black author to be made UK children's laureate. Photograph: Nick Cunard/Rex Features


Byrne says she "wasn't trying to make a point" by making Adamma Nigerian – she wanted her to be new to the school, and it made sense that she wasn't from England – but is conscious that as an author she has "a voice, and can do something to redress the balance".
There's nothing wrong with stories about zombies, Byrne says, but "where are the stories about teenagers of colour as well? Not the funny Asian best friend, but stories told by teenagers of colour with teenagers of colour on the cover? Stories that are just about falling in love, not about how hard it is to be in a mixed race relationship? And yeah, being a person of colour is hard sometimes. It can be unsettling. You can be made to feel strange, like you don't fit in, but the funny thing is, if anyone is going to get how that feels, it's a teenager."
Byrne is concerned, she says, that authors "are put off" writing about non-white characters "because they think the books won't sell, or that publishers won't be interested, and that worries me … I don't think it's any coincidence that publishing is predominantly white – I'm frequently the only non-white person in the room."
New children's laureate Malorie Blackman, appointed earlier this month, has raised similar concerns, telling the Guardian: "I remember going into a bookshop and the only book I saw with a black child on the cover was A Thief in the Village by James Berry and I thought, is this still the state of publishing? Then I thought either I can whinge about it or try to do something about it. So that was a major reason for me wanting to write books for children, because I wanted to write all the books I'd missed as a child."
Her own bestselling Noughts and Crosses series presents an alternative version of society, divided between the governing black Crosses and the underclass of white Noughts. "We need more books that are specifically about the BME [black and minority ethnic] British experience, and that's why I bang the drum for getting more diverse books out there, and for getting rid of the idea that if a book contains pictures of a black or Asian child, it's going to have a limited market," Blackman told the Guardian.
In the US, meanwhile, First Book says the lack of diversity in children's literature "affects all children, especially children from low-income families, who rarely see themselves, their families or their communities in the stories they read".
"We've heard time and again from the educators we work with that one of the biggest challenges to helping kids become strong readers is the desperate lack of books that are culturally relevant to these kids' lives," said Kyle Zimmer, president of First Book. "One of the best ways to turn children into readers is to give them stories with heroes and experiences they can relate to."
Over the next two years, First Book's The Stories for All project will work to develop culturally relevant collections of books for children, as well as work with thousands more classrooms and community programmes.
"By aggregating the voice and purchasing power of thousands of educators and programme leaders who serve families at the bottom third of the economic pyramid, First Book is showing the publishing industry that there is a strong, viable and vibrant market for diverse content," Zimmer said.  "This isn't only about more African-American books for African-American children or more Latino books for Latino kids, it's about more varied content so that all children can experience the richness of everyone's stories."


 http://www.guardian.co.uk/books/2013/jun/19/writing-stories-children-white-black-asian