Cancer Screening Budget Cuts May Prove Deadly for Some Women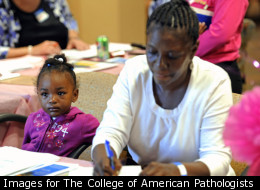 Lanajh Jones, 2, waits patiently as her grandmother Rozeann Gorman, of Minneapolis, registers for a free screening at North Point Health & Wellness Center's See, Test & Treat™, a program that provides free breast and cervical cancer screening and same day diagnosis and care, for patients 40 and older in Minneapolis, Minn. African American women have a 24% higher mortality rate for breast cancer then non-Hispanic white women in Minnesota.
Government budget cuts may prove deadly for low-income women who are increasingly unable to get critical cancer screenings that once were offered free by state governments.
Shrinking state and federal budgets, the elevated cost of top-notch testing and growing demand are leaving millions of uninsured women unable to access breast and cervical screening programs. (Click here to view the number of women screened for breast and cervical cancers through government programs in each state).
In Illinois, where a government-funded program screened more than 70,000 low-income women from 2005 to 2010, program administrators said they fear money for higher-cost but more accurate digital mammograms will run out before the July 1 start of a new funding year. Mammograms have been suspended at five program sites and a waiting list is developing, the Chicago Tribune reported Friday. And officials in Rhode Island temporarily suspended the state's screening program in 2010 due to funding shortfalls.
"The problem is that there is absolutely an inverse relationship between funding and need," said Cynthia Pearson, the National Women's Health Network executive director.
Most forms of cancer, when detected in their earliest stages, are more responsive to treatment and less likely to kill. Based on that idea, Congress funded the Breast and Cervical Cancer Screening Program in 1991.
States willing to contribute funds to the program suddenly had a large-scale means though which low-income, uninsured women could access the same sort of regular cancer testing available to wealthier and insured women. Women's health advocates said it was a crowning achievement, a moment where science and compassion overrode the politics of government-funded health care.
Programs that serve poor and low-income individuals always see a surge in demand when unemployment rises, Pearson said. But high unemployment also limits federal and state tax revenues, the money used to fund most social services. Breast and cervical cancer screening programs have endured cuts or struggled to balance flat funding with rising demand in many states, she said.
Although unemployment has made what many economists describe as a sustained turn in the right direction, nearly 13 million Americans still cannot find work. States also are reporting modest rebounds in tax receipts, but few are collecting what they were before the recession. And 41 states indicated they planned to slash social services spending, particularly state-funded health care, in a November survey released by the National Association of Governors and the National Association of State Budget Directors.
Over the course of the recession and the years that have followed, federal funding for most social safety net programs has also remained flat or been cut, PublicHealth Newswire reported in October. Current federal funding levels provide only enough money for one of every five women eligible for the nation's Breast and Cervical Cancer Screening program to receive tests.
The impact of flat and falling state and federal funding for the screening program will not affect the population evenly. In 2011, blacks and Latinos made up just under 30 percent of the nation's population and 47 percent of the country's uninsured, according to the Department of Health and Human Service's annual report. A dearth of private health insurance coverage has been identified as a major reason that black women are less likely to be diagnosed with breast cancer than others, but are more likely to die of the disease, according to the National Cancer Institute.
http://www.huffingtonpost.com/2012/02/20/cancer-screening-budget-cuts_n_1284880.html