Charlie and the Chocolate Factory hero was originally black, but was later changed to white
Charlie and the Chocolate Factory hero 'was originally black'
Roald Dahl's widow and biographer say first Charlie was black but writer was persuaded to make him white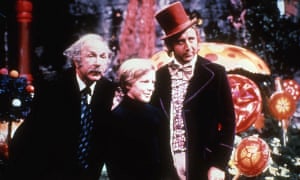 Roald Dahl originally wanted the eponymous hero of his much-loved children's book Charlie and the Chocolate Factory to be black, his widow has said.
In an interview with BBC Radio 4's Today programme for Roald Dahl day on Wednesday, Liccy Dahl said: "His first Charlie that he wrote about was a little black boy."
Asked why it was changed, she replied: "I don't know. It's a great pity."
Her husband's biographer Donald Sturrock, who was also being interviewed, said the change to a white character was driven by Dahl's agent, who thought a black Charlie would not appeal to readers.
"I can tell you that it was his agent who thought it was a bad idea, when the book was first published, to have a black hero," said Sturrock. "She said people would ask: 'Why?'"
The revelation about Dahl's original wish for Charlie may surprise those who accused the author of racism in relation to the book. The allegation stemmed from the fact that the Oompa Loompas in the original version were black pygmies from Africa.
The news in 1970 that there was to be a film of the book drew the attention of the National Association for the Advancement of Colored People (NAACP) to the work and they said the importation of the Oompa Loompas to the factory had overtones of slavery.
Dahl insisted there was no racist intent behind the Oompa Loompas but also said he found himself sympathising with the NAACP. As a result, he rewrote them in time for the second US edition as white hippyish dwarves hailing from an invented place, "Loompaland". The film, starring Gene Wilder, avoided the issue of race altogether, making them green-haired and orange-skinned.
In 2016, the Bookseller said Charlie and the Chocolate Factory was Dahl's bestselling book across editions with almost 1m sales. It said the follow-up, Charlie and the Great Glass Elevator, had sold about 375,000 copies.
SOURCE: https://www.theguardian.com/books/2017/sep/13/charlie-and-the-chocolate-factory-hero-originally-black-roald-dahl
This book has been featured several times here, mostly because parts of it are nightmare fuel, and also because its writer, Roald Dahl, was some sort of nymphomaniac James Bond. But there are also aspects of the book that don't make Dahl seem like an awesome guy to party with.
You probably remember the Oompa Loompas — they look like compact clowns and sing creepy songs while getting rid of the corpses of the victims of Willy Wonka's shoddy factory safety standards. If you are wondering what's so racist about them it's because you are only familiar with them from the movies.

"Oompa Loompa doompa dee doo, when you're buried in our backyard, no one'll find you!"
The Racism:
In the original book, the Oompa Loompas don't come from Loompaland — they come from Central Africa, and they were described as just regular ol' black pygmies and not hippie clown dwarfs. They were relocated to Loompaland and their skin was changed from black to white in the illustrations thanks to growing controversy in the '70s. Get your hands on one of the versions printed before the world came to its goddamn senses, and you'll read about how Willy Wonka simply found a tribe of Africans, enslaved them and used them to replace his regular work force because they were willing to work for chocolate. And before you complain that they were not slaves because they got paid, we'd remind you that even the worst slave owners fed their slaves a more balanced diet than Mr. Wonka.
philnel
1964 Africans, and 1973 Scottish soccer hooligans.
Of course, the original treatment of the Oompa Loompas is reminiscent of colonial Europe, when white folks were still able to convince each other that they were doing all the other races a favor by enslaving them. Unfortunately for Dahl apologists, the book was published in 1964, right around the time that the "Hey, everyone thinks black people are funny little animals" argument became a hundred goddamn years too late.
ingofincke
1998 punk rockers.
As we've pointed out before, Dahl even based some of the ideas from the book on actual events involving real chocolate companies. So Dahl was probably at least partially aware that a lot of the cacao plantation workers in Ivory Coast, the biggest producer of chocolate, were practically enslaved African children. It seems more than a little insensitive of Dahl to give Wonka a bunch of funny little African slaves who happily give away their freedom just to give white kids some chocolate. But then again, he's never been the most sympathetic guy when it comes to children.

"You tried to drink from my giant pool of delicious chocolate? Death by suffocation!"
SOURCE: https://www.cracked.com/article_19610_the-6-most-secretly-racist-classic-childrens-books.html