Confederates' 'slave hunt' in the North in June of 1863 was a military disgrace
By Frank Reeves / Pittsburgh Post-Gazette  June 30, 2013 12:16 am

In June 1863, when Brig. Gen. Albert Jenkins' cavalry, in the vanguard of the Confederate army, galloped into Pennsylvania, its aim wasn't only to spy and steal supplies.
The soldiers were also determined, as historian Margaret Creighton notes, to round up African-Americans, whom the Confederates regarded as "contraband" that should be returned to "rightful" owners.
The "slave hunt," as contemporaries and later historians called this phase of the Confederate invasion, would last as long as Gen. Robert E. Lee's Army of Northern Virginia remained in Pennsylvania. It ended only when the defeated Southern troops retreated back to Virginia after the Battle of Gettysburg.


• • •


Lee told his soldiers, once the invasion of Pennsylvania was under way, that "no greater disgrace could befall the army," or discredit the Confederate cause, "than the perpetuation of the barbarous outrages upon the unarmed and defenceless [sic] and the wanton destruction of private property that have marked the course of the enemy in our own country."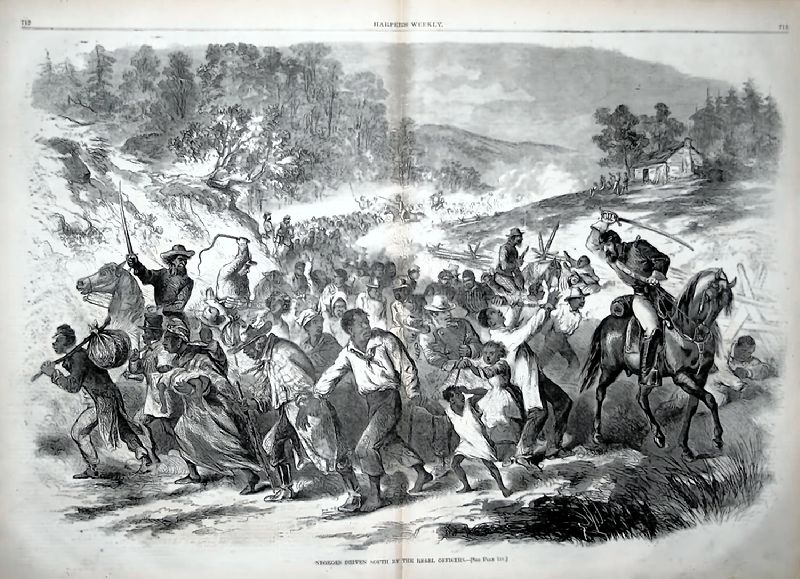 Library of Congress——-This illustration, captioned "Negroes Driven South by Rebel Officers," appeared in Harper's Weekly for Nov. 8, 1862. The purpose of the roundup, which occurred near Leesburg, Va., in early November 1862, was to move the enslaved people farther south as Union forces approached, the editor wrote.
Yet Lee's high-sounding words did not stop Confederate troops from pursuing African-Americans, with the intent of returning them to slavery.
Nor did Lee's order stop raiding parties, such as one near Mercersburg, from threatening to burn down "every house which harbored a fugitive slave" unless the blacks were handed over in 20 minutes.
Nor did the work of rounding up blacks appear to trouble the consciences of the Southern troops. Philip Schaff, a professor at Mercersburg Theological Seminary, asked a Confederate soldier guarding a wagon load of African-Americans, whom the Southerners claimed were Virginia slaves, "Do you not feel bad and mean in such an occupation?"
"He boldly replied that he felt very comfortable. They were only reclaiming their property which we [Pennsylvania residents] had stolen and harbored," Schaff recalled the man saying.
For some Southern soldiers, the slave hunt in Pennsylvania was familiar work: Many had likely served on slave patrols in their home states, even if they did not own slaves, according to historian David G. Smith.
Indeed, the patrols were a bulwark of the South's peculiar institution. In some states, patrol duty was compulsory for most able-bodied white men.

• • •

PG graphic: Invading the North (Click image for larger version)
Estimates vary as to how many blacks were caught in the Confederate dragnet during the Gettysburg campaign. Mr. Smith puts the figure at more than 1,000 — especially if it includes those seized in Winchester, Va., Martinsburg, W.Va., and Rockville, Md.
Ironically, most of the blacks seized during the Gettysburg campaign were captured in areas where slavery had been abolished.
In Pennsylvania, the gradual abolition of slavery began before the end of the Revolution. The process was largely complete a generation before the Civil War. And President Abraham Lincoln's Emancipation Proclamation, issued Jan. 1, 1863, freed enslaved people throughout most of Virginia.
The chance to make a mockery of the Emancipation Proclamation in a "free" state, such as Pennsylvania, and undo its effects in a slave-holding state, such as Virginia, may have motivated some Confederate soldiers to wreak particular vengeance on blacks, Mr. Smith said.
• • •

Life had never been easy for African-Americans in Pennsylvania's border counties, those separated from the slave-holding state of Maryland by the Mason-Dixon Line.
Blacks mostly were confined to menial jobs — day laborers and domestics were common occupations. They were deprived of nearly all constitutional rights.
Above all, African-Americans faced the threat of kidnapping and re-enslavement. True, underground railroad routes coursed through the border counties — Fulton, Adams, Franklin, and York — as fugitive slaves made their way to freedom.
But the area was also the site of what Ms. Creighton, a historian at Bates College, has called "the other underground railroad" — a network of slave-catchers who prowled the back roads in search of fugitives, but who didn't hesitate to kidnap free people of color as well.
For white families, "the survey line that separated Pennsylvania from Maryland was seamless ground, easily passed over without consequence," Ms. Creighton has written. "To black families, the division between the free states and the slave states was nothing less than a chasm."
Now that chasm was being crossed by more than 70,000 Confederate soldiers — the fighting arm of a government whose cornerstone "rests upon the great truth that the Negro is not equal to the white man; that slavery, subordination to the superior race, is his natural and normal condition," as Confederate Vice President Alexander H. Stephens told a cheering crowd in Savannah, Ga., in March 1861.
Predictably, the prospect of a Confederate invasion prompted a frantic response in Pennsylvania: The state's Republican governor, Andrew Curtin, called for volunteers to defend the commonwealth. But when black men from the Gettysburg area heeded his call and organized themselves into a military company, Curtin refused to accept their services.
Hundreds of people, particularly African-Americans, fled from areas likely to be overrun by the Confederates. Harrisburg, at the northeast terminus of the invasion route through the Cumberland Valley, was crowded with refugees.
• • •

On June 15, 1863, Union supply wagons, likely driven by black teamsters, raced into Chambersburg with news of the approaching Confederates. The wagon train, which had eluded capture in Winchester, Va., was soon followed by black refugees, "contrabands" as Rachel Cormany described them in her diary. Some had fled Winchester after Confederate forces defeated Gen. Robert Milroy and ended a six-month Union occupation of the town.
Milroy supported the Emancipation Proclamation. To the outrage of Winchester's white citizens, he vowed to enforce Lincoln's decree.
Union soldiers were instructed to tell enslaved people that they were now free and had "the right to claim wages from their masters or quit them," according to a report in the Pittsburgh Gazette in mid-January 1863.
But the new social order in Winchester was short-lived. Confederate troops, heading north, drove Milroy's forces out of the city during one of the first major battles in the unfolding Gettysburg campaign.
Near midnight on June 16, Rachel Cormany, who lived in a rented room with her infant daughter, again heard the clattering of hooves. She ran to a window and saw "Greybacks going as fast as their horses could take them down" toward Chambersburg's main square.
By dawn, it was clear the Confederates were "hunting up contrabands and driving them off in droves," as Cormany described it.
"O! How it grated our hearts to have to sit quietly & look at such brutal deeds — I saw no men among the contrabands — all women and children," Cormany wrote. "Some of the colored people who were raised here were taken along — I sat on the front step as they were driven by just like we would drive cattle."
• • •

Historians have found no evidence that Confederate President Jefferson Davis or his secretary of war, James A. Seddon, directly ordered Confederate troops to seize African-Americans. But the practice was so widespread — as attested to in newspaper articles, diaries, soldiers' letters — that some historians say it is hard to argue that the kidnappings were the work of rogue units in the Army of Northern Virginia.
Davis and other Southern leaders frequently excoriated the North for "enticing" slaves to flee from their masters. When a South Carolina convention approved secession in December 1860, the delegates cited as one reason the refusal of Northern states, including Pennsylvania, to enforce federal fugitive slave laws..
Mr. Smith is convinced that the slave hunts were known and approved by the highest officers in the Army of Northern Virginia. He contends they were acting on a policy developed by Confederate leaders in Richmond, Va., in March 1863 and "reinforced in a circular from Lee's headquarters," directing that "lists were to be compiled of fugitives 'arrested' by the army and the slaves sent to special depots in Richmond."
Historians, including the late Edwin B. Coddington, have also found evidence that high-ranking officers knew about the kidnappings in the orders from Lt. Gen. James Longstreet on July 1 directing Maj. Gen. George Pickett to begin moving his troops toward Gettysburg. The order, signed by Longstreet's assistant adjutant general, G. M. Sorrell, tells Pickett that "the captured contrabands had better be brought along with you for further disposition."
Aside from the paper trail is the fact that many units in Lee's army kidnapped black people. This, Mr. Smith believes, "underscores the likelihood that some policy, formal or informal, sanctioned these actions during the Gettysburg campaign."
• • •

Lee, of course, was right: For an army to attack unarmed and defenseless civilians is a disgrace and, by modern standards, a war crime. The African-Americans whom Southern soldiers rounded up, seized and in some cases fired upon, did not threaten the Army of Northern Virginia. As Coddington wrote a generation ago: "Under no circumstances could the Confederates justify the hunt on military necessity."
For Jacob Hoke, who witnessed the slave hunts and in the 1880s would write a well-regarded history of "The Great Invasion," the raids revealed the object for which many Southerners had waged war: "to found a government based on human slavery."
"Thank God!" wrote Hoke, the effort failed.
Read more: http://www.post-gazette.com/stories/local/state/confederates-slave-hunt-in-north-a-military-disgrace-693717/#ixzz2XkECfAb7