DNA samples could solve mystery surrounding deaths of black kids at Florida reform school
Published June 15, 2013 Associated Press

TAMPA, Fla. –  Researchers on Friday collected DNA samples from family members of boys who died decades ago at a now-defunct Florida reform school in the hopes it will match the remains found on the property of the now-closed school.
University of South Florida researchers have used historical documents to verify the deaths of two adult staff members and 96 children — ranging in age from 6 to 18 — between 1914 and 1973 at the Arthur G. Dozier School for Boys. Records indicated that 45 individuals were buried on the 1,400-acre tract from 1914 to 1952, while 31 bodies were sent elsewhere for burial.
USF associate professor Erin Kimmerle said it's unclear whether there are more children buried in unmarked graves on the property. And that's only part of the reason why the researchers are seeking DNA from at least seven family members and asking for state permits to exhume the human remains on the site.
"We're bringing a last measure of human dignity for these boys," said Kimmerle, adding that if there is a DNA match between surviving family members and the remains that it will "fulfill a human right" for the families to bury their loved ones as they wish.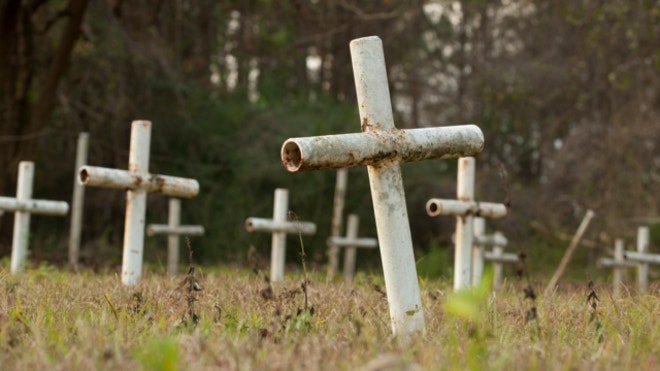 Dec. 10, 2012: White metal crosses mark graves at the cemetery of the former Arthur G. Dozier School for Boys in Marianna, Florida. (Reuters)

Richard Varnadoe, who is 84, is one such relative. He allowed a Hillsborough County Sheriff's deputy to swab the inside of his cheek for DNA Friday in hopes of solving the mystery of what happened to his older brother, Thomas.
"Hopefully we'll get him back," said Varnadoe, who lives in Salt Springs, Fla.
Thomas Varnadoe went to the school when he was 13 and "he lasted 34 days," said Richard Varnadoe. School officials told the family that Thomas died of pneumonia, but they never believed the story — and never got his body.
"It devastated the whole family," said Varnadoe. "Dad, mother, my sister."
The school was located in Marianna about 60 miles west of Tallahassee and was once the nation's largest reform school, with 698 youths. It closed in 2011.
The school was plagued by scandal soon after it opened in 1900. Three years later, investigators found children "in irons, just as common criminals."
In the 1950s and early 1960s, boys were taken to a small building called The White House, where guards beat them for offenses as insignificant as singing or talking to a black inmate. The boys would be hit dozens of times — if not more — with a wide, three-foot long leather strap that had sheet metal stuffed in the middle.
USF wants to exhume bodies from "Boot Hill Cemetery" and surrounding areas. Researchers say that most of those were buried at the school were black and several were orphans.
U.S. Sen. Bill Nelson said that there have been at least 50 graves discovered and there could be many more in unmarked areas used to bury African-American boys.
"Is there another cemetery?" he said Friday. "And what will it reveal? The families deserve the answers. They deserve to know the truth."
Nelson pointed out that the property is owned by the state and that Florida taxpayers also deserve to know what happened there over the decades.
Discovering exactly what lies beneath the soil at Dozier hasn't been easy for USF officials.
In late May, the university asked state authorities if it could exhume the bodies and investigate the property after a circuit judge rejected a request filed by Florida Attorney General Pam Bondi.
USF, with Bondi's approval, is asking the state's archaeologist to excavate the site and document what is found. They note their research so far has found evidence of "clandestine burials." The Florida Legislature has set aside nearly $200,000 for the project and Nelson said he's trying to secure a Department of Justice grant for the school as well.
On Friday, the Florida Department of State — which controls the state lands — sent Kimmerle and the researchers a two-page letter, asking for detailed information in order to evaluate a pending permit application for the exhumation of the bodies.
The letter, written by Mary Glowacki, the state archaeologist, asked for plans regarding exhumation procedures, autopsies and re-interment, along with maps and analysis of historical records of the school.
Read more: http://www.foxnews.com/us/2013/06/15/dna-samples-could-solve-florida-reform-school-mystery/#ixzz2WK4OrZbl