Dominic Diing, Former Lost Boy Of Sudan, Dedicates His Life To Helping His Homeland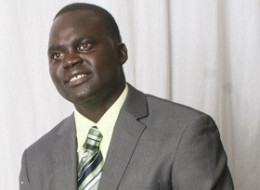 As Dominic Diing recounted the story of his journey from Sudan to America, it was easy to get swept up in the cinematic scope of events leading up to his current position as a nonprofit leader and PhD candidate.
Dominic spoke, almost casually, of the hundreds of miles he walked at seven years old, from his war torn village in southern Sudan, to Ethiopia, all the while staving off hunger, illness and wild animal attacks.
"Many, many people died," he said, including his brothers and uncles among the thousands of others who were displaced in the journey. "Life, it was not very good."
Dominic recounted his next few years at a refugee camp in Ethiopia, being trained to kill by local militias. And then, after war began to rage in that region as well, his subsequent yearlong trek to Kakuma, Kenya, where a United Nations-sponsored camp provided 12-year-old Dominic and thousands of other displaced youth with food and education.
"Six years later, I started teaching other people in the camps," Dominic said. "They trained me to teach English and mathematics, kids in seventh and eighth grade. I really loved doing this."
It was around this time that a "group of lawyers" arrived at his camp and began interviewing him and other young men in the area. "This was around 1998," he said, "And they just started asking everybody to write testimonies. Like write our life stories and our histories. We didn't know why they asked us; we weren't sure. Our English was pretty limited at the time."
Turns out these lawyers were part of a program established by the United States and the United Nation's High Commissioner for Refugees, aiming to resettle thousands of "lost boys" from Sudan in America and other western countries. A couple years later, Dominic found himself in Western New York, attending Niagara University, and working towards a B.S. in Commerce.
"I always knew I wanted to go back to Sudan, eventually," he said. "But I had only said it in my mind. I knew people were still suffering, but I didn't think I had enough ability to do something. I would always think, what am I going to do to help?"
In 2006, two months before graduating from Niagara, Dominic said he was awoken in the middle of the night "by a dream." He rose from bed, turned on the TV and was immediately confronted with a program about the situation in Darfur. "Seeing it close, seeing it like that, it brought tears to my eyes immediately."
Dominic saw the program on a Saturday and went to his professor's office the next Monday, asking for help in establishing an aid organization for Sudan. "It really was that fast," he said. The resulting nonprofit, Aid and Care for Africa, has since established the New Hope Primary School in South Sudan, which over 3,000 children currently attend.
"Youths don't have education over there, and that's why they end up going to war," he said. "I am convinced of this. Most of them become child soldiers, because they don't know themselves, or the world around them. Their entire worlds are their villages. They don't have the Internet, they don't know anything else exists around them."
This year, Dominic obtained his Masters in Education from the American Public University. He is currently living in Buffalo, N.Y., and working on his dissertation — "is education the solution to poverty and war?" — in anticipation of a PhD in Leadership and Policy.
He still supports at least 50 members of his family back in Sudan using portions of his income as an academic coach for Journey's End Refugee Services, an organization that supports local refugees in the western New York community. Another chunk of his small income is put toward his Aid and Care organization, and toward fundraising efforts for a second school in South Sudan near Dominic's former village, Makuac.
Dominic has high hopes for this new school. He wants to make it a boarding school with a healthy lunch, and plenty of classrooms, and he doesn't want students to have to walk many miles to attend.
"We need $400,000 to build it, and we don't have the money yet," he said. "We only raised about $10,000 last year, and that is nothing. I worry about it, but I think we can do it. By 2012, I think we can do it."
In August, Dominic will return to Sudan for the first time since he left over 25 years ago, joining a number of lost boys who have recently made the decision to return to their homeland and work for a cause.
Dominic is excited, but also worries that he has not done enough, and that his family will feel let down.
"I spoke to my mother and she keeps asking, 'What are you bringing with you?'" Dominic said. "And I say, 'I just want to come see you!' And she says, 'No, you must come with something. Come with school supplies, come with anything that can help kids go to school.' I tell her, 'I will do everything I can.'"
Support Dominic's organization by donating here.
http://www.huffingtonpost.com/2011/06/28/huffpost-greatest-person-dominic-diing-sudan_n_886297.html