Dr. Aaron Shirley: Medical Doctor and Civil Rights Activist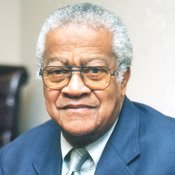 Aaron Shirley is an American physician and civil rights activist. He is Chairman of the Board for the Jackson Medical Mall Foundation, and an associate professor in pediatrics at the University of Mississippi Medical Center.
He is a graduate of Tougaloo College and Meharry Medical College. For a long time, Shirley was the only black pediatrician in the state of Mississippi. He wasn't dedicated to non-violence; upon hearing that the Ku klux klanwas heading to his home, he warned the local police that his sons knew how to shoot. He also was known for installing wells to provide clean drinking water and for traveling the countryside to care for sick babies.
He is married to Ollye Shirley; they have four children.
He is a member of the Institute of Medicine, and Citizens' Health Care Working Group.
In 2010, Shirley founded the HealthConnect program. Modeled after a similar program in Iran, the program sends doctors and nurses to poor rural homes to help prevent unnecessary ER visits.
http://en.wikipedia.org/wiki/Aaron_Shirley
Biography
Shirley was born in Gluckstadt, but before he was 2, he moved to Jackson. He spent summers in Gluckstadt with his grandparents. He is married to Dr. Ollye Shirley. They have four children which he states "are all products of the Jackson Public School District." Shirley continues to pioneer poverty-stricken Jackson communities and schools where the focus is on kids in school, the home environment and communities.
Shirley is a graduate of Lanier High School. He graduated from Tougaloo College in 1955 and Meharry Medical School in Nashville, Tenn., in 1959. He secured his pediatrics residency at the University of Mississippi in 1965. He was the first African-American to reach this milestone.
In 1970, Shirley helped originate the Jackson Hinds Comprehensive Health Center and in 1997, the Jackson Medical Mall Thad Cochran Center. The Jackson Medical Mall was set up in an abandoned shopping center; the facility is a valuable asset in helping revitalize a disadvantaged area of Jackson.
Shirley, 78, is currently serving as chairman of the board for the Jackson Medical Mall Foundation.
http://www.jacksonfreepress.com/news/2011/dec/22/dr-aaron-shirley/