What is the difference between Floyd Mayweather and Ray Rice? A video


Posted by  Alex McClintock for The Queensberry Rules, part of the Guardian Sport Network
Wednesday 10 September 2014 10.46 EDT
theguardian.com
Rice was sacked by his team and suspended by the NFL for punching his partner so why is Mayweather, a repeat batterer of women, earning $50m for a fight on Saturday night?
The NFL player Ray Rice's savage assault on his partner Janay Palmer in February is now national news. Rightly, there is outrage at Rice, who has been let go by his team, the Baltimore Ravens, and suspended indefinitely by the league. A "national conversation" about domestic violence has been opened, according to some.
But really, the conversation is about the surveillance video of Rice knocking Palmer out. That video is awful and confronting, but it's not surprising. The details of the case were already known. As Amy Davidson puts it over at the New Yorker: "That is what it looks like when a man beats up a woman."
So imagine, then, if video existed of Floyd Mayweather's domestic violence convictions. Imagine footage of Mayweather entering the house of Josie Harris and punching her in front of their children. Mayweather's abuse of women is absolutely no different to Rice's; it's just that Rice was caught on tape.
"I think there are a lot worst things that go on in other people's households also. It's just not caught on video," Mayweather himself told Tim Smith of Ring Magazine, displaying a stunning lack of self-awareness. The fighter added that he doesn't think Rice should have been suspended and wished him "nothing but the best."
What did they expect him to say? When a murder is committed the media don't go around asking convicted murderers what they think. Of course Mayweather, a violent misogynist, would excuse the actions of another violent misogynist.
Smith failed to mention the fighter's history of violence against women until the 12th paragraph, followed by a lengthy denial by an unrepentant Mayweather of one of the crimes he's been convicted of. I don't even know where to start with Smith's description of Rice "landing a perfect left hook on his wife's chin".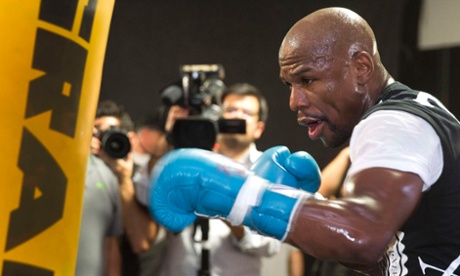 Floyd Mayweather Jr. in training for his fight against Marcos Maidana at the MGM Grand Garden Arena in Las Vegas. Photograph: Steve Marcus/Reuters

So when we're talking about how awful domestic violence is, in reality we're talking about how awful seeing domestic violence is, otherwise Mayweather wouldn't be earning close to $50m on Saturday and wouldn't have his offensive opinions published.
If we really thought domestic violence was unforgivable, as many proclaim, few would buy Mayweather's fights on pay-per-view. He'd be a pariah.
I'm not trying to be holier-than-thou here. I've paid for Mayweather fights myself, but let's not kid ourselves that we're taking violence against women seriously because it's been in the news for a day or two. Nearly a quarter of all women have been physically or sexually assaulted by a partner, yet our highest paid athlete is an abuser and nobody is doing anything about it.
Sure, there are issues particular to boxing that make it difficult for Mayweather to be punished in the way Rice has been. There's no central governing body that could suspend him and he's theoretically self-employed, so he can't be sacked. The Nevada State Athletic Commission would be within their rights to suspend him but they won't. Mayweather is worth millions to the Silver State.
The boxing media, on the other hand, could (and should) call attention to the fact that Mayweather is a repeat abuser, especially in the context of stories about domestic violence. Yet by and large, they don't, as the Ring Magazine story demonstrates. As Iron Mike Gallego put it in his must-read article on the issue for Deadspin: "Why would anybody whose living depends on boxing's good health want to give its face a black eye?"
Last week, Mayweather's former fiancée, Shantel Jackson, launched a lawsuit against Mayweather, alleging he beat her, held her prisoner and threatened to shoot her. Whatever the merits of choosing civil over criminal proceedings, you would be unwise to dismiss the claims, considering Mayweather's history of violent misogyny. Yet this is all ESPN's Dan Rafael could offer:



Dan Rafael✔ @danrafaelespn
Interesting timing of this lawsuit vs.@FloydMayweatherin that it is a week before he fights: tmz.com/2014/09/04/shantel-jackson-floyd-mayweather-jr-lawsuit-gun-domestic-violence/ … 6:28 PM – 4 Sep 2014

Floyd Mayweather's Ex Sues — He Beat My Ass, Threatened To Shoot Me
Floyd Mayweather's ex-fiancee Shantel Jackson is suing the boxer — claiming he attacked her on multiple occasions and once PULLED A GUN ON HER and…
TMZ Sports @TMZ_Sports
Unlike Rafael, Yahoo Sports' Kevin Iole managed to write something about the lawsuit. The piece was perversely titled: "Floyd Mayweather Jr. plagued by claims of troubling behavior toward women." As someone pointed out on Twitter, that's a bit like writing an article titled "Bernie Madoff plagued by claims of troubling behaviour with money."
Iole doesn't mention Mayweather's previous convictions for domestic violence until the sixth paragraph (Mayweather's flawlessness in the ring was obviously more important) and seems to go out of his way to cast doubt on the suit and its timing, even reminding readers to "remember that Mayweather has not been charged criminally, and Jackson's lawsuit is simply allegations and not facts".
He even includes Mayweather's own ridiculous defence: "Where are the pictures?" Only in the final paragraphs does he note that the allegations could be true, before casting boxing journalists who have been forced to cover the unfamiliar legal beat as the real victims.
These aren't bloggers or cub reporters; this is the way the sport's most respected journalists cover domestic violence. I'm not even saying they should mention Mayweather's past violence in every article, it would just be nice when it's relevant.
If the media won't call attention to Mayweather's failings, is there anything fans can do? If you feel strongly, not buying Mayweather's fights would be a start.
There are certain sections of the boxing media that say boycotting a fight makes you some kind of hand-wringing wuss. That's bullshit. The most effective way to take action against a man nicknamed "Money" is to hit him in the hip pocket.
That doesn't mean that if you do buy the fight you're supporting Mayweather. I may buy it. It's part of my job to cover it and besides, I want to see Mayweather knocked out (as unlikely as that is).
It should be well past the point, though, where it's acceptable to be a fan of Floyd Mayweather. He has been violent against women repeatedly, which more than overshadows his achievements in the ring. It shouldn't take a video to make us realise that.

 http://www.theguardian.com/sport/queensberry-rules-boxing-blog/2014/sep/10/ray-rice-floyd-mayweather-video-tape