The Forgotten Legend of Brice Taylor: 1st black football player for USC (had only 1 hand)
BY RICK MCMAHAN     (FEATURED COLUMNIST) ON JULY 19, 2011

Sometimes when you peel back the curtains of legacy that surround a proud football program, you are privy to the most amazing things.
And if you are really lucky, you get to glimpse the roots of greatness that makes up a legendary institution such as USC.
Whatever constitutes that "greatness," however its defined, it is built on a foundation laid by the Trojans of yore, those players whose names are often lost to time, but without their contributions, the historical tapestry of USC football becomes less rich.
Brice Taylor is one of those players.
College football in the mid-1920's was big in Los Angeles, and the Trojans were the best the southland had to offer.
And among the men of Troy, Taylor was as good as any of them.
In fact, Taylor was so good that he was named the Trojans first All-American, as an offensive guard, in 1925.
A 5'11", 185 lb. guard at that.
That alone should qualify Taylor as a a giant in the annals of Trojan football, but this is a story that is just getting started.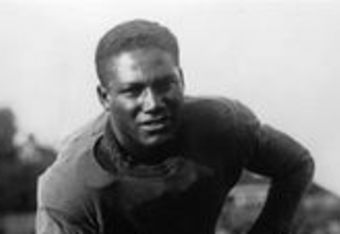 photo from tributetotroy.com 
 

Taylor also played defense, where his dogged pursuit of opposing ball carriers usually resulted in a sure tackle.
Not bad eh?
But Taylor was just getting warmed up.
You need someone to kick off right?
For the Trojans, that guy was usually Brice Taylor.
First Trojan to make All-American, great defensive player.
Kicks for the team in between those two gigs.
Again, the contributions already stated is the stuff of legend.
If nothing else was offered on Brice Taylor's behalf, the efforts he made for the Trojans in 1925 would stand on their own merit.
But there is still more. Much more.
Did I mention that Brice Taylor was an African American?
Now, it should be understood that racism in Los Angeles in the 1920's was not to be compared with that experienced in the deep south by any stretch of the imagination.
But it should also be noted that LA was not completely immune to intolerance either.
Any uncertainty regarding the level of racism in Los Angeles should be answered by the fact although Taylor was USC's first All-American in 1925, his name was not even listed in the media guide until the 1950's.
It has often been said that Los Angeles is a city of transplanted Americans.


In the 1920's, sometimes those transplants carried the roots of racism to their new home.
Taylor heard the catcalls.
He also felt the isolation from some of his less enlightened teammates.
It didn't matter to Taylor.
He was just proud to be a Trojan.
In fact, according to an article written by Chuck Culpepper of Newsday, a former student of Taylor's named Charlie Pye couldn't figure out why he was so fiercely loyal to the Trojans, saying:
"Yeah, he was a Trojan," Pye said. "I couldn't understand his loyalty to USC because of the way black athletes were just ignored.
Proud to be a Trojan?
Yes, you could say that.
So proud that when he wasn't literally doing everything he could for the football team, he filled his spare time running track for the cardinal and gold.
And he did it well too.
So well that in a Los Angeles Times article by Bill Henry in March of 1925, it was reported that Taylor ran the 100 yard dash in 9.9 seconds.
For those of you who don't know, that was a world class sprint time for the era.
Now wait a minute, you might be asking yourself; how could an offensive guard be running world class times in the 100 yard dash?
Why didn't Taylor become a running back or wide receiver…or even quarterback?
With that kind of speed, Taylor could have become one of the most prolific offensive players in the history of college football right?
Yeah, except for one little thing, which brings us to the next amazing fact that people need to know about Brice Taylor.
The reason Taylor didn't have the ball in his hands is because….well…he didn't actually have hands, he had a hand.
As in only one hand.
You see, Brice Taylor was born without a left hand.
For you and me, not having a left hand would present a significant obstacle to our athletic endeavors. For Taylor, it only provided fodder for his sense of humor.
When asked by friends and family why he didn't carry the ball, Taylor would quip something to the effect, "Hey, you try running the ball with one hand!"
So Taylor focused on doing the things that he knew he could do.
Which, as we can all see, was pretty much doing everything else a man can do on the gridiron.
So lets review shall we?
Brice Taylor, All-American guard who played premier defense and kicked on special teams.
Ran track for the Trojans and posted world class sprint times.
Did all of that with one hand and did it as a black man in a time when Jim Crow laws were still mandated in many parts of the nation and African Americans were being lynched in the deep south.
All the while plying his trade in college football, a white man's game.
Simply amazing.
When Brice Taylor left USC, he became a teacher and a coach (the first black head high school football coach in Los Angeles) and was even a president of a college according to the Newsday article.
And then befitting his abundant tolerance and compassion, Taylor became a pastor.
Taylor died in 1974 after living a life filled with incredible accomplishments.
Along the way, he touched many lives and did it without complaining about the relative obscurity he toiled under.
There is one last thing you should know about Brice Taylor.
He was a direct descendant of the legendary Native American, Tecumseh.
And Tecumseh was a noble Indian Chief.
Which makes sense because in the annals of USC football, Mr. Brice Taylor may be the noblest Trojan of them all.


http://bleacherreport.com/articles/758592-usc-football-the-forgotten-legend-of-brice-taylor