The history of black college football classics
INSIDE BLACK COLLEGE FOOTBALL

COMMENTARY
Keeping HBCU football Classics alive

By J.R. Gamble | Special to ESPN.com    Updated: February 28, 2013, 1:31 PM ET
Historically black college football classics are three-day extravaganzas, where the HBCU community congregates in the name of football, common culture, music and, most important, tradition.
Similar to a bowl game, outside of the stadium there are parades, tailgating and barbecuing with stereos blasting along with elaborate step shows.
When Beyoncé was still part of Destiny's Child, she performed at a Classic. In fact, a plethora of multiplatinum hip-hop and R&B artists — such as A Tribe Called Quest, LL Cool J and Stephanie Mills — made HBCU Classics the place to be.
"It's an experience you only get at an HBCU, where the excitement over halftime [battles] between marching bands rival the actual game," says Aaron Polley, a Washington Redskins drum line musician who is a former Hampton University band member and has played at several Urban League Classics.
Time will tell if HBCU Classics will become a casualty of inevitable social evolution or remain a cultural phenomenon for generations to come. Football was the first draw for the Classics, and with the loss of talented players to other high-profile schools, attendance is dwindling.
In 1968, Morgan State upset Grambling State during the first historically black college football game in New York City, which drew more than 60,000 frenzied fans to Yankee Stadium.
The immensely talented teams, Grambling's growing national reputation and the mythical persona of its head coach, Eddie Robinson, coupled with the flamboyant marching band competition, inspired the other 103 HBCUs to embrace the cultural philosophy of big-stage football, academic excellence and artistic prowess that defines today's HBCU Classics.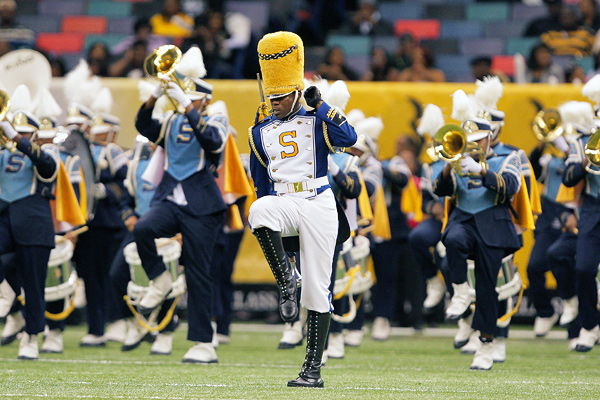 Derick Hingle/Icon SMI   Southern University's band, better known as the Human Jukebox, recently performed at Super Bowl XLVII in New Orleans.


In the golden days of HBCU Classic football games — from the late 1960s through the late '90s — stadiums jam-packed with students, faculty and fans were the norm.
But the journey to respectability was anything but easy for Grambling's Robinson, who, during his 57-year career, became the coach with the most wins in NCAA Division I history, sending more than 200 players to the NFL.
When Robinson first came to Grambling in 1941, black players weren't allowed on most white college teams, leaving an abundance of talented athletes across the country longing for a chance to play college ball. Realizing this, Grambling president Ralph Jones wanted the small, financially strapped college to gain a national rep by bringing black college football to big city markets; this would enable Grambling to recruit nationwide and acquire more resources.
Led by Jones and Robinson, Grambling became HBCU's flagship program as it played games throughout the country, and internationally in Tokyo in 1977, building a brotherhood of football players who have all contributed to the HBCU Classic legacy.
There are 39 current Classics, including two Thanksgiving Day traditions: the Turkey Day Classic (Alabama State vs. Tuskegee), which started in 1924 and is one of the longest running, and the Bayou Classic (Grambling vs. Southern) at the Mercedes-Benz Superdome in New Orleans. The Tuskegee-Morehouse Classic, played in Columbus, Ga., has been a heated contest since 1935.
The long list of Classics has gone through many transformations and relocations over the years, with changes often dictated by funding.
As a quarterback at Delaware State, Mike Walker won a MEAC championship in 1985 throwing to legendary San Francisco 49ers wide receiver John Taylor. Howard University was the Hornets' main HBCU rival, due in part to proximity.
"Every time we played them, it was a special intensity, excitement," Walker says.
Walker refers to Robinson as "the Godfather of Black College Football."
"[Robinson] built the brand brick by brick with his bare hands and laid the foundation for the four conferences we have today," Walker says.
The conferences, comprised entirely of black college teams, are the Mid-Eastern Athletic Conference, the Southwestern Athletic Conference, the Central Intercollegiate Athletic Association and the Southern Intercollegiate Athletic Conference.
Over the years, football Classics became the driving force in increasing the revenue stream and visibility of HBCUs and the solidarity of HBCU communities.
Period of transition
Increased educational opportunities at predominantly white institutions (PWIs, as they're known on many HBCU campuses), the never-ending search for resources and dips in attendance at the major Classics have thrust the HBCU community into a period of transition and brought the long-term viability of these games into question.
Attendance at the most recent Classic games has dropped. The prestigious Indianapolis Circle City Classic attracted a record-low of 18,000 fans. The 71st edition of the Magic City Classic drew 58,201 fans, down from 2011's 66,473. The Bayou Classic, which began in 1974 at Tulane Stadium in front of 80,000 fans and featured Grambling quarterback and future Super Bowl MVP Doug Williams, hit an all-time low of 40,175 in 2011.
The crowd of 42,257 spectators at the Southern Heritage Classic was the lowest turnout since 2001. The Atlanta Football Classic saw attendance drop to fewer than 41,042, and the attendance of 32,317 fans at the Florida Classic was the lowest since 1996.
Calvin Hewitt, a Hampton grad and HBCU sports historian, says the decline of HBCU Classics is directly related to a drain in athletic talent.
"In the late '60s and '70s, colleges like Grambling and Southern had top-five talent nationally," Hewitt says. "Once the LSUs started recruiting athletes in areas that traditionally produced elite HBCU talent, it started showing on the field. By the late '80s, most HBCUs looked like real good high school teams with shaky uniforms and facilities."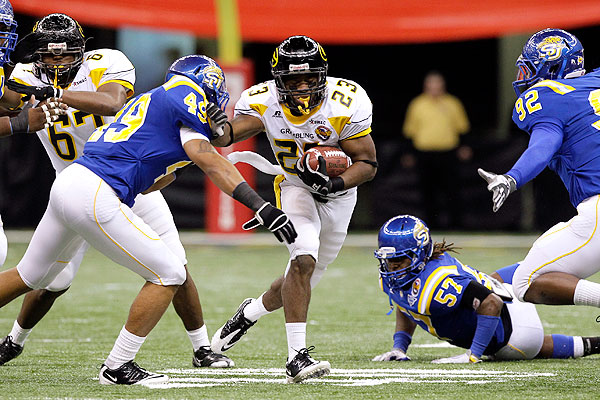 AP Photo/Patrick Semansky  The Bayou Classic is an HBCU tradition, but its attendance is dwindling steadily.


HBCUs aren't producing NFL talent at past rates, but eight players from HBCUs played in this year's Super Bowl — two from the 49ers and six Ravens players, including wide receiver Jacoby Jones of Lane College, who scored twice in the game.
"There's a myth that if I go to an HBCU, I won't be discovered, which is nonsense," Walker says.
That myth, continues Walker, contributes to the larger problem: lack of public awareness.
"An eighth-grader right now is dreaming about going to UCLA but doesn't know about the football programs at Morehouse or Tuskegee," Walker says. "Rather than sit on the bench for three years, he can go to an HBCU, like Isaiah Crowell did, and strut his stuff for pro scouts."
Crowell didn't start out at an HBCU, though. Georgia's leading rusher as a freshman, Crowell transferred to Alabama State after weapons charges got him dismissed from the Bulldogs' squad. Crowell is still considered a top 2015 NFL draft prospect. While Alabama State offered Crowell an opportunity, it's hard for HBCUs to recruit alongside better funded programs.
The financial disparity between HBCUs and predominantly white institutions is huge. Case in point: BCS champion Alabama invested more than $100 million into its football program last year, exceeding Delaware State's total athletic operating budget of $85 million.
While the battle of the bands rages on at HBCU Classics across the country, a smaller rift between proponents and opponents of the games plays out as well.
Kyle Serba, North Carolina Central University's sports information director since 1994, says it's all about the math. When NCCU had the opportunity to leave the CIAA and rejoin the MEAC, it ended its annual Aggie-Eagle Classic against North Carolina A&T, which had been in existence since 1924. With NCCU having the opportunity to play in the ESPN-owned MEAC/SWAC Challenge presented by Disney, the administration was thrilled, but some alumni were fearful of losing tradition. The MEAC/SWAC Challenge, which turns 10 in 2014, is a relative newcomer in the space. With a different matchup every year, the annual game was created to give different schools from both conferences an opportunity to be seen on national TV.
Serba concedes that the move to play in the MEAC/SWAC Challenge changed the dynamics of NCCU's rivalry with A&T, but for the better.
"Now the rivalry is as strong as ever," he says. "And our recruiting pool is larger."
When the football game was a Classic, it was played off-campus and students had to purchase tickets, which affected attendance.
A fresh approach
New York City schools chancellor Dennis Walcott is a former president of the New York Urban League, which has been sponsoring the Urban League Football Classic since 1971. Walcott, a former deputy mayor of education, says "The attendance dip is more indicative of a need to re-establish the obvious importance of HBCUs in today's 21st-century society than rising disinterest."
Derrick Webber — president of Webber Marketing & Consulting, which helps expand and diversify HBCU sporting events — says HBCUs need fresh marketing angles to promote the history and cultural and entertainment value of these games to keep them attractive to new students.
"Churches had to start marketing to younger people in a different way, to capture that demographic — a relaxed dress code, more modern music, maybe," Webber says. "It's the same thing with HBCUs."
Tony McClean, former editor-in-chief for the Black Athlete Sports Network, disagrees. McClean cautions HBCUs not to dramatically alter their traditions.
"When you consider all the conference jockeying within the white schools over the years, it's taken away from what made college sports — especially football — even more viable, that being the regional rivalry," McClean says.
Damien Bevelle, who is active in coordinating sporting events like the Urban League Classic, has an organic idea for reaffirming Classics within the cultural landscape.
"The administration doesn't have to sacrifice tradition in order to grow its brand," Bevelle says. "Just let the students know they are part of something that is not inferior, but very unique."
Unique in a way that immortalized Robinson, who died in 2007 as an icon in American history. He had the vision to see what black college football could become and the dedication to make it happen. Time will tell if new forces and visions can return the Classics back to yesteryear's lore.

http://espn.go.com/espn/story/_/id/8967797/the-beat-hbcu-football-classics-goes-on