The US ignores Africa at its own peril
By Jason Warner    JUNE 25, 2013

PRESIDENT OBAMA'S first major trip to sub-Saharan Africa on Wednesday is expected to cost from $60 million to $100 million, prompting many calls for the president to cancel his trip. Yet, such opposition is shortsighted: Now, more than ever, the United States cannot afford to ignore Africa.
Geopolitically, Africa is an emerging force to be reckoned with. Economically, it hosts several of the world's fastest growing economies — including Rwanda, Zambia, and Mozambique — while the continent as a whole is expected to outstrip global growth for at least the next three years. Simultaneously, the rise of fundamentalist actors hostile to US interests — especially in Somalia and Nigeria — means that the continent presents unprecedented exigencies in the security realm as well.
Nevertheless, global power shifts since 9/11 have led to a deterioration in US-African relations. The United States' hyper-hegemonic, unipolar global presence from 1991 to 2001 led to a nominal "democratization-for-aid" strategy that — "Black Hawk Down" and Rwanda notwithstanding — engendered mostly positive relations. However, thanks to the political, economic, and military ascendance of both African and non-African states, as well as a tarnished US image on the continent, Washington's sway has been lessened in potentially harmful ways.
One reason the United States can no longer afford to take Africa for granted is the growing interest and arrival of new global players. Topping the list of alternative partners for Africa is China, whose meteoric rise on the continent since the mid-2000s has been highlighted by such grandiose gestures as the financing of the new African Union headquarters in Addis Ababa, Ethiopia.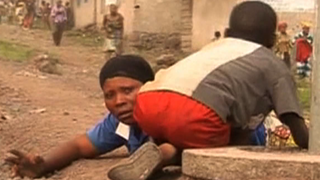 (photo from .democracynow.org)

Other lesser powers also interpret potential Western neglect of Africa as a boon. Turkey has leveraged its Islamic credibility by focusing attention on post-conflict reconstruction in Somalia, and in so doing has managed to win over a population that has long been a strategic worry for the United States. Iran, too, has made inroads: while African leaders are cognizant of Tehran's desperate (and often duplicitous) search for both uranium and geopolitical allies, some of the continent's pariah states — Eritrea, Sudan, and Zimbabwe among them — have shown a willingness to engage Iran. Not to be overlooked is Japan, which recently unveiled a new, more aggressive Africa strategy based on mutual energy concerns, and Brazil, which recently cancelled a whopping $900 million in African debt.
Apart from new players, Obama must contend with historical legacies. While the Bush administration left a battered US image elsewhere, it tripled health aid to the continent, and Bush left office widely popular in sub-Saharan Africa. (Some in Darfur, Sudan, reportedly named newborns after him.) This pro-American sentiment, coupled with Obama's Kenyan lineage as "a son of Africa," meant that the continent was more or less enamored of both him and the United States during his brief July 2009 visit to Ghana.
Today, attitudes are less enthusiastic. Bush-era fervor is all but dead, and African "Obamania" is in decline thanks to the administration's security-focused, anti-terrorist continental agenda, which has been accompanied by a deepening US military footprint. Opposition to the five-year-old US Africa Command remains prevalent, and civil societies are raising new concerns about Washington's array of clandestine operations — including the deeply unpopular unmanned drone operations — that are purported to exist from the Seychelles to Kenya, and from Uganda to Niger.
In short, US relations with Africa are increasingly strained at a moment when the rest of the world is determined to court the ever-important continent. Historically a "last-on-the-list" foreign policy consideration for most global states, Africa is now proving itself to be a must-have partner.
Trim the Obama travel budget. But recognize that the costs of skipping the trip will ultimately far outweigh the alternative.
Jason Warner is a Ph.D. candidate in African studies and government at Harvard University.

http://www.bostonglobe.com/opinion/2013/06/24/the-ignores-africa-its-own-peril/aDaeHX8JnPLdNQYVJLbuqL/story.html