Ivory Coast Leader Laurent Gbagbo Issues Call To Arms
ABIDJAN, Ivory Coast — With most of the country now controlled by his opponent, and with both his home and the presidential palace surrounded, Ivory Coast's strongman Laurent Gbagbo on Saturday issued a final call to arms, fighting to defend his 10-year grip on power.
Plagued by mass defections inside his ranks including that of his top commander, Gbagbo appeared defeated just hours earlier.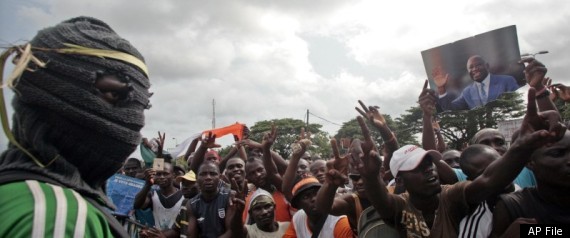 But the armed group aiming to install the country's democratically elected leader, Alassane Ouattara, faced a major setback when Gbagbo's troops retook the state television station after they had held it for more than 12 hours.
The battle for Abidjan, the country's most important city, has come at a terrible price. On Tuesday, the day after Ouattara's forces took the western town of Duekoue, intercommunal fighting broke out, killing at least 800 people, according to the International Committee of the Red Cross. In Abidjan, residents have cowered inside their homes, sleeping in bathrooms and under their beds for fear of stray bullets.
On Saturday morning, a disheveled TV announcer addressed the nation saying Gbagbo was at his residence and that it had not been attacked.
The camera shook and soldiers could be seen milling on the set as they called on police, military, customs officers, coast guard and forest rangers to report for duty to protect the embattled ruler.
Gbagbo, 65, has not been seen in public since the offensive began and his whereabouts could not be confirmed. The phones of his closest aides rang unanswered.
In just five days, Ouattara's fighters succeeded in taking nearly 80 percent of the Poland-sized nation, entering Abidjan on Friday for what appeared to be the final battle.
They swept through the countryside, taking town after town as soldiers abandoned their posts, some shedding their uniforms as they ran. The speed of the offensive and its success is explained, in part, by the fact that the interior of the country was guarded by the regular army, which Gbagbo had marginalized because he did not trust their allegiance. He placed the bulk of the country's arsenal with elite units stationed in Abidjan and led by loyalists.
Fierce fighting continued outside the palace, with heavy machine-gun fire erupting throughout the afternoon. On the lagoonside highway two city blocks from the presidential compound, reporters could see pro-Gbagbo soldiers take positions on their stomachs, their automatic weapons cocked.
They fired a rocket-propelled grenade at a U.N armored personnel carrier, seriously wounding four peacekeepers, according to a statement from the United Nations and an official with the world body who could not be named because they were not authorized to speak to the press.
On TV, an announcement on the ticker instructed a violent youth militia allied with Gbagbo to seize control of the two bridges spanning the lagoon, leading to the peninsula where the presidential palace is located.
They could be seen arriving by the hundreds, piled into ferries that are usually used as water taxis. They were carrying two-by-fours and clubs and sang Gbagbo's campaign song as they swarmed the bridge named after the country's first president, Felix Houphouet-Boigny, who ruled for 33 years until his death in 1993.
Gbagbo, a historian, came to prominence as the first opposition leader who dared challenge Houphouet-Boigny's one-party state. In Francophone Africa, he became a symbol of democracy, only to fail to hold elections himself when his first term expired in 2005.
"Our motto was, 'To run things differently.' I guess in a way you could say he did run things differently – if a nightmare can be considered different," said Gbagbo's former friend and adviser Tiburce Koffi in an interview Friday on the French channel, iTele. "Gbagbo became addicted to power … schizophrenic for power."
Ouattara's military spokesman declined to comment on their operations. A close Ouattara adviser who asked not to be named because he is not authorized to speak to the press said the loss of the TV station was a setback, but that Ouattara's forces were still at both the residence and the palace and were readying for battle overnight.
He said Ouattara had told him fighters had been within range of the palace all night from Friday to Saturday but that they stopped shooting to give Gbagbo one last chance to surrender.
"He said there has been too much blood," said the adviser. "Ouattara does not want for Gbagbo to die. But he also said that patience has a limit."
Yeo N'Dri, a sound engineer living in front of the state television station and about half a mile (1 kilometer) from Gbagbo's residence in Abidjan's Cocody neighborhood said that he pulled out his measuring instruments during the worst of the fighting and recorded 150-decibel explosions.
"That's loud enough to burst your eardrum if it goes on for too long," he said.
Ouattara's victory with 54 percent of the vote in last November's election was recognized first by the country's electoral commission and then by governments around the world. Leaders from U.S. President Barack Obama to French President Nicolas Sarkozy have made personal appeals to Gbagbo to step down.
"There has been too much bloodshed, including hundreds of civilians killed or wounded," U.N. Secretary-General Ban Ki-moon said in Nairobi. "I renew my call on Mr. Gbagbo to step down to avoid further violence and transfer power immediately to the legitimate general candidate president Ouattara."
___
Michelle Faul contributed to this story from Johannesburg.
http://www.huffingtonpost.com/2011/04/02/ivory-coast-violence-laurent-gbagbo_n_844033.html#comments