Jason Collins becomes 1st openly-gay athlete in major American sports
Collins: "If I had my way, someone else would have already done this. Nobody has, which is why I'm raising my hand"
Monday, Apr 29, 2013  |  Updated 12:42 PM EDT
The Washington Wizards' Jason Collins has come out as the first openly gay man playing a major pro sport with a few simple words: "I'm a 34-year-old NBA center. I'm black. And I'm gay."
In a first-person article penned for an upcoming Sports Illustrated cover story, the 7-foot-fall, 255-pound center said he'd never planned to become the first actively playing pro athlete to come out.
But no one else had.
In the issue set to hit newsstands May 6, Collins writes: "I wish I wasn't the kid in the classroom raising his hand and saying, 'I'm different.' If I had my way, someone else would have already done this. Nobody has, which is why I'm raising my hand."
Drafted by the Rockets as 18th-overall pick in the 2001 NBA draft, Collins has played for half a dozen NBA teams and joined the Wizards this year. He is now a free agent.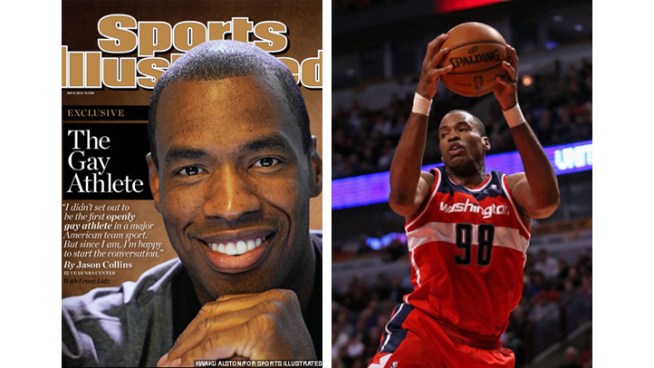 He cites the 2011 lockout as a big reason for his decision to come out. Without training to keep his mind busy, he says, he started to think about who was. He first came out to his aunt Teri, who told him she's known for years. The relief he felt was immense, he said.
"Imagine you're in the oven, baking," he writes. Some of us know and accept our sexuality right away and some need more time to cook. I should know — I baked for 33 years."
Collins' article sparked messages of support, including from his friend Chelsea Clinton, who was his classmate at Stanford.
 "I am very proud of my friend Jason Collins for having the strength and courage to become the first openly gay athlete in the NBA," Clinton posted on her Facebook page. "His decision marks an important moment for professional sports and for our country."
The Wizards put out a statement that read, "We are extremely proud of Jason and support his decision to live his life proudly and openly. He has been a leader on and off the court and an outstanding teammate throughout his NBA career. Those qualities will continue to serve him both as a player and as a positive role model for others of all sexual orientation."
 NBA Commissioner David Stern praised Collins' leadership — and praised his twin brother Jarron, also a NBA player: "We have known the Collins family since Jason and Jarron joined the NBA in 2001 and they have been exemplary members of the NBA family," Stern said in a statement. "Jason has been a widely respected player and teammate throughout his career and we are proud he has assumed the leadership mantle on this very important issue."
Despite his revelation, Collins writes that his sexual orientation is only one part of his identity, something he contemplated while visiting the Martin Luther King, Jr., Memorial on the National Mall shortly after he was traded to the Wizards.
"I was inspired and humbled" at the memorial," he writes. "I celebrate being an African-American and the hardships of the past that still resonate today. But I don't let my race define me any more than I want my sexual orientation to. I don't want to be labeled, and I can't let someone else's label define me."

http://www.nbcwashington.com/news/local/Wizards-Jason-Collins-Comes-Out-As-Gay-205244261.html