Life in Mozambique's 'Trash City' captured by photographer
By Emily Wither, for CNN     August 27, 2011 — Updated 0919 GMT (1719 HKT)

(CNN) — For some living in Maputo, the capital of Mozambique, making a living from other people's waste is their only means of survival.
Portuguese photographer Jose Ferreira traveled to the Huléne garbage dump, not far from the city's airport, and captured the harsh reality of life in this "trash land."
Ferreira says that what struck him most was that despite the hardship, he found some of the "best people" he had ever met.
"Despite all the circumstances of how they live, they keep on showing their kindness and happiness and hospitality," he said. "We don't find these human qualities in many places in the world."
Ferreira explains that he met two types of people in the dump: the homeless and the "garbage collectors."


"Many of them living there depend on trash to survive, some search for food, others for types of recycling materials to sell to the factories," he said.
"The money they receive for all that they collect is not enough but it's something and they keep on returning there to collect more to sell again," he continued.
It is not known how many people live at the Huléne dump. Some reports have put the number at around 700.
The dump is located in a densely populated neighborhood and covers an area of approximately 17 hectares (170,000 square meters). It is the only official dump for the disposal of solid waste in Maputo, a city with a population of over one million.


The piles of waste at the dump can reach heights of 15 meters, according to a report by the Maputo municipal council.
One of Ferreira's photographs shows a truck arriving with trash from the city as a crowd of people run after the vehicle.
"At the moment that the truck would dump the garbage they would "jump' on the trash and there you can find everything from food, recyclable material, dead animals and fetuses of newly born," he said.
Ferreira says he doesn't have a favorite picture. But there is an image he says was the hardest for him to take.
"The hardest to witness was when there were two women eating a dead dog's head that was already decomposing and raw," he said.
The dump has long been earmarked for closure, but for the moment it remains open.
After spending time in Huléne, Ferreira says that the biggest mistake people can make is to think that there is no room for embarrassment for those forced to make a living from other people's waste.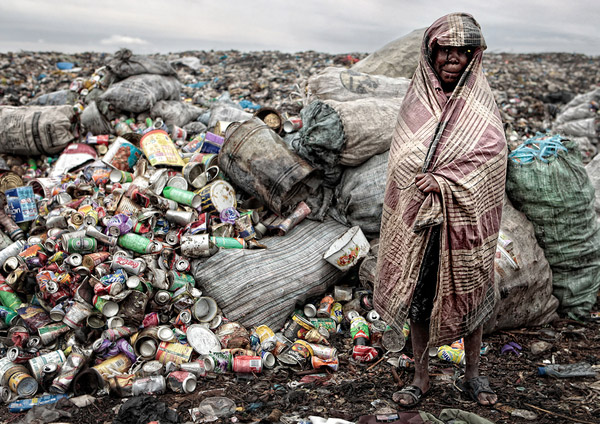 "There is a shame a lot more legitimate than any other because for most of them being there was never a choice," he said. "Many of them have seen the other side and dream of it themselves and every day they hope for a better life."
For Ferreira, his experiences have taught him to appreciate life more.
"The life we waste everyday because we want a better one or because we are never satisfied with it, is the life that many wish and yearn to have and would give everything to have it."

http://edition.cnn.com/2011/WORLD/africa/08/15/Mozambique.trash.city/