Moors Heads; Heraldry and Crests of Europe (Influence of African Moors on European Civilization)
Jose Piementa Bey – The Moorish Legacy
Dr Ivan Van Sertima – Africans/Moors/Blacks In European History(Pre History To Modern History)
Who were the Moors?
The Moors were the medieval Muslim inhabitants of Morocco, western Algeria,Western Sahara, Mauritania, the Iberian Peninsula, Septimania, Sicily and Malta. The Moors called their Iberian territory Al-Andalus, an area comprising Gibraltar, much of what is now Spain and Portugal, and part of France. There was also a Moorish presence in present-day southern Italy after they occupiedMazara in 827  until their last settlement of Lucera was destroyed in 1300. The religious difference of the Moorish Muslims led to a centuries-long conflict with the Christian kingdoms of Europe called the Reconquista. The Fall of Granada in 1492 saw the end of the Muslim presence in Iberia.
The term "Moors" has also been used in Europe in a broader sense to refer to anyone ofArab or African descent, whether living in Spain or North Africa. Moors are not a distinct or self-defined people. Medieval and early modern Europeans applied the name to theBerbers, North African Arabs, Muslim Iberians  and West Africans from Mali and Nigerwho had been absorbed into the Almoravid dynasty.  Mainstream scholars observed in 1911 that "The term 'Moors' has no real ethnological value." 
The Andalusian Moors of the late Medieval era inhabited the Iberian Peninsula after theUmayyad conquest of Hispania in the early 8th century. The Moors' rule stretched at times as far as modern-day Mauritania, West African countries, and the Senegal River.
Earlier, the Classical Romans interacted with (and later conquered) parts of Mauretania, a state that covered northern portions of modern Morocco and much of north western and central Algeria during the classical period. The people of the region were noted in Classical literature as the Mauri. Today such groups inhabit Mauritania and parts of Algeria, Western Sahara, Morocco, Niger and Mali. In the languages of Europe, a number of associated ethnic groups have been historically designated as "Moors". In modern Iberia, the term is applied to people of Moroccan ethnicity. "Moor" is sometimes colloquially applied to any person from North Africa, but some people consider this usage of the term pejorative, especially its Spanish version "moro".
http://en.wikipedia.org/wiki/Moors
Moors in heraldry
Moors—or more frequently their heads, often crowned—appear with some frequency in medieval European heraldry. The term ascribed to them in Anglo-Norman blazon (the language of English heraldry) is maure, though they are also sometimes called moore, blackmoor, negro or occasionally savage. Maures appear in European heraldry from at least as early as the 13th century, and some have been attested as early as the 11th century in Italy, where they have persisted in the local heraldry and vexillology well into modern times in Corsica and Sardinia. Armigers bearing moors or moors' heads may have adopted them for any of several reasons, to include symbolizing military victories in the Crusades, as a pun on the bearer's name in the canting arms of Morese, Negri, Saraceni, etc., or in the case of Frederick II, possibly to demonstrate the reach of his empire.Even the arms of Pope Benedict XVI feature a moor's head, crowned and collared red. Nevertheless, the use of moors (and particularly their heads) as a heraldic symbol has been deprecated in North America, where racial stereotypes have been influenced by a history of Trans-Atlantic slave trade and racial segregation, and applicants to the College of Arms of the Society for Creative Anachronism are urged to use them delicately to avoid creating offensive images.
http://en.wikipedia.org/wiki/Moors

http://commons.wikimedia.org/wiki/Category:Moor_heads_in_heraldry
Meuble héraldique tê…
23,284 bytes

97 WP Gimborn Schloss …
532,864 bytes

98 WP Gimborn Schloss …
791,141 bytes

Blason de la ville d'A…
134,372 bytes

Escudo almunecar.svg
435,009 bytes

Escudo de Almuñécar …
233,931 bytes

Escudo de Almuñécar …
230,054 bytes

Araldiz Manno 045.png
3,223 bytes

Araldiz Manno 059.png
17,966 bytes

Araldiz Manno 060.png
8,066 bytes

Araldiz Manno 095.png
6,455 bytes

Araldiz Manno 270.png
17,495 bytes

Armoiries de Milberg 2…
15,635 bytes

Escudo de Baena (Córd…
138,668 bytes

Barcelo coat of arms m…
229,992 bytes

Barcelo house mallorca…
345,314 bytes

Blason César Berthier…
659,218 bytes

Blason de la ville de …
168,523 bytes

BLASON DEMORE.jpg
5,026 bytes

Blason morel-fatio.jpg
48,859 bytes

Boretti POL COA.svg
226,125 bytes

C o a Pio VII b.svg
206,610 bytes

C o a Pio VII.svg
328,023 bytes

Escudo de Cabra (Córd…
262,253 bytes

Escudo de Cádiar (Gra…
241,849 bytes

Escudo de Cádiar.svg
246,420 bytes

Blason ville fr Castel…
59,221 bytes

Blason ville fr Castel…
164,204 bytes

Blason Charles Le Goux…
394,778 bytes

Clemens Wenzeslaus von…
91,144 bytes

Coa Eisenberg Thur.png
55,863 bytes

Coa fam ITA Malagodi 2…
20,450 bytes

Coa fam ITA Malagodi 3…
38,683 bytes

Coa fam ITA Malagodi 4…
38,403 bytes

COA family fr Favre (S…
67,249 bytes

CoA Quarto di Santa Ma…
73,541 bytes

Coat of arms antonio b…
32,151 bytes

Arms of Corsica.svg
12,858,089 bytes

Coat of Arms of Corsic…
20,675 bytes

Escudo de San Millan d…
531,300 bytes

Flumenthal-blason.png
4,870 bytes

Blason Fouquières-lè…
65,183 bytes

Blason n° 1702 (Folio…
91,831 bytes

House of Schwarzenberg…
56,058 bytes

Escudo de Huesa (Jaén…
362,099 bytes

Escudo de la Provincia…
1,022,534 bytes

Escudo de Iznate.svg
1,022,636 bytes

Lovecký zámek Ohrada…
2,875,633 bytes

Blason Marault.svg
136,460 bytes

Marienheide Gimborn – …
1,206,932 bytes

Marienheide Gimborn – …
1,061,889 bytes

Blason Matringhem.svg
63,436 bytes

MacLellan crest.jpg
25,007 bytes

MacLellan crest.png
406,548 bytes

Mittenwald wappen.jpg
14,459 bytes

Moeriken-Wildegg-blaso…
41,943 bytes

Blason ville fr Moranc…
150,360 bytes

Blason de Moret-sur-Lo…
56,394 bytes

Blasonmoret.jpg
4,106 bytes

Blason ville fr Moret-…
39,756 bytes

Escudo de Mozárbez.svg
258,923 bytes

Oberweningen-blazon.svg
8,138 bytes

Official-Avenches-coat…
132,609 bytes

Escudo de Otura (Grana…
208,368 bytes

Blason Louis Antoine d…
303,330 bytes

POL COA Mora XV.svg
46,512 bytes

POL CoA Mora.png
459,941 bytes

Praha Jinonice-Zamek-D…
104,485 bytes

Blason ville fr Sabarr…
17,592 bytes

Blason ville fr Sadour…
21,480 bytes

Sarrazin de Chambonnet…
62,364 bytes

Blason fam de Schwarze…
95,790 bytes

Schwarzhäupter 09.jpg
1,187,444 bytes

Blason ville fr Souble…
20,627 bytes

Blason fam at Starhemb…
890,430 bytes

Escudo de Tineo.svg
515,462 bytes

Tête de maure.png
7,219 bytes

Třeboň Schloss – Inn…
1,104,408 bytes

Třeboň Schloss – Sch…
2,005,363 bytes

Blason Vico.svg
118,626 bytes

Blason Villemaur-sur-v…
46,672 bytes

Växjö stift vapen.svg
4,532 bytes

Blason ville fr Vémar…
57,429 bytes

Wappen Coburg.jpg
14,586 bytes

Wappen der Fürsten vo…
109,273 bytes

Wappen Ober-Mörlen.png
441,669 bytes

Wappen Seitingen.png
14,282 bytes

Wappen Seitingen.svg
19,572 bytes

Wappen-stuttgart-moehr…
23,920 bytes

Escudo de Zújar (Gran…
293,161 bytes

Blason famille fr Etie…
39,080 bytes

Český Krumlov – Rath…
1,870,213 bytes
Other European Crests/Flags
http://www.taneter.org/moorsheads.html
Austria
Abfaltersbach
The coat of arms of Abfaltersbach, a small town in the southern Austrian alps, is unique because in the way in which the Moor is portrayed. Holding the olive branch symbolizes peace–a direct contradiction to any false legend claiming these Moors were the heads of the captives or enemies. The combining of the head with the lion's body can be traced to the sphinxes of Egypt and the Nubian lion god of Dedun. It's worth mentioning that the lion's body is depicted in a similar manner to those found on the coats of arms of European royalty as well as the government of Morocco.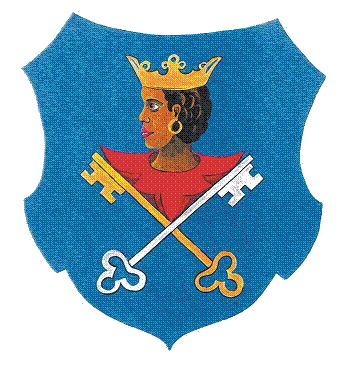 Sankt Peter am Kammersberg
The typically crowned Freising Moor is depicted, as Sankt Peter am Kammersberg was a borough of the Freising district until 1803 (See the Freising, Germany description below).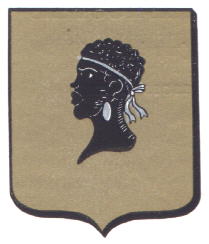 Belgium
Boezinge


Linkebeek
The coat of arms of Linkebeek features 3 "wreathed" Moor's heads in a manner similar to that of nearby town, Lennik.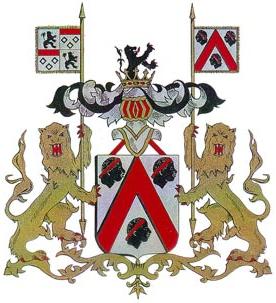 Lennik
According to town history, the coat of arms is descended from 1683 Gaasbeek family crest, which in 1691 changed to the seal of Corneille de Man (shown at right)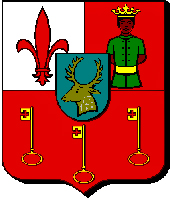 Waregem
Based on his clothing and golden crown atop his head, the Waregem Moor is clearly an African king or someone of high nobility. According to town history the present coat of arms was adopted in the 1970's after the merger of several smaller municipalities. This followed one adopted in the 1890s that featured what appears to be a "black faced," crowned Moor. The original, however, was a Baron von Plotho's family crest. The Von Plotho family of Brandenburg, Germany was first documented by Otto I in 946 AD.
France
Corsica
The modern Corsican Moor's head has been whitewashed with European features and today, many believe that the head is but a mere silhouette of a European man. Contrary to such claims, the Bastia Museum houses the original Corsican Moor's head (as shown below) which has undeniably black features. Some Corsican legends tell that the head was a trophy of a defeated Saracen chief, or that it was the head of a slave. Nonetheless, the positive portrayal, pearls around the moor's neck, and feminine qualities refute such legends.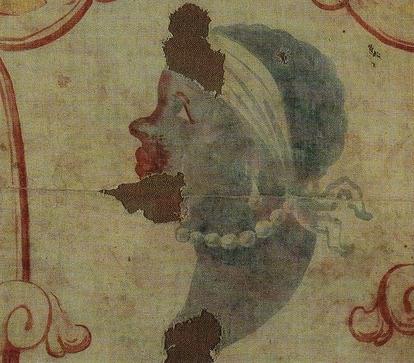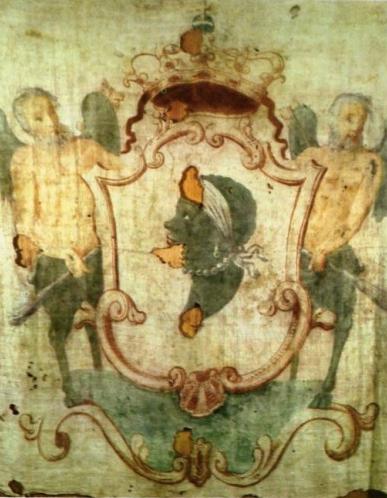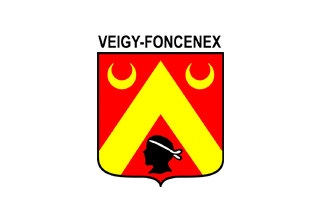 Veigy Foncenex
Germany
Coburg
Coburg, the ancestral home of the British royal family Saxe Coburg-Gotha, otherwise known as Windsor. The town is known for its picturesque castles and museums, but its most popular resident is the Coburg Moor which appears on the town's edifices, coat of arms, and flag (as shown below). As previously mentioned, the town's history tells that this was the catholic church's patron saint from Thebes (Luxor), St. Maurice. Therefore, according to both the town's history and the Catholic church, for which he is a patron saint, Maurice was an Egyptian. Again, we can see that the gold earrings and necklace, which could be symbolic of opulence and high regard.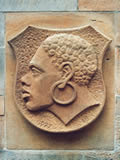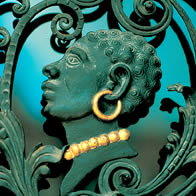 Eisenberg

 
Freising
The home town of Pope Benedict is adorned with a crowned-head Moor which may be seen at the Freising castle and on the town's official coat of arms and flag.
The pope uses the same representation of the Moor on his official papal coat of arms. As the pope put it in his autobiography, the "caput aethiopicum" has been used by Freising bishops for over 1,000 years. More importantly, he admits that he does "not know its meaning." Nonetheless, we are aware that legend tells of Abraham of Freising's encounter with a bear and how his Black servant defeated this bear. Abraham promised to reward his servant, and did so by depicting his head on the town's coat of arms. Although this legend explains why the pope has the bear on his coat of arms, the legend is still questionable since the Moor is crowned like a king. Regardless, the story and portrayal of the Moor affirms the presence of Blacks in Medieval Europe and their high status. Variations of this Moor can be found on nearly 20 municipal coats of arms throughout Germany.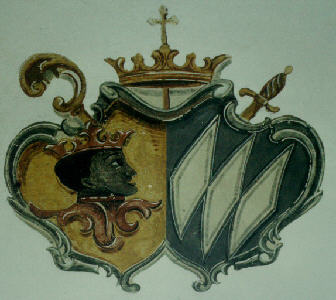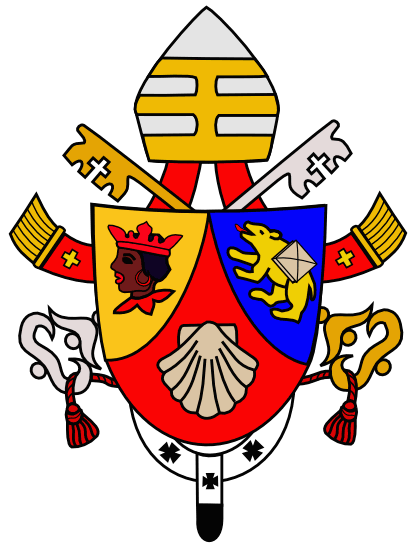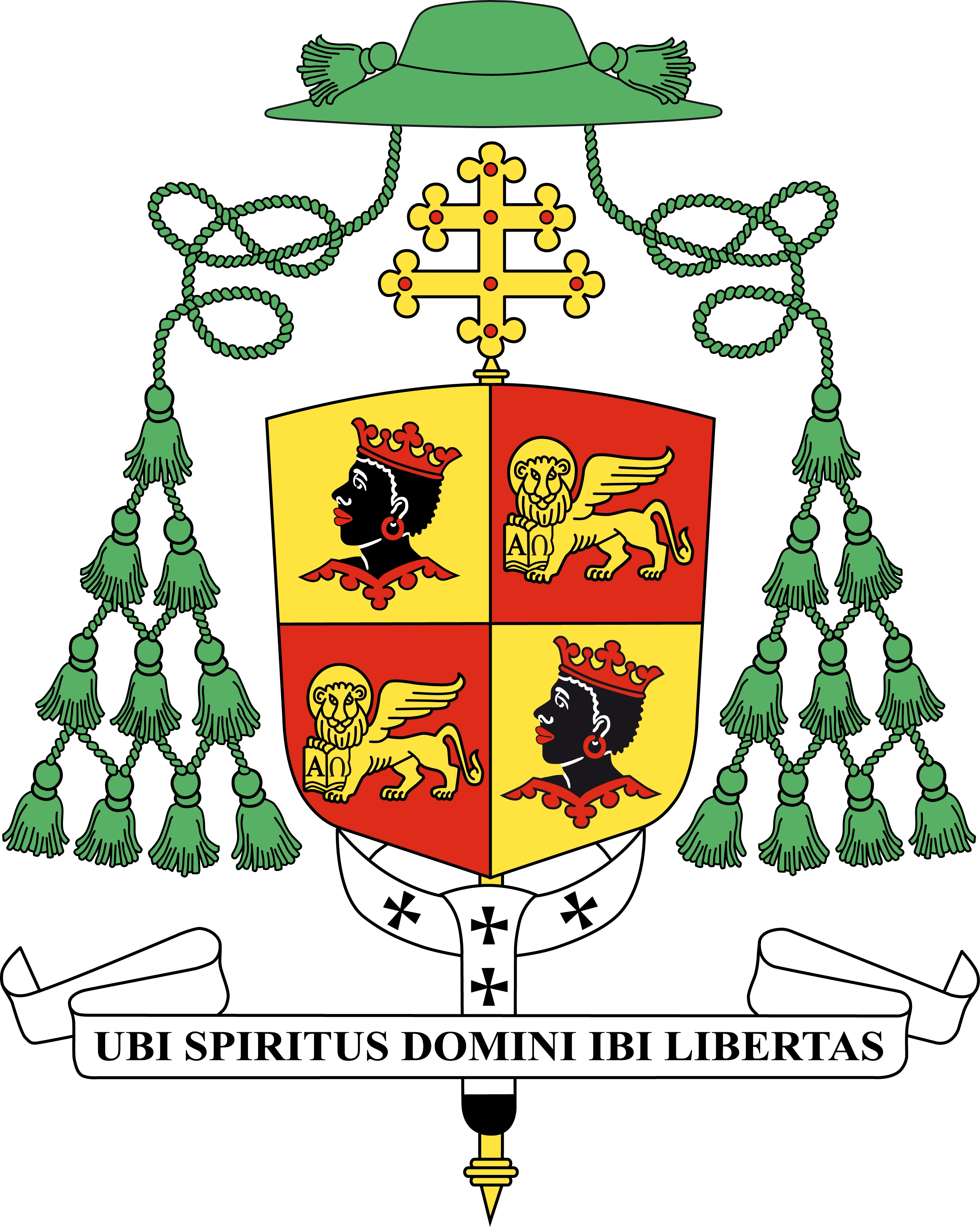 Archdiocese of Munich
Italy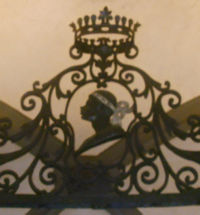 Pucci Family
Sardinia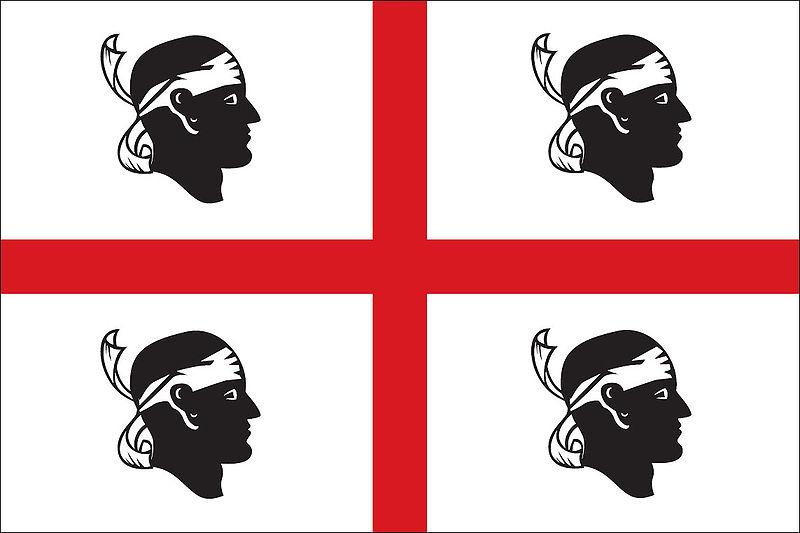 According to the Sardinian government, the flag became associated with Sardinia in the 1300s when the island became part of the Confederation of the Crown of Aragon. As such, the official history of Aragon claims that the Moor's heads can be traced to the Battle of Alcoraz in which the Moors were defeated by Pedro I in 1096. However, the Cross of St. George superimposing the heads has led some scholars to suggest that this could be a representation of St. George, who was not only a saint, but one of the most admired knights of Europe. Interestingly, the British Museum houses a 1300 AD icon that is very similar to the murals of the 10th century Abreha Atsbeha church in Ethiopia.
Latvia
Riga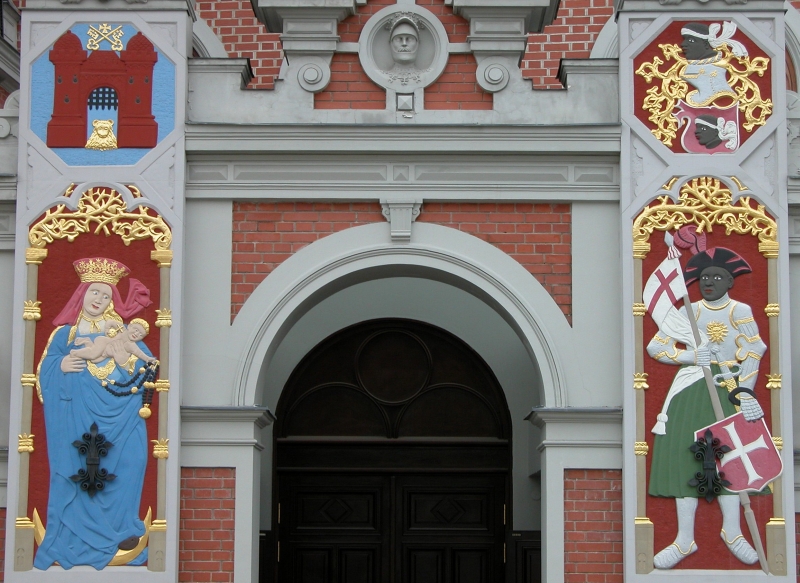 Riga's most famous building, the House of the Blackheads, prominently features an armored St. Maurice (supposedly) below a representation of his head. According to town history, the building was originally constructed in the 1300s by the Brotherhood of the Blackheads who adopted St. Maurice as their patron saint. However, the story is somewhat questionable, considering that the Brotherhood was originally established by indigenous Latvians to rid their country of Christian invaders.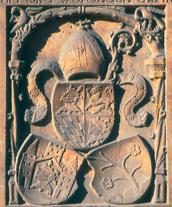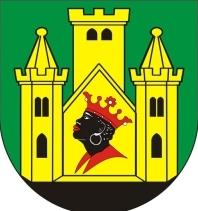 Slovenia
Skofja Loka
The crowned Moor represented on this 1000-year old town's coat of arms and flag is directly related to the aforementioned Freising moor. The town is located in territory granted to Bishop Abraham of Freising in 973 AD.
Spain
Aragon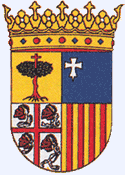 Switzerland
Avenches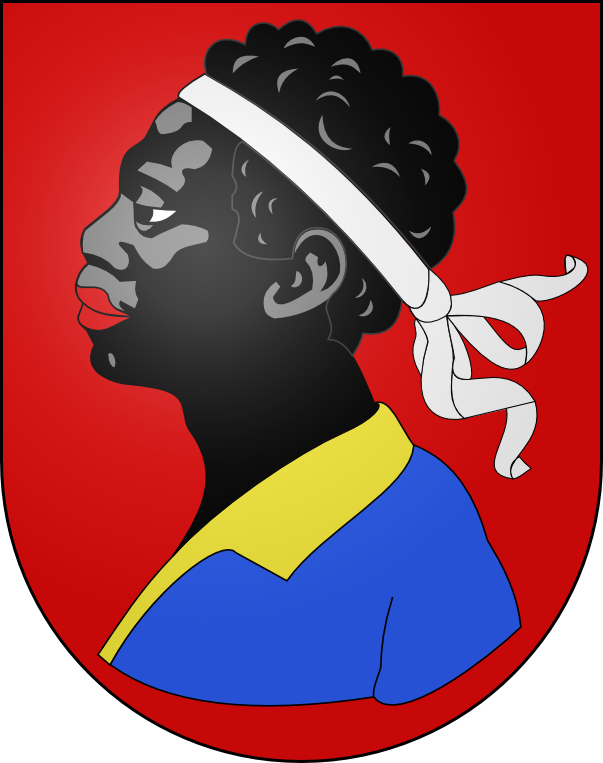 Cornol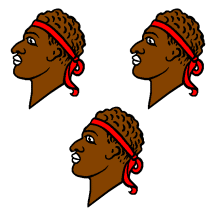 Flumenthal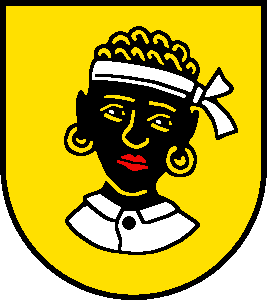 http://www.taneter.org/moorsheads.html