NAACP Stands Up To Airline That Kicked Man Off Plane For Wearing Saggy Pants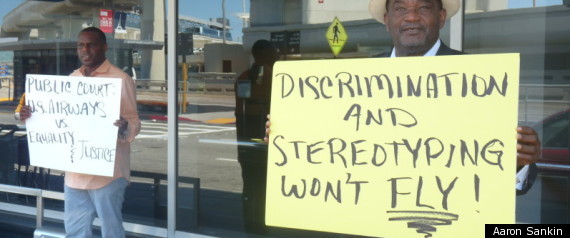 Approximately 20 protesters stood on the curb outside the U.S. Airways ticket counter at San Francisco International Airport Monday afternoon shouting calls of justice for Deshon Marman.
(SCROLL DOWN FOR PHOTOS)
Marman's story instantly became a national lighting rod after airline employees ejected him from a U.S. Airways flight for wearing pants they deemed too baggy. The 20-year-old African American was later arrested after refusing to comply with crew member instructions to leave the aircraft as it was parked at the gate.
Holding a sign reading, "U.S. Airways must be sentenced repentance," Rev. Renard Allen of San Francisco's Third Baptist Church said the protestors, organized by the local chapter of the NAACP, were there to "protest injustice, inequity, decimation and racial profiling." He added, "we're saying this will not fly in the land of the free and the home of the brave."
The controversy began last month when Marman, a native of San Francisco's Bayview district, was attempting to board a U.S. Airways flight to New Mexico at San Francisco International Airport. Marman, who plays football at the University of New Mexico, was in town for the funeral of his close friend and former teammate David Henderson, who was fatally gunned down in the Bayview a few weeks prior.
On his way back to school after Henderson's funeral, Marman was boarding the Wednesday morning U.S. Airways flight to Albuquerque from SFO when the cut of his pants offended the sensibilities of a flight attendant. "She could see the outline of his private area," police Sgt. Michael Rodriguez relayed to reporters.

The attendant asked Marman to pull up his pants and, still reeling from his friend's death, Marman refused. The stewardess complained to the captain, who threatened to throw Marman off the plane and place him under citizens arrest if he didn't comply. Before the captain could make good on his threat, the police arrived. Officers cuffed Marman and promptly carted him off to jail.
On Wednesday, the charges against Marman, which included battery of a police officer, resisting arrest and trespassing, were dropped by the San Mateo County District Attorney's office. "We do not believe that criminal charges are warranted in light of all of the circumstances surrounding the incident," San Mateo D.A. Steve Wagstaffe announced last week.
Even though the charges were dropped, many in the African American community still feel slighted by what they believe was a racially targeted attack. Adding fuel to the fire was the revelation that, only days before Marman was ejected from the plane, U.S. Airways permitted a white man to fly across the country dressed in
nothing but women's lingerie
.
http://www.huffingtonpost.com/2011/07/18/deshon-marman-protest-naacp_n_902138.html