Orlando Brown Dead: Former NFL Offensive Lineman Dies At 40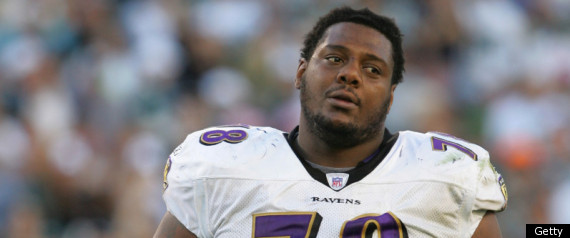 The Baltimore Ravens announced on Friday that former offensive tackle Orlando Brown passed away. He was 40.
According to the Baltimore Sun, Brown was found dead in his home in downtown Baltimore.
Ravens coach John Harbaugh offered his condolences to the Brown family at the beginning of his Friday news conference.
Brown played in 129 NFL games with the Cleveland Browns and Ravens from 1993–2005.
Despite playing 14 or more games in seven of his nine active seasons, Brown is best remembered for an unfortunate moment that took place in December 1999 while he was with the Browns. An errant penalty flag thrown by referee Jeff Triplette to call a false start found it's way through Brown's face mask and struck him in his right eye, nearly blinding him. Brown would be forced to miss the rest of the '99 seasons as well as the next three. To compensate him for the large swath of his career that was wiped out, he was awarded $15-20 million from the NFL in a settlement after he filed a $200 million lawsuit. After years of rehabilitation, Brown was able to return to the NFL in 2003. He would play his last three seasons in Baltimore.
"He was a beast on the field and a great friend off it," Ravens linebacker Terrell Suggs said. "It's a shame he had to leave us so young."
http://www.huffingtonpost.com/2011/09/23/orlando-brown-dead-ravens_n_978061.html