US parents convicted of killing Ethiopian girl they adopted

Posted: Monday, September 9, 2013 3:53 pm | Updated: 5:54 pm, Tue Sep 10, 2013.
By Gina Cole
MOUNT VERNON —A Sedro-Woolley-area couple is guilty of all but one charge against them in their adopted daughter's death and the abuse of their adopted son, a jury found Monday.
Larry and Carri Williams were both convicted of first-degree manslaughter in Hana Williams' death, and of first-degree assault of a child for abusing the younger boy they adopted from Ethiopia at the same time as the young teenage girl.
Carri Williams also was convicted of homicide by abuse in the death of the teenage girl, who witnesses say was starved and tortured. The jury could not reach a decision on that charge for Larry Williams.
The couple, who cast blame at each other during the trial, shared a look before the jury entered the courtroom in what may be the last time they see each other for a long while. As they have throughout the trial, they sat at different tables a few feet away from each other and never spoke to each other in court.
Skagit County Superior Court Judge Susan Cook has final say on sentencing, which could be several weeks away.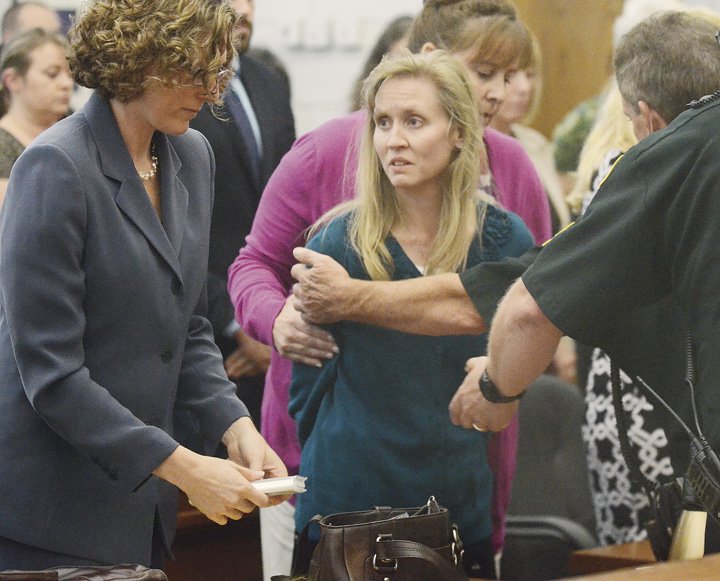 By Scott Terrell—–Carri Williams is handcuffed after guilty verdicts were read in Skagit County Superior Court on Monday in the homicide by abuse case involving her adopted daughter, who died in May 2011. Williams was also convicted of manslaughter and with assault in the abuse of her adopted son. Her husband, Larry, was convicted of the last two charges as well.
The background
Hana collapsed one rainy night in May 2011 after spending hours in the family's backyard. Her sister and mother found her face-down in the dirt, naked and unresponsive. An autopsy showed she'd died of hypothermia, with malnutrition and a stomach condition as contributing factors.

The 5-foot-tall girl weighed just 78 pounds.

Witnesses throughout the trial described the adopted children being starved, beaten and tortured.

Hana spent her final months with a nearly shaved head, sleeping in a locked closet, showering outside with a hose, using a portable toilet behind a barn instead of the family bathroom, being hit as many as 40 times a day and at times being barred from speaking to anyone.

The adopted boy, who testified for about 12 hours spread over five days, said he was sometimes hit on the top of his head or the bottom of his feet, that Larry Williams hosed him down with cold water if he wet himself, and that he and Hana were often served wet sandwiches or frozen food to eat outside, away from the rest of the family.

The seven biological Williams children got none of these punishments, save the rare spanking. They and the defendants all testified it was because the adopted children were more "disobedient," "oppositional" and "rebellious."

Prosecutors argued it went beyond that. The Williams family saw its two new Ethiopian members as "filthy," "dirty," "not one of us," deputy prosecutor Rosemary Kaholokula said. A teenage Williams son even told sheriff's detectives after Hana died that he thought she was possessed by demons.

The adopted boy has since been diagnosed with post-traumatic stress disorder because of the trauma he endured in the Williams home. He is in foster care, and a court order keeping Larry and Carri Williams from contacting him remains in place. All of the Williams children were removed from the home within months after Hana's death. The minor children are either with family or in foster care.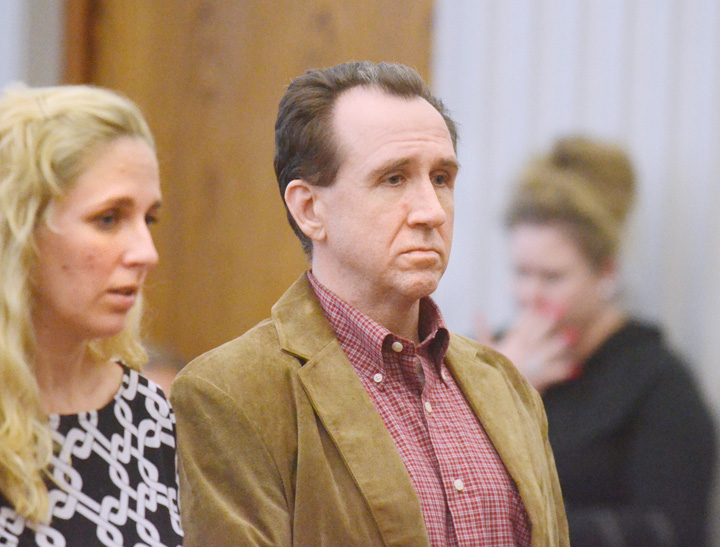 Scott Terrell——-Larry Williams reacts as the verdict is read Skagit County Superior Court Monday finding him guilty of manslaughter in the death of his adopted daughter, Hana.



After the ruling, Carri Williams, who had been free on bail during the trial, was handcuffed and taken into custody. She was cuffed by Skagit County Sheriff's Detective Theresa Luvera, who interviewed the Williams children after Hana's death. Later, Luvera hugged two state children's workers who had been involved in the investigation.
Cook set Larry Williams' bail at $750,000 and Carri Williams' bail at $1.5 million.
Each charge is a Class A felony, carrying a maximum sentence of life in prison and/or a $50,000 fine. Skagit County Prosecutor Rich Weyrich is recommending 14 to 18 years for Larry Williams and 27 to 37 years for Carri Williams. Larry Williams spent almost two years in jail while the case was pending and could get credit for serving that time.
The jury started deliberating Thursday after a seven-week trial that Weyrich said was the longest he could remember in his 35 years in Skagit County.
When she released them from duty Monday, Cook thanked the jurors and told them, "Take care of yourselves."
At that, Larry and Carri Williams were led away.
Weyrich said he is undecided for now whether to re-try Larry Williams on the homicide-by-abuse charge, though Williams' lawyer Rachel Forde said she doubts it will happen.
An appeal is likely, lawyers for both parties said.
"That, you can count on," said Skagit County Public Defender Wes Richards, who represented Carri Williams. Richards and co-counsel Laura Riquelme declined to comment on anything else.
While Forde wouldn't be assigned to represent Larry Williams in an appeal, she said she is confident it would go his way.
"He had to have caused Hana's death, and there's just insufficient evidence that he did," she said, calling it a "tragic accident" that her client is "completely heartbroken" about. No one intended for Hana to die, she said.
She also spoke up for her client's wife, echoing arguments defense lawyers made throughout the trial: the Williamses were bad parents, even abusive parents, but not criminals.
A key question in the trial had been Hana's age. The charge of homicide by abuse applies only if she was younger than 16 when she died.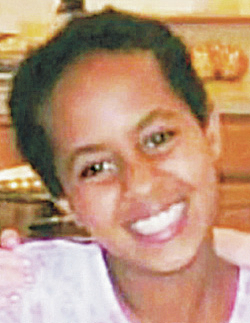 Hana Williams


Her adoption paperwork indicates she would have been about 13 at the time, but her parents said they thought she was older, and various experts who examined her body were unable to definitively place her age below 16.
Still, jurors found they still had enough evidence to convict Carri Williams of homicide by abuse.
Spectators have filled the courtroom benches most days of the trial, including some family and friends of the Williamses sitting behind their defense teams.
Members of Seattle's Ethiopian community drove up almost every day to sit on the prosecutors' side in silent support of Hana.
One who came often was Metassibia Mulugeta, who called the case "heart-wrenching and unbelievable."
After hearing the adopted boy testify one day, Mulugeta said he seemed to be thriving since leaving the Williams home.
"I don't care about the testimony," she said. "He's alive."
Hana's death gave her eight adoptive siblings freedom, Mulugeta said.
"Deprivation of food. Deprivation of socialization, within the family. Deprivation of sleep. Deprivation of total freedom. I mean, (Hana) was under control in every sense, and they both were," Mulugeta said. "…How long could she have lived and endured that?"


http://www.goskagit.com/news/local_news/williams-trial-mother-guilty-on-counts-father-on/article_b5c44ebe-19a2-11e3-9b0a-001a4bcf887a.html