Phila. Police seek man, woman in kidnapping; reward up to $10K
WEST PHILADELPHIA – January 16, 2013 (WPVI) — Philadelphia Police say an intensive search is now underway for a man and a woman in connection with Monday's abduction of a 5-year-old girl.
In a late development Wednesday night, after more than two hours of questioning, the girl's father left the Special Victims Unit with detectives.
Although police have previously stated he passed a lie detector test and is not a suspect, sources say detectives confiscated his cell phone and were seeking a search warrant to go through the device.
At a 1:00 p.m. news conference Wednesday, Philadelphia Police Captain John Darby released detailed descriptions of the man and woman police are searching for, described the block-by-block search underway for both of them, and updated the amount of reward money being offered.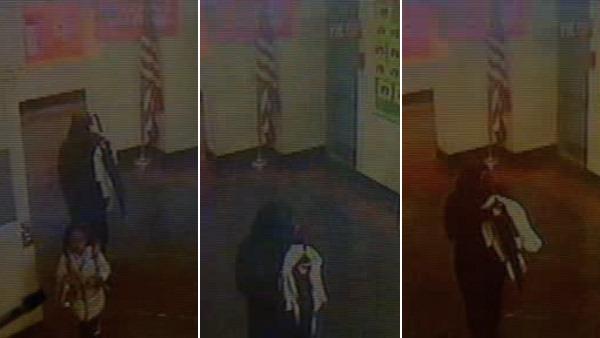 The woman being sought is the same woman seen in surveillance video leaving Bryant Elementary School with the child on Monday.
WATCH: Surveillance video from the school

She has been described as a dark-skinned black woman in her late 20s, standing 5′ 5″ to 5′ 8″ tall, with a thin build and possibly pregnant. Police now say she told the child her name was "Rashida."
Investigators say after that woman left the school she walked the child several blocks to a home in West Philadelphia, where the two were joined by a man.
That man is described as a light-skinned, possibly white, man in his mid-thirties with short brown hair. The girl told police he was wearing sweat pants and a blue long-sleeved t-shirt.
Police say he joined the woman in restraining the girl at the residence. Earlier reports said the girl was blindfolded by her captors.
Darby said police are now conducting an intensive manhunt in a several-block area surrounding Bryant Elementary School. He said uniformed officers are being joined by cadets from the Philadelphia Police Academy in canvassing the area, going door-to-door and handing out flyers with descriptions of the suspects.
"We are asking every resident to take another look," Darby said.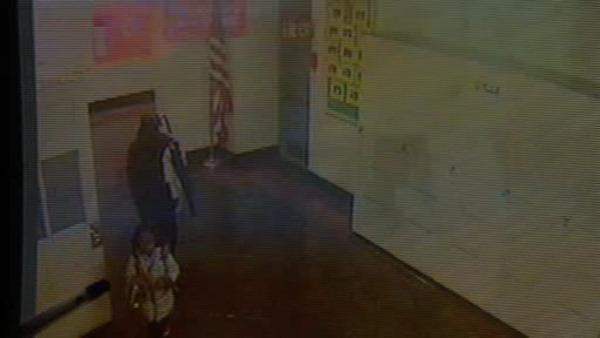 The targeted area is bounded by Spruce Street and Christian Street on the north and south, and 50th Street and Cobbs Creek Parkway on the east and west.
In addition, Darby said two rewards are now being offered in the case: $5,000 from the Fraternal Order of Police for the arrest of one or both offenders; and $5,000 from the Citizens Crime Commission for the arrest and conviction of one or both offenders.
Action News has also learned that police believe a second woman became involved in the case when she rescued the girl from that home in West Philadelphia and dropped her off at a playground in Upper Darby, where she was eventually found.
No further information about that second woman has been released.
Wednesday's news conference came after a dramatic series of developments that began when the girl first went missing Monday morning after her mother dropped her off at Bryant Elementary School in West Philadelphia. That was at 8:45 a.m.
Police say minutes later, a woman dressed in Muslim garb, which only showed her eyes, signed in with the name "Tiffany."
The woman was told to go to the school's office, but police say she went to the girl's classroom instead – telling the substitute teacher on duty she was the girl's mother and that was taking her to breakfast.
When the substitute teacher challenged her, police say the woman got indignant, saying, "I signed what I was supposed to sign, I've got other appointments and I do not need to put up with your nonsense."
That woman was seen on surveillance video walking with the girl from her classroom at about 8:50 a.m.
Investigators said that this did not appear to be a random act, but rather the girl was targeted, noting that the woman knew where to go and asked for the girl by name.
Authorities say when someone from the girl's daycare arrived to pick her up at 3:00 p.m., they finally realized something was wrong. An Amber Alert was then issued for the girl on Monday evening.
She was found by a passerby named Nelson Mandela Myers at 4:40 a.m. Tuesday at a playground in Upper Darby, Delaware County – 1.5 miles away from Bryant Elementary School.
She was crying, wet, and wearing only a t-shirt.
Upper Darby police say Myers was on his way to work when he heard the girl's cries Tuesday morning and found her under a playground sliding board near 69th Street and Marshall Road, cold and upset.
On Tuesday night, Mayor Michael Nutter announced Myers would receive the $10,000 reward that was being offered for information leading to the girl's return.
Once found, the girl was taken to Children's Hospital of Philadelphia where she was evaluated, reunited with her mother, and released.
The child has had some preliminary interviews after being released from the hospital.
Police, covering all bases in this investigation, conducted a lie detector test on the girl's father. He passed. After being released from the hospital, the girl was carried home in her mother's arms and surrounded by detectives.
"[I'm] very relieved," the mother said as she walked inside the home with her daughter.
Meantime, a spokesperson for the Philadelphia School District admitted thatBryant Elementary did not follow proper protocol for school visitors.
The superintendent points to breaches in security protocol and has taken action.
The non-teaching assistant, or NTA, has been removed from the security desk. That's the person who authorities say allowed the kidnapper to retrieve the child from the classroom without going through the office.
The district will also not assign classes to the substitute teacher from the child's classroom pending the outcome of the investigation.
The district says school personnel are required to go through annual safety training, but the teachers' union questions whether the substitute had proper instruction.
"We are not going to let any of our members be railroaded," said teachers' union president Jerry Jordan. "I can't imagine that the substitute teacher knew the protocol for early dismissal from school. I find that hard to believe."

http://abclocal.go.com/wpvi/story?section=news/local&id=8956382