Poverty rates in Maryland and Virginia higher for blacks and Hispanics than whites and Asians
By Carol Morello, Wednesday, February 20, 12:07 PM
Blacks and Hispanics in Maryland and Virginia are much more likely to be poor than whites or Asians in the two states, but their poverty rates are still lower than the national average, the census said Wednesday.
A census report on poverty rates for various racial and ethnic groups said poverty was widespread among American Indians, blacks and Hispanics.
Nationwide, during the recession-stricken period between 2007 and 2011, 43 million Americans, or slightly more than 14 percent, lived in poverty. But not every group was impacted equally. The poverty rate was 27 percent for American Indians, 26 percent for African Americans and 23 percent for Hispanics. Among whites and Asians, less than 12 percent were poor.
The Washington metro area has some of the most affluent counties in the country. The recession had less of an impact here than in most places in the country, largely because of the prevalence of college-educated, two-income households and the stability created by federal jobs and contracting. But even in Washington, the recession bred an unusual degree of unemployment, job loss and poverty.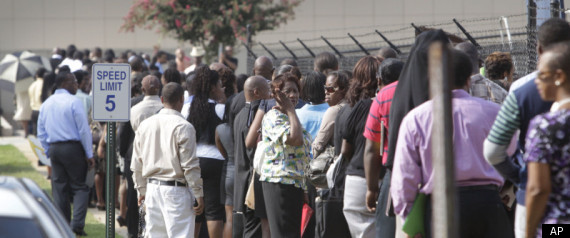 According to the census figures, the most pervasive degree of poverty in the Washington region was experienced among blacks living in the District. In the city as a whole, 26 percent of American Americans were poor, roughly the same as the national average. But even that grim statistic understates the poverty in some corners of the city. In Ward 8, for example, 38 percent of the residents are poor, according to census statistics.
"During the recession, we saw a number of families who had been doing well pushed back below the poverty level," said Joe Weeden, director of Defeat Poverty DC, a coalition of groups working to halve the city's poverty level over the decade.
Census statistics released in December showed overall poverty in the District at a 30-year high, with one in five residents — including one in three children — officially classified as poor. But Weeden said there are signs the picture is improving.
"Over the last year, as employment has ticked up, we're seeing some rebound," he said.
The census report said Maryland and Virginia were among only six states in the nation with poverty rates under 20 percent for blacks. In Maryland, less than14 percent of blacks lived in poverty, compared to 19 percent of blacks in Virginia. Maryland, Hawaii and Alaska were the only states in the U.S. where a smaller proportion of African Americans lived below the poverty level than the national average.
By contrast, the region also experienced some of the country's lowest poverty rates for whites — 6 percent in Maryland, and a little more than 8 percent in Virginia and the District.
Locally, all three jurisdictions showed a smaller share of Hispanics who are poor than the national average — 13 percent in Maryland, 14 percent in the District and 15 percent in Virginia.
The picture was more mixed for Asians. Poverty affected 7 percent of Asians in Maryland and 8 percent in the District, among the lowest rates in the country. In the District, however, 14 percent of Asians were poor, above the national average.


http://www.washingtonpost.com/local/poverty-rates-higher-for-blacks-and-hispanics-than-whites-and-asians/2013/02/20/401e6a6e-7b78-11e2-9a75-dab0201670da_story.html