Derogatory sign placed on school as 'senior prank'
Atlanta News, Weather, Traffic, and Sports | FOX 5

Posted: May 14, 2014 11:33 AM CDT Updated: May 14, 2014 3:21 PM CDT By MYFOXATLANTA STAFF

FORSYTH COUNTY, Ga – A sign draped across the side of a Forsyth County high school raised some eyebrows and angered school officials early Wednesday.
The sign contained a lyric to a popular song by the artist 'Drake'. The signs proclaimed "N***A we made it!" Students used the reference as part of their departing 'senior week' celebration. In addition to the sign, photos also show the message was written on windows.
As images of the sign started to surface on social media, school officials reacted with this statement:
"South Forsyth High School Parents: This morning, without our knowledge, students placed a derogatory sign with a verse from a song by Drake on our school as a senior prank. We removed it as soon as it was brought to our attention and deeply apologize for their behavior. This is unacceptable and I promise you that the students will receive the appropriate consequences for their actions."
FOX 5 News has a crew in Forsyth County, and we will bring you more on this story later today.
A similar incident happened at Fayette County High School about a month ago. Two students put the same derogatory message on a sign, took a photo and immediately took the sign down. The students involved were disciplined, according to Fayette County school officials. An image of the sign hit social media as well.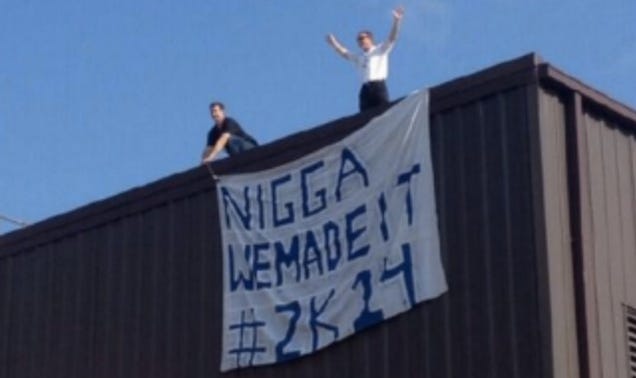 http://www.myfoxatlanta.com/story/25515275/derogatory-sign-placed-on-school-as-senior-prank#axzz31o2IFBLM