Reward Offered After Racist Graffiti Targets Black Students at California High School
Racist graffiti targeting black students was found on buildings on Sunday and Wednesday
By Toni Guinyard and Jason Kandel |  Thursday, May 16, 2013  |  Updated 2:33 PM PDT
Two cases of racially charged graffiti at a high school in upscale Agoura Hills are being investigated by a hate crime unit, Los Angeles County Sheriff's Department officials said.
Deputies were reviewing surveillance footage and providing extra patrols on Thursday around Agoura High School, where officials found racist graffiti against black students on Sunday and Wednesday.
The scrawls were first discovered on Sunday on at least 10 buildings on the campus, which has 31 African-American students among a largely white student body of 2,150, according to school officials.
Some parents said they were not initially notified about the graffiti, which was quickly painted over.
On Wednesday, school officials found more graffiti in the boys' bathroom that named five individual black students' names alongside threats.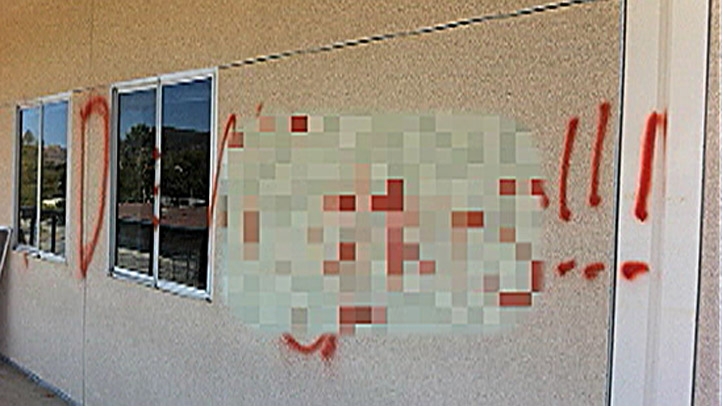 "I felt like they were not valuing my son's life or his well-being. And if you're not going to communicate to me and tell me what the possible threat is — we're talking about deadly force here. We're talking about a hit list being put on a wall. Of course I was going to be very upset about that," said parent Ron Cash, whose child is an African-American student at the campus.
Cash's son was not targeted, but his friend was. Cash and his wife Gina Aubrey were concerned.
Aubrey said their 17-year-old son has been at the school for four years and has felt "very safe" and experienced no "racial incidents."
"He's never felt under any threat and never had any reason to," Aubrey said
Another parents, whos son was named in the graffiti, said she received several text messages and calls about the Wednesday incident. "
"My son's name showed up on the list," parent Astrid Kastenberg said.
Kastenberg said the graffiti included the statement: "These are the next n—— to die."
School officials said sheriff's detectives told them not to notify parents about the graffiti found on Sunday. Sheriff's officials said they had requested the school not provide details of the investigation to authorities.
Parent Dorna Hill  said she was notified on Wednesday, but she was still uneasy even though officials said they didn't believe students were in danger.
Members of the hate crime unit of the Sheriff's Department met with parents of students who appeared to be targeted and class was in session as usual on Thursday.
"We feel very confident that the investigation is going to show that this is not an orchestrated threat against a certain race at the high school," Sheriff's Capt. Pat Davoren said.
Students have no reason to fear for their safety, he added.
The crime, he said, is being investigated as felony vandalism with a possible hate crime enhancement.
Principal Larry Misel said he believes the investigation will show the vandals were motivated by something other than hate.
School officials said a $1,000 reward was being offered for information leading to the arrest and conviction of the person or people responsible.
Davoren said surveillance video was providing clues in the search for the vandal or vandals, who appeared hooded and masked.
"The video is showing that there are several people on campus after hours, walking around the campus. Our investigators believe they could be involved," Davoren said.
http://www.nbclosangeles.com/news/local/Racist-Graffiti-Found-Agoura-High-School-207700471.html