Somali-American Harvard Graduate Abdiweli Mohamed Ali, named new Somali Prime Minister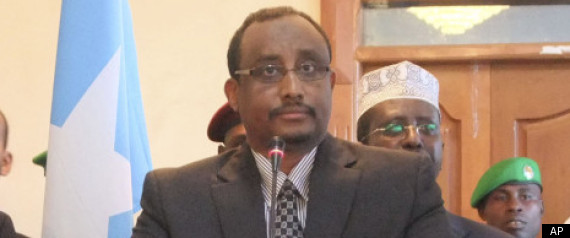 MOGADISHU, Somalia — Somalia's president on Thursday named a Somali-American economist as the country's new prime minister, saying the Harvard graduate will help end bickering between the executive and the legislature that has paralyzed the fragile government for months.
Abdiweli Mohamed Ali, who previously taught economics at Niagara University in Lewiston, New York, was elevated from his position as minister of planning and international cooperation.
Ali's appointment puts a highly educated technocrat high within the Mogadishu administration. Ali has graduate degrees in public administration from Harvard and another in economics from Vanderbilt University.
President Sheik Sharif Sheik Ahmed lauded Ali for his "very clean" record during the announcement at the presidential palace in Mogadishu. Ahmed said he hoped that Ali's government would help improve ties with the international community, which has been dismayed by the constant bickering among Somalia's leaders.
Ali said he hoped to build on the successes of his predecessor, Mohamed Abdullahi Mohamed, who was seen as a competent leader but was ousted in a political deal. Mohamed made sure government employees were paid regularly, winning him praise in Mogadishu.
"I promise that our new government will continue implementing the policies of the previous government," Ali said.
Eradicating corruption and improving the army's welfare will be his top priorities, he said.
Many Somalis denounced the U.N.-backed deal signed in Uganda's capital Kampala. That deal was aimed at ending the infighting between Ahmed and Parliamentary Speaker Sharif Hassan Sheik Aden.
The two leaders had been locked for months in a dispute over what to do when the government's term expires. Ahmed asked for an extra year in power because he said elections were distractions as the country was in a state of war with Islamist insurgents. Aden insisted on following the country's interim charter calling for presidential and speaker elections before Aug. 20.
The leaders' differences dissipated on June 9 when they agreed to extend the government's term by a year and postpone elections until next year.
Hundreds of people, including government soldiers, took to Mogadishu's streets to protest the deal. At least two people, a soldier and a teenager, died during protests.
Mohamed initially refused to resign but stepped down last weekend.
Mohamed said it is a "big honor" for him to see a man he has known for a long time be appointed as the new prime minister. He urged the public to back Ali.
http://www.huffingtonpost.com/2011/06/23/abdiweli-mohamed-ali-somalia-prime-minister_n_882848.html