South Africa is 1st African Nation to host Mr Gay World contest
South Africa stages Mr Gay World contest
Gay pageant debuts on African soil, with first black African contestants overcoming discrimination to take part
David Smith in Johannesburg
guardian.co.uk, Monday 9 April 2012 11.01 EDT
Article history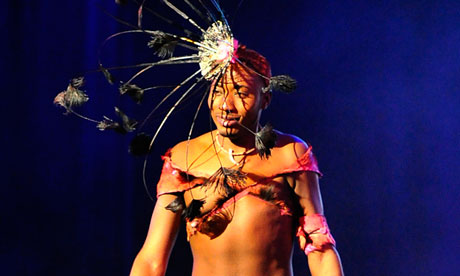 Wendelinus Hamutenya of Namibia at the Mr Gay World pageant in Johannesburg. Photograph: Alexander Joe/AFP
Wendelinus Hamutenya came out as gay when he was 16. His father called the police and sent him to hospital for psychiatric treatment.
Now 25, Hamutenya was proud to represent his country, Namibia, at theMr Gay World competition night – the first time the event has been staged in Africa.
The former herd-boy is reconciled with his family, who accompanied him to the airport for a warm send-off when he left Namibia for the competition in Johannesburg, South Africa.
Hamutenya, who once considered becoming a priest, works as a midwife but life is still far from straightforward. He was beaten and hospitalised by two men after winning the Mr Gay Namibia contest last year, although he believes the attack was a mugging, not a hate crime.
Homosexuality is illegal in 37 African countries, with the death penalty applicable in Mauritania, northern Nigeria, Somalia and Sudan, according to research by South Africa's Mail & Guardian newspaper.
South Africa is the only country on the continent to legalise gay marriage.
"I hope and I believe that Namibia will be the second country in Africa to recognise the rights [of gay people]", Hamutenya, who has lobbied for a repeal of his country's 1927 sodomy law, told the Associated Press.
Mr Gay World's debut on African soil, including the first black African contestants, was hailed as a symbolic moment, but not for everyone. Mr Gay Ethiopia was disowned by his father, and Mr Gay Zimbabwe pulled out after his mother was allegedly followed by government agents. President Robert Mugabe has described gay people as "worse than pigs and dogs".
South Africa has earned praise for breaking from the African majority at the UN to condemn homophobia. Teboho Maitse, acting chairman of South Africa's Commission for Gender Equality, told AP that when she travelled on the continent, "people say, 'You South Africans, you don't behave like Africans'."
contest also underlined discrimination beyond Africa. The Chinese contestant was unable to take part because of anti-gay pressure in his country, organisers said. Representation was thin from Asia, eastern Europe and the Middle East.
Mr Gay World started in Canada in 2009. This year Andreas Derleth, a 32-year-old German living in New Zealand, took the crown, with South Africa's Lance Weyer first runner-up.
A disappointed Hamutenya, who has started a support group for gay Namibians on Facebook, said he would return home to fight "for gay rights and human rights".
http://www.guardian.co.uk/world/2012/apr/09/south-africa-stages-mr-gay-world