Study says black women less likely than white women to get vaccinated against HPV
Brett Sholtis / Staff Writer Posted: Monday, September 9, 2013 10:38 pm
A recent study by researchers from various departments at Pitt and a number of area hospitals found that African-American women are less likely  than white women to get vaccinated against HPV, one of the most common sexually transmitted infections. Such lower rates struck the head of an advocacy group for African-Americans on Pitt's campus as "not surprising."
"Because people may not have as much access to health care, we tend to put our health on the back burner," Black Action Society President Chandel Boozer said.
The study, published by the Journal of Adolescent Health, used data from the National Survey of Family Growth to analyze the relationship between race, access to health care and the decision to receive the human papillomavirus vaccination. The team of six researchers reported that there are "significant racial/ethnic disparities in HPV vaccination" between whites, Hispanics and African-Americans.
According to statistics from the Centers for Disease Control and Prevention, HPV is linked to cancer of the cervix, vulva, vagina, penis, anus and oropharynx and is the most common sexually transmitted infection. The CDC estimates that vaccination could prevent 21,000 cases of cancer every year.
The study examined survey data on 2,168 women between the ages of 15 and 24, collected between 2008 and 2010.
Sociodemographic and health care access variables explained the disparities in Hispanics, but not those found in African-Americans, according to the study.
The researchers' analysis suggested that Hispanics were less likely to get the vaccine because they often did not have access to health care. In contrast, African-Americans with access to health care remained less likely than white Americans to get vaccinated.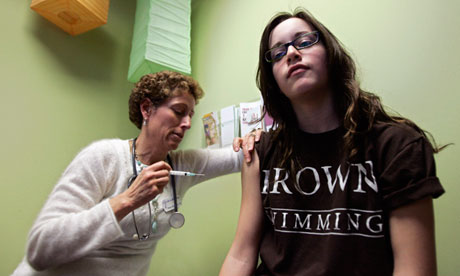 The US government has recommended since 2006 that all adolescent girls be vaccinated against HPV. Photograph: Jessica Rinaldi/Reuters


Boozer added that her organization tries to raise awareness of the risks of sexually transmitted infections and the actions that others can take to prevent contraction of them.
The researchers concluded that negative attitudes toward the vaccination among African-American women may play a role in the lower rates at which they got vaccinated for HPV.
Boozer said that she thought attitudes played a role in whether women in the study decided to get the vaccine, but described an attitude that was more indifferent than negative.
"I'm not gonna say I haven't heard [people saying], 'I'm not gonna get the shot,'" she said. "Or, 'What are the chances of me having complications if I don't get the shot?'
The study suggests that African-Americans were more likely to get vaccinated when their health care providers recommend they do so.
"Unfortunately, African-Americans are less likely to receive an HPV vaccine recommendation from a provider compared with whites," the researchers wrote.
Guillermo Cole, a spokesman for the Allegheny County Health Department, said he did not feel qualified to comment on the role race plays in determining whether someone gets the vaccination.
Cole noted that primary-care physicians play an integral role in spreading awareness about both the infection and the vaccine.
He said the Allegheny County Health Department participates in a federal program offering free HPV vaccinations for uninsured or underinsured patients who are under the age of 18.
"The vaccine is intended for a distinct group," said Cole, "younger people, males and females, ages 9 to 26. That's the target segment of the population."
Since the ideal candidates for vaccination are minors, it is the health care provider's responsibility to tell the patient's parents about the importance of receiving the vaccine, Cole said.
Boozer, who grew up in East Liberty, said she had never heard of the program Cole described.
Pitt's Clinical and Translational Science Institute supported the project. The project was funded by grants from the National Institutes of Health.
The researchers concluded that improving access to health care alone may not be sufficient to improve vaccination rates for African-Americans, but "addressing negative attitudes and beliefs and increasing provider recommendation for HPV vaccination will be fruitful in increasing HPV vaccination rates in this population," the report stated.
News Editor Gideon Bradshaw contributed to this report.

http://www.pittnews.com/news/article_56c6113e-19c2-11e3-a187-001a4bcf6878.html