Video: "Breast ironing" in Cameroon
Scroll to bottom of page for video: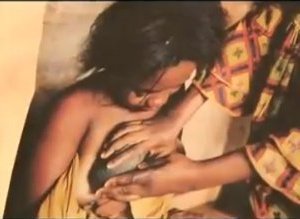 Breast ironing is the pounding and massaging of a pubescent girl's breastsusing heated objects in an attempt to make them stop developing or disappear. It is typically carried out by the girl's mother in an attempt to protect the girl from sexual harassment and rape, to prevent early pregnancy that would tarnish the family name, or to allow the girl to pursue education rather than be forced into early marriage. ] It is mostly practiced in parts of Cameroon, where boys and men may think that girls whose breasts have begun to grow are ready for sex. The most widely used implement for breast ironing is a wooden pestle normally used for pounding tubers. Other tools used include bananas, coconut shells, grinding stones, ladles, spatulas, and hammers heated over coals.
Incidence
Breast ironing is common in all ten regions of Cameroon and by all Cameroon's 200 ethnic groups. A survey by the German development agencyGTZ from June, 2006, of more than 5,000 Cameroonian girls and women between the ages of 10 and 82, estimated that nearly one in four had undergone breast ironing, corresponding to four million girls. It is most common in urban areas, where mothers fear their children could be more exposed to sexual abuse. Incidence is as high as 53 percent in the Cameroon's southeastern region of Littoral. Compared with Cameroon's Christian and animist south, breast ironing is less common in the Muslim north, where only 10 percent of women are affected.
A rise in the incidence of breast ironing in recent times has been attributed to the earlier onset of puberty, caused by dietary improvements in Cameroon over the last 50 years. Half of Cameroonian girls who develop under the age of nine have their breasts ironed, and 38% of those who develop under the age of eleven.
Health consequences
Breast ironing is extremely painful and causes tissue damage. As of June, 2006, there has been no research on its medical effects. However, medical experts warn it might contribute toward breast cancer, cysts and depression, and perhaps interfere with breastfeeding later. Other possible side-effects include breast infections, the formation of abscesses, malformed breasts and the eradication of one or both breasts.
Opposition
As well as being dangerous, breast ironing is criticised as being ineffective for stopping early sex and pregnancy. GTZ and the Network of Aunties, a Cameroonian non-governmental organization that supports young mothers, campaign against breast ironing, and are supported by the Ministry for the Promotion of Women and the Family. In Cameroon, if a medical doctor determines that damage has been caused to the breasts, the perpetrator can be punished by up to three years in prison, provided the matter is reported within a few months.
The GTZ survey found that 39 per cent of Cameroonian women opposed breast ironing, with 41 per cent expressing support and 26 per cent indifferent.