White kids beat up Asian teenager while shouting the N-Word at him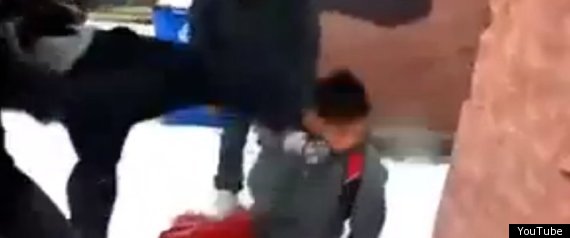 A 17-year-old from Chicago was brutally beaten by a pack of six attackers while an accomplice recorded the pummeling that's been posted online.
Police say they're investigating the attack that ends with the victim bleeding from the lip and running shoeless down a snowy street in the city's Bridgeport neighborhood on Sunday afternoon, The Chicago Tribune reports.
The footage, which has appeared on YouTube, begins with the attack already underway. For more than three minutes, the victim is punched in the face and kicked repeatedly. At times he is hit in the head with a sneaker and dragged across the ground.
Many of the gang's faces are concealed by hooded sweatshirts, but those that are visible appear to be young white males. They utter the N-word repeatedly as they taunt and strike the victim, who appears to be Asian.
After being cornered in an apparent dead end and holding up his hands, the teen eventually escapes and dashes off with his open backpack flapping behind him. The culprits chase him while the cameraman lags.
Police said the victim was treated for cuts, abrasions and bruises at Mercy Hospital and released,according to The Chicago Sun-Times.
They also said that the attackers stole $180 and sneakers from him, CBS Chicago says
No one has been arrested, The Associated Press reports.
A version of the video appeared on YouTube that included the names and addresses of the suspects, according to several media outlets, but on Tuesday morning it had been removed.
WARNING: The following video contains graphic violence and language that may be unsuitable for some audiences:
http://www.huffingtonpost.com/2012/01/17/chicago-teen-beating-video_n_1210266.html